In Loving Memory of
K-9 WALKER
"DAYBREAK'S ALABASTER WALKER"
Sept.10, 1996 - Oct.7, 2001 SAR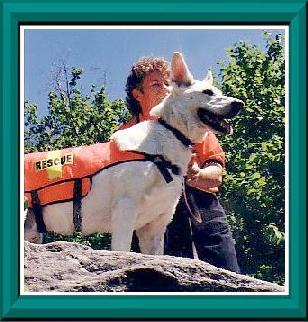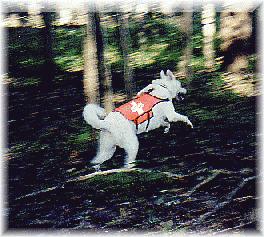 Handler: Lou Ann Metz
Summit Search & Rescue Dogs, Inc.
1074 Jones St.
Ravenna, OH 44266

Certified Area Search Dog with Summit Search and Rescue Dog Certified Delta Society Pet Partner
Walker was a special guy. He was confident, compassionate, gentle and forgiving. Walker had his own ideas of fund and they did not include repetition or simplicity. Walker proved to me that although humans "think" they know where scent is, we humans actually have no idea. Walker would turn a deaf ear to me if he had scent, no mater how long or how loud I yelled. He would just keep working until he made his find. He would come running back to me full tilt and hug me with that 100 lb body and grinning ear to ear. Walker taught us all the meaning of intelligent disobedience. Being a new handler, I would often feel compelled to change things after reading a book or attending a seminar. Eventually however, Walker figured out what worked and got me trained. I learned to put my hands in my pockets, keep my mouth shut and give Walker the trust the trust he deserved. He never let me down. As a Pet Partner, Walker spent much of his time with cancer patients at our local hospital. Ever gentle, Walker would quietly sit while the patients or families shared their thoughts with him. Walker seemed to soak up their hugs and their tears and replace them with a smile. He was magical that way. Walker died much too young at six years of age from bacterial meningitis.
I am richer for the experience of being his partner and having him as my teacher.
---
In Loving Memory of
K-9 Sir Wallace Von Stone Wall
(K-9 "WALLY" )
September 18, 2001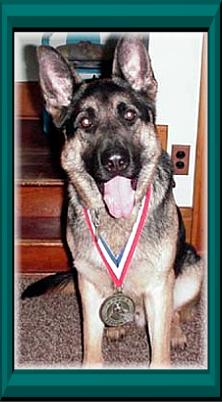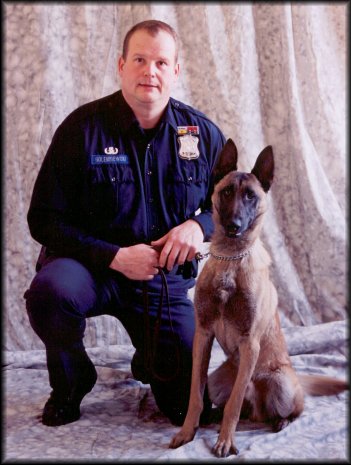 Handler: Officer Mark Golembiewski
Detroit Police Department - Tactical Service Center
1300 Beaubien
Detroit, MI 48226
(313) 876.0779
Officer mourns his K-9 buddy By Neal Rubin / The Detroit News
Wally, Detroit Police Officer Mark Golembiewski's K-9 partner, died on Sept. 18 of a blood disease. Mark Golembiewski is a canine officer without a K-9, which is an unfortunate thing to be. He has a dog -- a golden retriever, specifically -- who's being trained as a bomb specialist. They've been together six weeks now. But a bomb dog isn't the same thing as a K-9 patrol partner, a teammate who's with you through thick, thin and dark, spooky buildings. K-9s are always German Shepherds, like Wally. The Detroit Police Department paired Wally and Golembiewski in September 1999, and they were together almost every minute until Sept. 18. That's when Wally died. "Your dog will give his life for you," says Golembiewski, 42, but Wally didn't die in action; in fact, as far as he knows, no Detroit K-9 ever has. Wally had a blood disease. Golembiewski, a 17-year police veteran and lifelong west-sider, has owned dogs as long as he can remember. At one point, he had four full-grown golden retrievers and nine pups, the pups being what happens when you have four full-grown golden retrievers. You would think an owner would get used to saying goodbye when he's had kennels full of dogs, but you would be wrong. "It doesn't get any easier," Golembiewski says. "With each one, it's the same feeling." He's a professional, though, and even if he's not completely over Wally, he's ready to take on a new K-9. The problem is finding one. Dogs aren't in the department budget. The K-9 unit depends on donations, and it's not like 14-month-old German Shepherds are getting dropped off at police stations on a regular basis. Anybody with a likely candidate in the house is invited to call the tactical services department at (313) 237-2600. Maybe the dog is outgrowing your home, or it has turned out to be more than you can handle, or you just think it would look good in blue. For qualified candidates, the police department can offer love, advanced training and real live chew toys. In the meantime, Golembiewski will content himself with Topper, the bomb-dog-in-training who came from a golden retriever rescue center in Standish. Topper is called Topper because, when he's excited, he spins around like a top. He's one of five bomb dogs the department started to train after Sept. 11, just in case. Assuming he catches on, he'll be able to detect 14 different odors, none of them desirable in populated areas. Bomb dogs are the field goal kickers of the K-9 world, called upon only occasionally but at particularly high-stress moments. Because bomb dogs are essentially part-timers, police officers can work and live with a bomb dog and a K-9 simultaneously. "There's a lot of work involved," Golembiewski says, "but this is the best assignment in the world, assuming you like dogs." And, assuming you can get one.

Mark now handles TOBY, a Belgian Malinois and Topper a bomb dog.
---
In Loving Memory of
K-9 WOLF
February 13, 1998 - December, 2001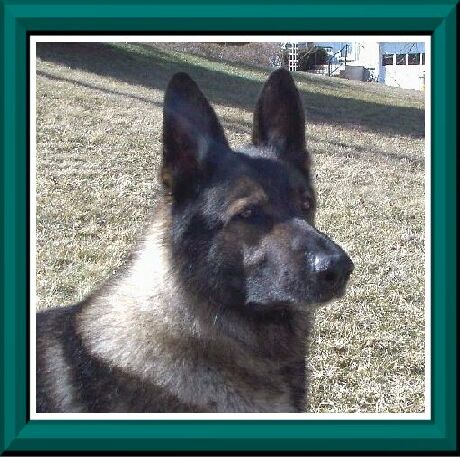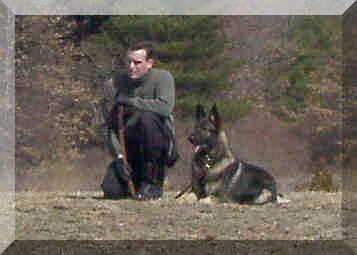 Handler: Det. Keith Crandall & K-9 Wolf
New London Police Department
5 Governor Winthrop Blvd.
New London, CT 06320

Wolf was a handsome, sable, German Shepherd bread in Belgium and born on February 13, 1998. Wolf's sire was a Police Service Dog in Belgium and the handler was the breeder. Wolf's brother, from a different litter was a working dog in Scituate, RI. Wolf began his career with the New London Police Department on March 3, 1999, which was the fourth anniversary of his handler's career. Wolf and his handler, Off. Keith Crandall were trained by NAPWDA and CPWDA Master Trainer, NLPD Sgt. William Nott for 12 weeks and graduated from basic patrol school in June 1999. By August of that year. Wolf lead Crandall to their first successful track and subsequent area search that resulted in the recovery of a loaded Glock, 9 mm handgun and the arrests of the two men committing robberies with it. Another high point in Wolf's career was a track from an armed bank robbery. Crandall will admit that he was angry when Wolf tracked directly to a doghouse in someone's back yard. His anger diminished quickly however when Wolf pulled his head out of the doghouse with the robber's disguise in his mouth. Although the robber managed to escape that evening, hairs in the mask were later analyzed and resulted in conviction through DNA. Wolf even backtracked a rape victim who walked into the NLPD, lost and hysterical. She had no idea where the assault took place but Wolf was able find the crime scene and her clothing that had been thrown into the woods over a ten foot tall chain link fence. One of Wolf's best tracks was not even for a suspect. A neighboring town requested his services to search for a suicidal person.
A retired Navy Seal who had seen service in the Vietnam War, was suffering from Post Traumatic Stress Disorder and after his closest friend was murdered, decided to end his suffering. He fled police who had been called to help him and ran into the deep woods in the remote area where he lived. Wolf was brought in and within less than a half hour, the man was found. After a conversation with the officers, the Seal walked out of the woods, without incident, scratching Wolf's head and thanking him. Wolf was large dog with an unforgettable penetrating bark but he was a lover at heart. Everyone in the department loved Wolf and enjoyed having him around the station. One of the secretaries even kept Milkbones in her desk for him. Wolf was loved deeply by Crandall's wife and daughter. One of Wolf's favorite pastimes was chasing sticks in the stream that runs through Crandall's back yard. Wolf also pulled every black rock that looked anything like a Kong out of the water and dropped it on the shore of stream. Crandall was promoted to the rank of Detective in October of 2001. Wolf, not yet four years old, was to be transferred to a new handler to finish his career. This however was not to be. Within six weeks, Wolf died as a result of Congenital Heart Disease; a condition that had gone undetected throughout his career. The veterinarian said the damage to Wolf's heart was massive and he was surprised that Wolf lasted as long as he did, considering his line of work. Crandall likes to think that Wolf, the ever vigilant partner, held out as long as he needed until Crandall moved on to the next phase of his career, allowing Wolf to move on as well. Wolf will be sadly missed by all. submitted by Jim Cortina, Dir.CPWDA
In Loving Memory of
K-9 WOODY
March 2001
who grew up to be a Police K-9 on June 20, 1988 - retired 1998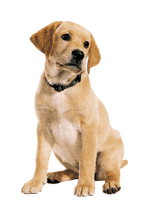 Handler: Specialist Rusty Graham
Lee County Sheriff's Department
Office of the Sheriff Lee County, Florida
14750 Six Mile Cypress Pkwy.
Ft. Myers, Florida 33912
http://www.sheriffleefl.org/lawen/Ops/K9/index.htm

Lee County Sheriff's first drug dog, "Woody" ended his watch after 10 years..
The beginning -----
My name is Ezra Padgham, and I am a new K9 officer with the Fort Myers, Florida police department. I am about halfway through the patrol dog training school with my 3 year old GSD, "Konig". Recently, my instructor's yellow Labrador, "Woody", passed away, and we attended his heartfelt funeral. Woody was the Lee County Sheriff's Office's first drug dog, and he worked the streets with the same partner, Cpl. Rusty Graham, for over ten years. Graham was deeply saddened by the loss but seemed most upset that Woody will be forgotten. Anyway, my question is: How does one attain a place on your K9 memorial web site? I checked all the pages but couldn't seem to find this information. If you could e-mail me back, I would appreciate it, as well as Graham. I think it would give him great satisfaction to tell Woody's story to all who visit your excellent web site. Thanks, Ezra

An E-mail from Rusty -----
Thanks for you support. This came from an unexpected source, Ezra. My name is Rusty Graham and Woody was my first police dog. I first became his partner on 06-20-88 and he was my life for the next ten years. Woody & I went everywhere together, did everything together. We competed and trained across the United States. He was a great dog. When I had to say good-bye to him, it was without a doubt, the hardest thing that I have had to do in my lifetime. It's so hard to let him go, but I have so many memories of him in front of me. Right now I am looking at a music video made by my department, especially of Woody, for me. It is full of our times together. I was very surprised by Ezra's actions and feel very flattered by his support and most of all yours. Please stay in touch and thank you from the bottom of my heart.
Rusty Graham, Woody's handler and friend