Ein Hund, der Dir in deine Hand gegeben ,
behüte ihn vor Leid und Schmerz.
Er hat so gut wie du ein Leben,
in seiner Brust schlägt auch ein Herz !

Du bist es der den Hund benützet,
bedenke es in jeder Stund.
In aller Not er Dich beschützet.
Dein guter treuer Schäferhund !


Bobby E.Earls- 2009
A dog that was given into your hands,
shelter him from sorrow and pain.
He has a life just like you
In his chest too, beats a heart

You are the one that uses the dog
remember this in every hour
He will protect you from all harm

Your good and faithful German Shepherd Dog !
In Loving Memory of
K-9 TROOPER II
November 6, 2001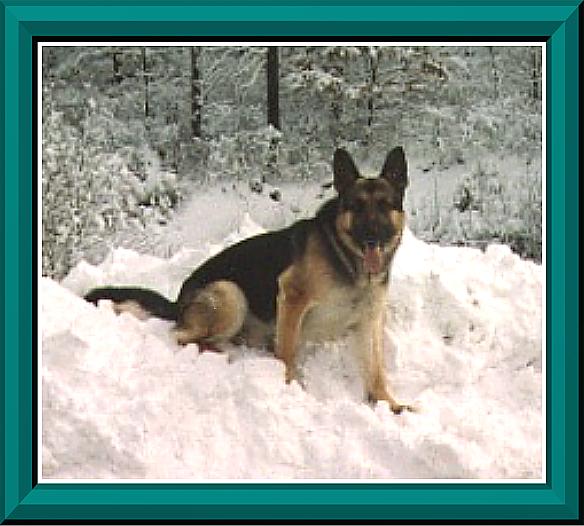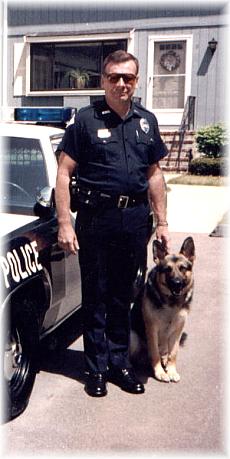 Handler: Special Agent Bobby E. Earls
K-9 SAR - FEMA - CONRAIL K-9
15 Richmond Dr. Norton, MA
"Trooper II" ret. August, 1999. Bobby Earls


Taken from Rail Cop - Spring 1999 Newsletter
"EVEN THE DOGS CRIED....."
Special Agent Bobby Earls & K-9 Trooper II, joined the search for 9 year old Cory Anderson in a severe snowstorm. Conrail Railroad Police Special Agent Bobby Earls, in full dress uniform stood at attention with nearly 100 fellow officers and firefighters as the casket of 9 year old Cory Anderson was carried into Holy Cross Church in Easton MA in early March. It was cold and blustery, but the weather was nearly spring like compared to that Friday just 5 days earlier when Earls and his dog, Trooper were called in to search for Corey in a fierce snowstorm. The boy had left his home on a wooded dead end near Winnecunnet Pond in Norton on a Thursday afternoon to look for the family's golden retriever during a heavy snowstorm. The dog showed up at a neighbor's about an hour later, but Corey, wearing a Boston Bruins jacket and his bother's boots, never returned. The 4th grader's disappearance triggered a massive search involving nearly 500 local and state police, firefighters, volunteers, airboats, & helicopters. The Norton Police contacted Earls, who had worked Search & rescue missions with various area police and sheriff's departments in the past. "The terrain was against us from the start, " Earls said. "There were streams, a lakes and some cranberry bogs. They ended up draining the bogs. But he wasn't there." Earls and Trooper II, both certified by FEMA in search & rescue work, teamed up with officers from the Department of Environmental Police and a state police helicopter to search a heavily wooded area. Their efforts continued unabated for 32 hours through a later winter storm that would dump nearly a foot of snow on the eastern part of the state. "By Saturday, it didn't look good," the 7 year Conrail veteran remembered. "We started to think the worst. There was also some thought that he might have been abducted. I-495 runs right by the area." That Sunday broke clear and cold, but with the good weather came the bad news. A state trooper aboard a boat spotted the yellow sleeves of Corey's Bruins jacket. Searchers on shore found him curled in the fetal position along a riverbank just 300 yards from his home. He had died of hypothermia. "The area had been searched before," says Earls. "We probably missed him because of the snow. Once it stopped and the sun came out, it was easier to spot Corey's jacket." The discover took its toll on the searchers. "Harden troopers and other law enforcement personnel had frozen tears on their cheeks as they loaded Corey into the body bag," earls recalled, himself choking up at the memory. "Even the dogs cried." The railroad special agent and his fellow officers and firefighters would not be able to attend the actual services due to the large number of mourners, so they bid farewell to Cory in their own way - 100 white gloved hands snapped a salute to the 9 year old as the casket carrying his body passed by. "I was honored to represent the Conrail Police Dept. in the search for Corey and at his wake and funeral." Earls said, "I'd do it over again 100 times." K-9 Trooper II retired later that year in August.



...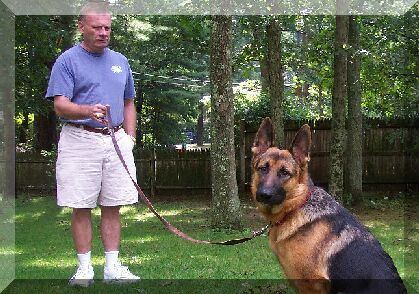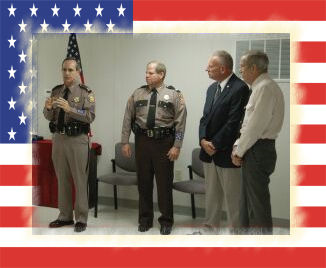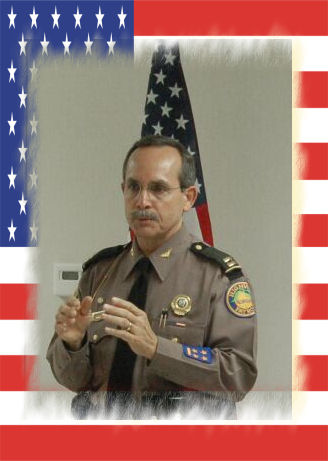 Kori's all grown up - Sept. 17, 2002



UPDATE - 2008
Swearing in on March 6,2008 of Level One Auxiliary Trooper Bobby E. Earls by newly promoted Capt. Mike Burroughs as Auxiliary Major Byrne looks on. Trooper Earls has a total of 27 yrs combined Law Enforcement and as a recognized K-9 Handler & Special Agent, and says even though retired it never gets out of your blood police work, and the dedicated Troopers Of The Florida Highway Patrol & Auxiliary are the best there are, and its my pleasure to assist them and the citizens of Florida. He & K-9 Kori reside in Ocala and are assigned to Troop B Ocala Station.
*********
UPDATE - 2009
In Loving Memory of
KORI
December 17, 2001 - July 5, 2009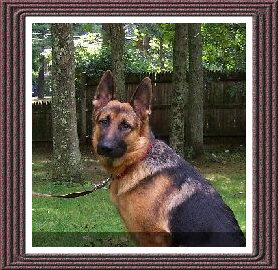 Handler: Bobby Earl - FHP Reserve Trooper -
Please see also on 2009 - K
My beloved best friend Kori passed over to Rainbow Bridge on July 5th, Sunday. As you may recall he had a pancreatic disorder to which he had been under medication for it for last 3 years and was doing well. He was gaining his weight back a bit, he was 67 Lbs when we moved to Florida three years ago.
His most recent Vet check up, prior to us driving up to Massachusetts last week, he was 56 Lbs and blood work was much better a little on anemic side. Vet said getting better with B-12 shots weekly and he played and ate like horse, he did very well on car trip up 1,345 miles we arrived late last Wednesday, around 900PM, Thursday, Friday. On Saturday he ate well played ball and getting used to his new home here late Saturday night when he threw up a bit of phlegm, I guess you could call it. He just was not acting right went out to go poop and was okay. He played a bit but would lay down on grass but showed no signs of pain etc. He came in house and was very restless which was unusual. Sunday morning he did not want water, nor his food. He loved to eat, so he went to back slider and sat and almost fell over sideways. We brought him right up to the Tuffts Vet School emergency clinic in Walpole Mass. They took him ASAP. The vet said on a check of his gums he is a sick dog and we need to triage him fast so off they went with my beloved friend. After about 25 minutes, a vet called us into a room and told us what was going on with him. He had bloat, to which they put needle in to relieve this in tummy, gave him some pain medication, but the vet said he had some blood in his tummy and sepsis was present in his internal organs which she said alone is very bad in a good condition of a dog but in his present condition and past health problem with pancreatic his immune system was very low and part of his lower intestine was damaged. Bloat will twist tummy a bit cutting off blood supply a bit. She said chance of him making it through surgery was slim, so we said our good bye and held him and kissed him as he fell into sleep I closed his eyes for last time and kissed him and told him his duty here is over. Stand guard at Heavens Gate And Await me. As you very well know the feeling LuLu and Bob, we are so heart broken and lost without him. This big home, he enjoyed only a few days. We will miss him dearly, but in our hearts we know we did the right thing.
Bobby is retired as a FHP Reserve trooper and K-9 Kori and Bobby are back living in Massachusetts.
Thank You, Bobby



I GAVE MY BEST

I am a Trooper in a canine crew.
I have been trained to see it through.
When danger is near my ears perk up.
They taught me that when I was a pup.
I am often there to protect your rights,
My presence sometimes hinders fights,
I never attack with thought to kill,
When subduing one, my job I fulfill.
I never worry a single thought,
As to how I will fare at a certain spot.
The love I have for a handler's care,
Is all I need, each day to fare.
And if some day my luck turns bad,
I will relish the joys I have ever had.
To be with men who stand for good,
In a special kind of "brotherhood."
The story's end by now you know,
Of how I tried for a better show,
When I was called and I gave my all.



Unknown Author*

Memory Of K-9 Kori

12-17-2001-Last Call-07-05-2009

Meet new puppy: FRITZ 2010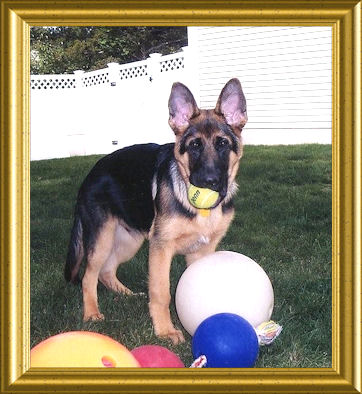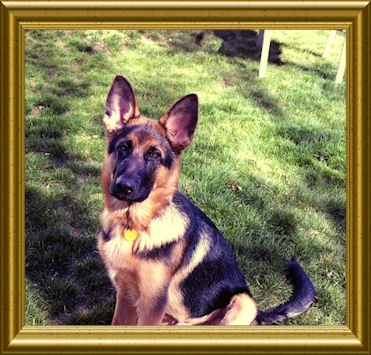 ---

K-9 TASHA SAR
October, 2001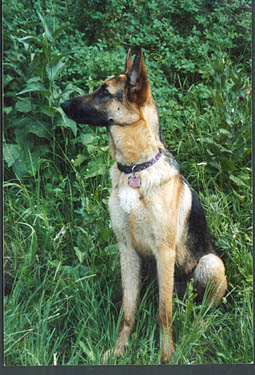 Loved and missed by
Marianne Crowell, West Jordan, UTAH


Poisoned Bait Kills Search-and-Rescue Dog, Service Dog BY BRENT ISRAELSEN - THE SALT LAKE TRIBUNE
An illegal attempt to kill predators resulted in the poisoning deaths of a search-and-rescue dog and a service dog in the hills of Summit County. Wildlife officials say the heavy doses in the poisoned bait also could have killed an unknown number of wild animals,
including birds of prey.
Toxicology tests confirmed that two dogs -- one a German shepherd rescue dog and the other a Labrador trained to assist a handicapped woman -- fell victim to strychnine-laced deer entrails most likely meant for coyotes. The Utah Division of Wildlife Resources is investigating several leads. The first confirmed poisoning occurred Sept. 9 in Forest Meadow Ranch, a spread of private homes and mountain lots about 10 miles north of Park City. On that afternoon, the German shepherd, Tasha, was training to become one of the elite Rocky Mountain Rescue Dogs, which recently took part in the recovery work at New York's World Trade Center.
Coming down the mountain after finding a "lost hiker" in a training exercise, Tasha came across a pile of entrails and took a bite. Minutes later, the 17-month-old dog lost control of her hind legs. Then her entire body seized up and she fell. Tasha's owner, West Jordan resident Marianne Crowell, screamed for help and tried to soothe the frightened animal. On the way to the animal hospital, Tasha died in Crowell's arms. A week later, a Labrador companion dog named Lucy and her owner -- a Salt Lake City woman who relies on dogs to alert her to her seizures and provide her with medical syringes -- were hiking in the same area when her dog ate some of the entrails, stumbled to the ground and later died. DWR investigator officer Bruce Johnson said both dogs died within 20 minutes of ingesting the deer entrails, which were heavily laced with strychnine. "It was a hot enough dose that it will kill secondary and tertiary animals [in the food chain] without question," which would put predators and carrion feeders in danger, he said. David Lyman, who was training Lucy, said he believes the poison is responsible for the deaths of other wildlife. "We used to sit up there and watch hawks and vultures all day long. After this, there wasn't a vulture in the sky. We're sure it was because of the poison," Lyman said. Utah dog trainers are shocked by the incident. "It's a sad story, let me tell you," said David Perks, a Rocky Mountain dog handler who recently returned from the World Trade Center site. Tasha's death "has been a hard loss for Marianne and our group. When you lose one of these dogs, it's like losing a person." Anyone with information about the poisonings or other illegal predator-control activities in the area are asked to call Johnson at 801-476-2740.
---
In Loving Memory of
K-9 TOBY
December 31, 1990-August 2, 2001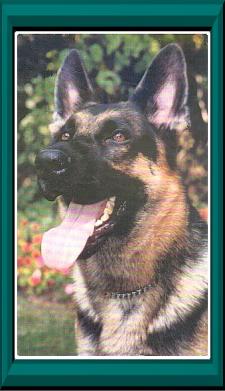 ...
Handler: R.Michael Brouse
formerly of Sagamore Hills Police Department
currently Metro Health Police Department.
Sagamore, OH

Toby vom Schmidt
1990-2001
Sagamore Hills, Ohio Police K-9 (Ret.) has passed away.
Memorial services to honor Toby
Wednesday, August 8 at 10:00 AM at
Paws Awhile Pet Memorial Park
3426 Brush Rd., Richfield, Ohio.
As his legacy, he leaves behind 5 sons,
"Thor"—East Cleveland, OH PD
"Hawk"—Brunswick Hills Twp., OHPD
"Storm"—Medina City. OH PD
"Odin"—Olmstead Twp., OH PD
"Neiko"—Bath Twp. , OH PD
Above are working police K-9's, protecting & serving us all.



K9 handlers and their partners were graveside, Aug. 8 as the music of Mariah Carey's "Hero" was playing. A minister did a brief introduction and prayer. The poem "Guardians Of The Night" was read and the country song, "If There Hadn't Been You" was played. After prayers, a police bagpiper played as ceremony ended. A beautiful service for our beautiful officer. I am fortunate enough to have one of his daughters. We named her Misha (after Mike Brouse) who gave her to me for work my husband and I did helping with the formation of the SHPD K-9 unit and for fund raising to keep it going. It was run by donations from businesses and residents from 1991-1995. Judith B. Thomas, CMCA, AMS - Aries Management Corporation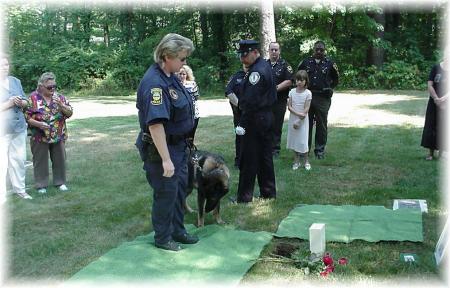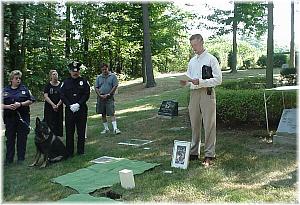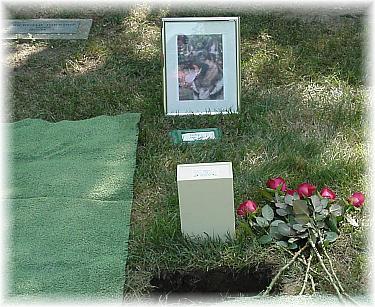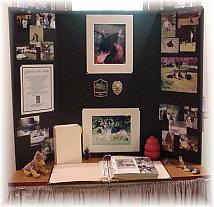 ---
In Loving Memory of
K-9 TOBY
July 2001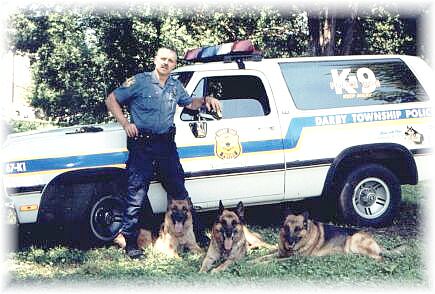 Handler: MIKE ANDREL
Darby Twp. Police Department
Sharon Hills, PA
Upper Darby Police Department
7236 West Chester Pike
Upper Darby, PA 19082
General Business Phone: 610-352-7050
Administrative Phone: 610-734-7686
Fax: 610-734-5782
Toby retired from police department & was age 13. Ruger is still in my heart and Jaeger did have three puppies and we have Yago . I will send you a picture. The day we picked up Yago, we took pictures of Grand Father Toby, and then Jaeger and Yago, but the bad news the next day Toby got very sick and could not walk so we took him to the vet and had to put him down....But I think he waited for his grand son.... Who is now 11 months old and being trained as another police dog.... He was my first K-9 dog... I am looking for a real good picture.... I am lucky because I have his son Jaeger now working with me ... he is 6 years old and a patrol and drug dog ... and I now have one of Jaegers sons. Yago, one of them is 11 months who will also follow in his steps.
---
In Loving Memory of
K-9 TAZ
April 26, 2001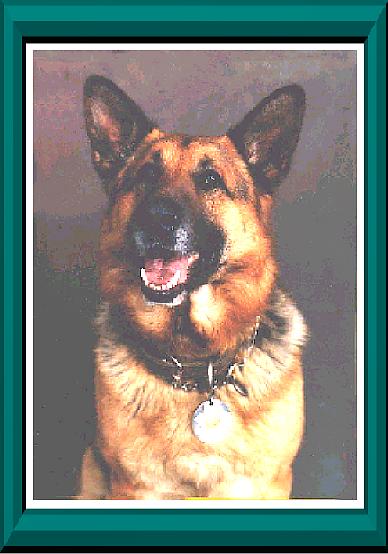 Handler: Patrolman Christopher Kaupe
Fairfax Police Department
144 Bolinas Road
Fairfax CA 94930
The first Police K-9 to join program
"Taz" a male German Shepherd 8 years., had to be euthanized 4/26/01 due to kidney disease.
After six years of searching buildings, capturing suspects, and walking in town parades, Fairfax Police K9 Taz passed away this week due to kidney failure. The eight year old male German Shepherd had been ill since Monday, said Officer Christopher Kaupe. Taz was euthanized at the Marin Humane Society on Thursday after it was determined that the dog had an ailment that could not be cured. Taz was the first dog to work with Fairfax Police. The K-9 worked with his partner Chris, assisting on calls, and also helped other agencies over 60 times. Taz was described by co-workers as "dedicated and sharp" and responsible for over 18 captures that would not have been made without him. "Taz was much more than a police dog, he was a mascot for the Fairfax Police force" said Kaupe. "When I would drive around with Taz, children would yell his name, and ask to pet him. He really will be missed." Taz had led the town parade celebrating the opening of Little League just a month before his death.
survivor - Fairfax police dog recovering after 30-foot fall By Jennifer Upshaw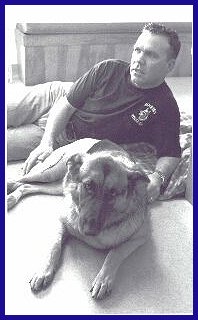 New partner, K9 Storm photo by: J. Reese, MHS
A Fairfax police dog is recuperating today at the Marin Humane Society after she was seriously injured earlier this week by jumping 30 feet from a window during a training session on Alcatraz Island. Storm, a 2½ year old German shepherd partnered with K-9 handler and Fairfax police officer Chris Kaupe, suffered a severe leg fracture that involved hours of painstaking surgery to correct. Although she is expected to go home tomorrow, the dog faces up to eight weeks of rehabilitation and an uncertain future as a police dog if her leg doesn't heal property, officials said. Kaupe said Wednesday that Storm had just finished performing a bite maneuver, where she is directed by officers to clamp down on a suspect ,when instead of coming back down the stairs from the second floor of a structure used for training at the old prison, she ran inside the building. "The only thing we could think of is she went to look for further suspects," Kaupe said. Kaupe went up the stairs after her, and tried to get her to heel, but the dog put her paws up on the window's sill and looked down. "She looked around, she contemplated it, she evaluated it and she thought she could do it," he recalled. "She thought the easiest way down was to jump, and she jumped." Kaupe and Novato police officer Matt Poore, another canine handler at the training, watched in horror as the event unfolded before their eyes. "This dog jumped 30 feet," Kaupe said. "We just couldn't believe it." On the way down, she struck a metal grate. The frantic officers performed first aid, and, after stabilizing her, strapped her to a backboard and rushed to get her immediate care. With a fractured distal femur, Storm underwent two hours of emergency surgery performed by Dr. Andrew Sams, a veterinary orthopedic surgeon with an office in Fairfax. It was a lengthy procedure since Storm had lost so much of the bone, Sams said. "What makes it challenging is it splintered into multiple pieces," he said. "It doesn't fit back together like a puzzle." Plates and screws were required to stabilize the bone, and a synthetic bone graft was performed to fill in the missing pieces. The procedure went well, and the prognosis is good, Sams said. If the bone heals without loosening the plates or the screws, she is likely to return to duty. For Kaupe, the experience has been emotionally exhausting, he said, since this isn't the first time his partner has been down. Last spring, he lost Taz, a 8-year-old German shepherd who worked by his side for six years and was credited with more than 18 captures. Taz succumbed to kidney failure. "So it's really rough," he said of Storm's injury. "I've handled dogs for seven years now- it's just a pleasure." The Marin Humane Society's K-9 Care Fund, established to offset expenses incurred by the county's police's and search and rescue dogs, picked up the cost of treating Storm's injury. This time around, however, the fund took a hit, officials said. The surgery, expected to cost anywhere from $4,000 to $6,000, has essentially wiped out the fund. "If a dog gets shot tomorrow, we can't cover it," Humane Society spokeswoman Marissa Miller said. "We want to take care of the dogs that take care of us." Humane Society officials are asking for donations to replenish the fund. Donations may be sent to The Marin Humane Society, K-9 Care Fund, 171 Bel Marin Keys Blvd. Novato, 94949. Yesterday at the Humane Society, a timid Storm moved about a bit on her bad leg, which now sports a shaved section where a roughly 15-inch incision held together with nearly 40 staples can be seen. These days, it's quiet time for the dog, giving everyone who loves her time to reflect on how fortunate she was. "When Chris told me how far she fell, I thought, 'Oh, God,'" recalled the Humane Society's Carol Williams-Skaggs, who oversees the Humane Society's K-9 program and has worked for years with the officer. "She's got a guardian angel over her Marin Humane Societyhead."
---
In Loving Memory of
K-9 TOMMY
February 15, 1996 - June 9, 2001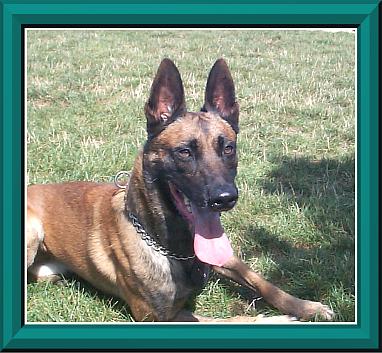 Handler: Patrolman Norm Kekic
Parma Police Department
Chief of Police Mark Manning
5555 Powers Blvd Parma, Ohio
44129 Main: (440)887-7300

Tommy suddenly got sick and passed on, later discovered he had a brain tumor. I know how much he is missed and everyone who loved him must be in shock. Memorial Service will be held on Friday, June 15th.



Parma K9 dog Bandit (Tommy), for which I, as well as numerous citizens, Police Officers and many regional K9 Units, attended a funeral at " Paws Awhile" on June 15th 2001. At this time of Bandit's passing, the public was made to believe that he would be replaced by September of that year. An article in the "Sun News Paper" also noted that the Parma K9 program was so successful within Bandit's first six months, that a second K9 dog was added to the police force, Carlo,
handled by Officer Wells.