More about Robby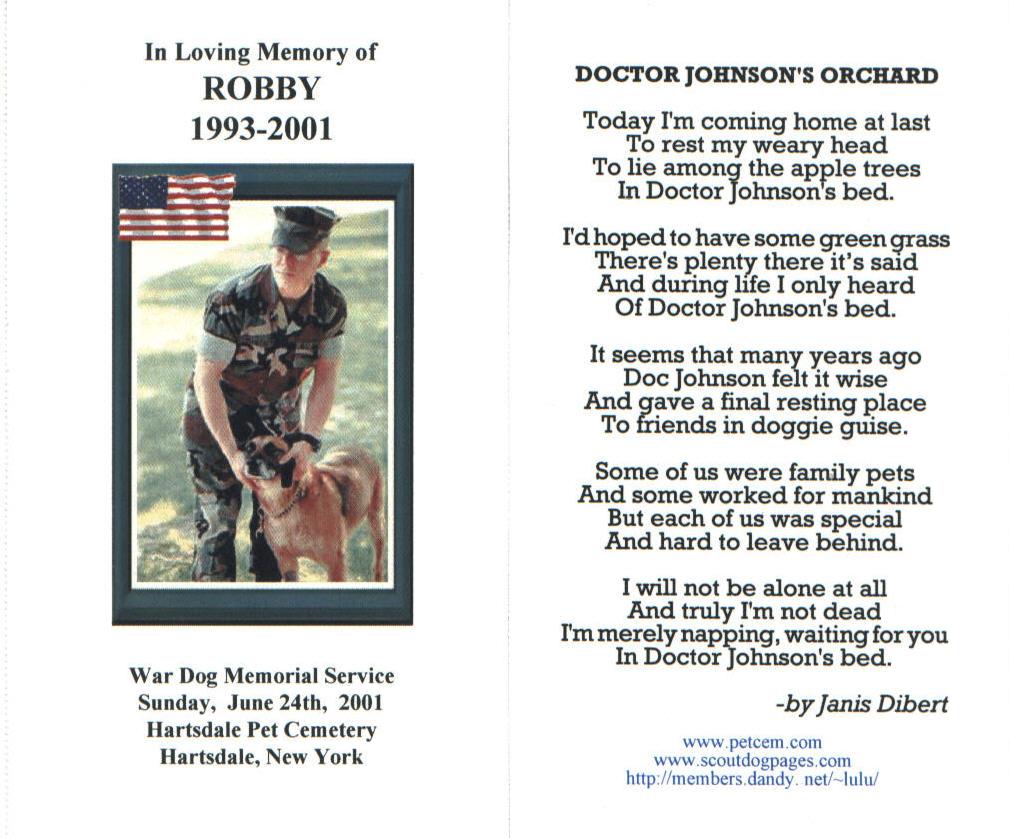 FRONT OF CARD BACK OF CARD



"ROBBY's" Memorial Service
Hartsdale Pet Cemetery-Hartsdale, NY
June 24th, 2001



Photos from Robby's Memorial Service
Continue to more URLs on War Dogs
Return to war K-9 Data of the F.A.S.T. Company
---
In Loving Memory of
K-9 RANGER
1992 - Oct. 30, 2001
1994 active duty - retired Feb. 2, 1998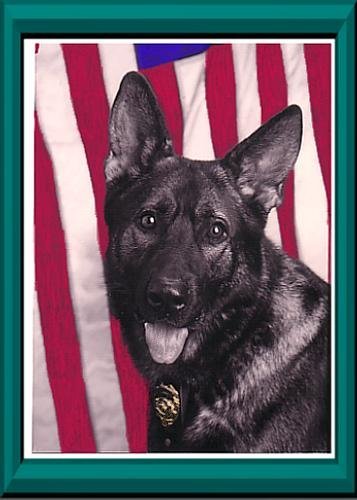 Handler: Officer Lynn Morrow
Eden Prairie Police Department
Eden Prairie Public Safety Services
Stephanie Rogers
8080 Mitchell Road
Eden Prairie, MN 55344 PH (952)937-2700


RECALLING RANGER: Retired K-9 passes away
For five years, kids in Eden Prairie Schools would get excited when Eden Prairie Police K-9 Ranger would come. Oh, yeah, Ranger didn't come by himself. Officer Lynn Garry, now Morrow, came along with the deal, too. "Kids who saw me without him would recognize me and say, 'I know you. You came with Ranger,'" she said Monday. Ranger hasn't been in local schools since 1998, when he retired from the police force. Morrow moved on to other duties. Today, she is an investigator and liaison officer at Eden Prairie High School. Last week, one of her duties was to say goodbye to Ranger before he died of cardiac arrest. Ranger was nine years old. Ranger had a malignant tumor a month ago, explained Morrow. It was removed in surgery, but the aggressive form of cancer still spread. Although he was sick, Ranger's death wasn't expected when it came Oct. 30. Despite the events of that hard day, Morrow said, "I'm glad I didn't have to make the decision about whether or not to put him down. "He would have given his life for me," she added. "I didn't want to make the decision of his life." On the force, Morrow and Ranger started out together in 1994. From the start, Ranger was a standout, graduating as top dog in his St. Paul Police training class. Ranger lived with Morrow, just as other Eden Prairie K-9 partners do with their officers. Ranger originally came from Holland, not even one year old when he first started the training process. "He was a little bit younger than other K-9s," Morrow said. "He had a lot of puppy energy." Three months of intense training at the St. Paul Police Department canine facility, though, turned Ranger into a great partner for Morrow. "It's a lot of work," she admitted, "but it's really rewarding. It's amazing how well-trained and knowledgeable those dogs can get." By the end of training, the two were true partners. "If I was crabby, he knew it," Morrow explained. "If I was scared, he knew it." When Ranger and Morrow would take off for an Eden Prairie school to do a demonstration, she explained they would show the kids his obedience training as well as an example of how he could track down narcotics. Back at the station, Morrow said Ranger would often hang out while she would fill out reports. Usually, someone at the police department could be persuaded to play tug-of-war or catch with Ranger. He was so at home at EPPD that "he would sit in on roll call with me," Morrow said. Described as a "super social" dog, Ranger would quickly become a hard worker when it was crunch time. "There were cases I was on where I know if he was not barking, I would have had a problem," Morrow said. Besides performing well on the job, Ranger did well at regional and national competitions. In 1995, Ranger placed third in obedience in his region and 15th overall at nationals. The next year, Morrow's canine partner placed third in article search in the region. In1997, he was four overall in the region and 24th at nationals. Perhaps even more impressive is the fact that Ranger placed in the top five in narcotics each year of certification. Morrow explained that canines have to be certified every year, both to preserve public safety and ensure continued agility, obedience, and tracking ability. Throughout the entire time with Ranger, she talked about how amazing it is to see what dogs can do out in the field. "Canines are great tools for the department," Morrow said. For a little while longer, the Morrow household still has a police canine in the family. Husband Jim handles Jet for the EPPD. Jet is set to retire sometime next year. "I think Jet really misses him," Morrow said.
Kathy Nelson

In Loving Memory of
K-9 REGGIE
Sept. 16, 1991 - 2001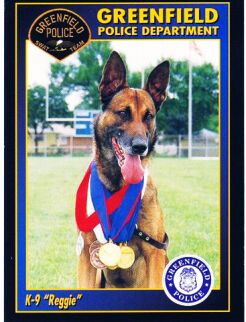 Partner: Officer Jay A. Johnson
Greenfield Police Dept.
5300 W. Layton Ave.
Greenfield, WI 53220
414.761-5300

K-9 Reggie began his career with the Greenfield Police Department in 1993. He very quickly established himself as an excellent canine, successfully tracking suspects and evidence as well as receiving numerous awards at the Police and Fire Games.
Tumors were found in August of 2001. Reggie is buried at the Greenfield Police Department.

In Loving Memory of
K-9 ROBBIE
DOB: January 1999 - DOD: October 15, 2001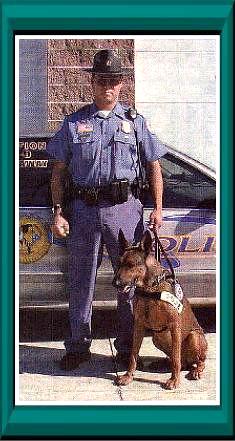 Handler: Sgt. Jeff White
B.I.A. Law Enforcement Services,
P.O. Box 309
New Town, ND 58763-0309
701.627.3314

"He was my partner, my best friend."Robbie dies in fire
Fort Berthold Drug Dog to be honored New Town, Local law enforcement and Bureau of Indian Affairs . Police dog handlers from other reservations will gather in New Town today to pay tribute to Robbie, A Fort Berthold Drug & patrol dog who died earlier this week. The funeral service for the fallen K-9 officer Robbie, will begin at 10 AM in the New Town Civic Center, Elbo Woods Works of New Town is making a casket for Robbie. Robbie died in a fire at his handler Jeff White's home near Parshall Tuesday. The incident is under investigation. White is an officer for the Fort Berthold Bureau of Indian Affairs Law Enforcement Department and has been Robbie's handler since the Fort Berhold agency added a K-9 unit about a year and a half ago. Robbie, 3 yr. old Belgium Malinois was a multi-purpose dog, but mainly worked drugs and patrol. He lived and worked with White. White & Robbie worked locally, but also went on a number of special assignments for the BIA. Through his career, Robbie was responsible for numerous drug arrests from Indiana to Wyoming. He was also used in 3 Special Response Team Deployments, one in Nevada and 2 in Wyoming. White and Robbie were also sent to a search and rescue operation in South Dakota. He was a very friendly dog and was in demand by several law enforcement agencies in his home area. His services were also requested by all the local schools where he performed locker and area searches. The Fort Berthold BIA Law Enforcement established the K-9 unit because people in the local communities had concerns about drug problems, former BIA Police Chief Elmer Four Dance said in an interview last October. Robbie was the main reason we made a lot of drug arrests. He found a lot of drugs we would not have found. Robbie who was born in the Netherlands, follows commands in Dutch. White learned the commands at a 5 week training school for dogs and handlers in Indiana. Robbie was the only police dog service the Fort Berthold Reservation. He was buried today at the Gerald White's residence near White Shield.
---
In Loving Memory of
K-9 ROCCO
May 27, 2001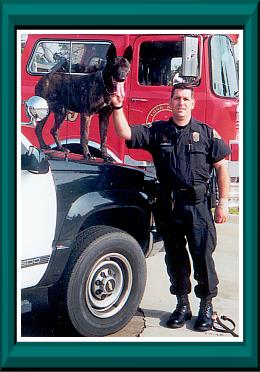 Handler: Officer Ernest Wolosewicz
Long Beach Police Department
100 Long Beach Blvd, Long Beach, CA 90802,
ph: 562 570-7260

On Monday, May 14th, 2001, at approximately 7 p.m., Long Beach Police Officer Ernest Wolosewicz and his K-9 partner Rocco, a 2 1/2-year-old Dutch Shepard, responded to a possible intruder call at the Latin American Museum of Art, 628 Alamitos Avenue. Rocco discovered an open roof access door and continued his search. From the building's roof, Rocco attempted to jump onto an awning. The awning gave way and Rocco fell hitting his back against a railing. On Wednesday, May 16th, Rocco was put down after it was discovered that he broke back and he would be permanently paralyzed.

MEMORIAL SERVICES FOR TWO POLICE K-9'S
The Long Beach Police Department is saddened to announce the Memorial Services for two of the Department's Patrol K-9's. On May 14, 2001, Rocco, with only three months on the job, was critically injured after a fall during a burglary investigation and was euthanized on May 16, 2001. On May 19, 2001, the second K-9, Axel, died at home from a sudden intestinal problem. The Memorial Services for both dogs will be held on Thursday, May 31, 2001, at 3:00 p.m., at the Long Beach Police Academy, 7290 East Carson Street, Long Beach. The Long Beach K-9 Officer's Association will be raising funds to replace the much needed service dogs. Tax-deductible contributions can be sent to the association at P.O Box 17366, Long Beach, CA 90807. For further information, please contact the Long Beach Police K-9 Detail at (562) 570-5971.
**************
Axel and Rocco, two beloved Long Beach police dogs who died in the same week, were memorialized Thursday afternoon before a crowd of officers, canines and other mourners gathered at the Long Beach Police Academy. Panting in the hot sun, about 20 police dogs from Long Beach, Orange County and as far away as Pismo Beach sat on mats flanking their officer partners and rows of seated spectators at the service. The animals marked the close of the service with a symphony of loud barking, tugging at their leads as the 21-gun salute commenced. "I think they want to go chase bad guys," a boy whispered to himself toward the memorial's end. "Some people think an animal is just an animal," observed Debbie Lim, 40, her infant nephew asleep in her arms. "But when they serve us, these dogs become a part of the family." Lim works at a fast-food restaurant frequented by many of the K-9 officers. Because dogs are not known for long attention spans, the double funeral was brief, opening with a Police Department color guard and drummer and including remarks from the department chaplain and the playing of taps. "It was wonderful, very respectful," said Clarice Mooney, widow of Bill Mooney, the Long Beach police chief who started the canine unit in the city 23 years ago. The funeral was held near the special cemetery the department and its formidable citizen support group maintain for 30 departed police dogs. Each deceased service dog has a headstone, in which its cremated remains are entombed should the cemetery need to be moved. That has already happened once, when the Police Academy had to move to make way for the Towne Center shopping complex off the southbound San Gabriel River Freeway. Rocco and Axel will be laid to rest at the cemetery, where each headstone features a photograph of the dog and its handler. The headstones surround a lawn beside the department's kennels, where the dogs stay while their handlers receive training. On the night of May 14, Rocco was pursuing a possible burglar at the Museum of Latin American Art. A 2 1/2-year-old Dutch shepherd whose specialty was tracking people by scent, Rocco followed a trail onto the roof. He leaped onto an aluminum awning which collapsed. Then he struck a railing, which broke his back and left him paralyzed. He was euthanized two days later. Three days later, Axel, a 7-year-old German shepherd, was found dead in the garden of Cpl. Greg Manis, his partner of four years. A veterinarian later determined that Axel had a rare but lethal intestinal disorder. "My youngest [son] decided to name his tadpole Axel," Manis said, "so his name will live on." Rocco's death marked only the third time a Long Beach police dog has died in the line of duty. To lose two police dogs in the same year, much less in the same week, is rare. "It hit us pretty hard," said Officer Richard Lubchenko, who brought his dog, Jaro, along for the funeral but, because of the withering heat, "tossed him back in the air-conditioned car with a bowl of water." Along with a large police presence, there were a sizable number of people who just love dogs and felt the loss of the pair. In what is already a dog-loving town, there is a citizens group called the Long Beach K-9 Officers Assn., which hosted a reception after the funeral.
By NANCY WRIDE, Times Staff Writer
K-9 Axel is posted on mem2001-A
In Loving Memory of
K-9 ROXANNE "Roxie"
February 12, 1994 - November 6, 2001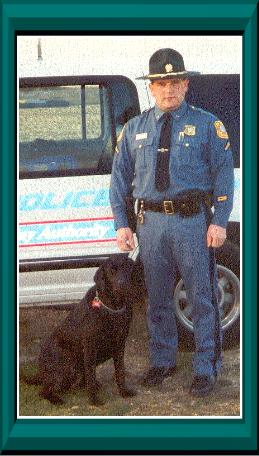 Handler: Cpl. Gerald 'Pete' Riess
Delaware River & Bay Authority
Cape May County - Lower Twp. NJ 08204

"Roxanne" was a great partner and a great friend."
'Roxie' (black lab) died of a heart attack in the line of duty from over work load after 9/11/01
Roxanne was used to patrol the authority's various airports, and bridges as well as the ferry terminals. This is dangerous and
very hard work. She died of a heart attack the sixth of November while searching cars and luggage of passengers waiting to board the ferry. Her work load had increased as DRBA police increased surveillance and detection efforts in the wake of September 11, 2001, terrorist attacks. She died working to protect passengers, doing what she was trained to do. "Roxie" cremains will be buried
in the spring (2002) under the flag pole at the Cape May Ferry Terminal. She is also sadly missed by wife, Mrs. Tammy Riess and their three young children, as well as many others.



March 22, 2002: Cpl. G. Peter Riess graduated with his yellow lab, Molly, and black lab, Holly from Explosive Detection school with a short ceremony and followed by luncheon. Congratulations Pete, Holly & Molly! They did not have any type of memorial service for Roxanne. However, the grounds maintenance people and I did put her ashes in the ground and they did an excellent job of landscaping the area. If you go to the Cape May side of the ferry, the piece of ground between the two loading bridges is a flag pole (no longer in use). The memorial is located a few feet from the pole. It is in the shape of a dog bone. If you are ever there, please ask anyone working. I would be honored to show you the memorial.
---
In Loving Memory of
K-9 REX
August 7, 2001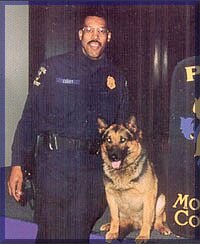 Handler: PO3 Bo Curry
Montgomery County Police Headquarters
2350 Research Boulevard
Rockville, MD 20850
ph: 240-773.5000

Rex was born in May, 1993 and started police work in 1994. He was an outstanding tracker and was bo's Pride & Joy. He had numerous street apprehensions to his credit, including a couple of burglars who were wanted in high profile cases. This case was known as "The British Bandits." they used a British accent and would break into expensive homes while people were sleeping and steal cash and jewelry. Rex could track anything. I knew when he could not keep up with the tracking, something must be wrong. He developed some neurological problems and had to undergo surgery to his spine. As a result, he died. Officer Curry returned to patrol in January
with his new partner, K-9 Greger.