In Loving Memory of
K-9 PUFF
November 15, 2001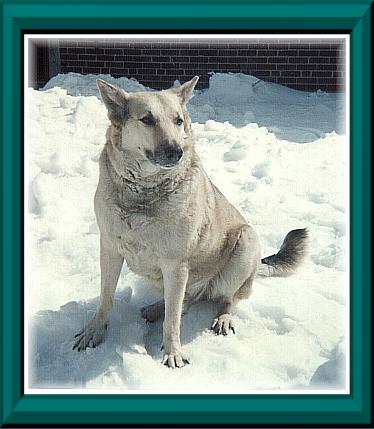 Fire Station: "The House of Dragons"
133 North 10th Street
Philadelphia, PA 19107

Fireman's Prayer
When I am called to duty, God
Wherever flames may rage
Give me strength to save a life
Whatever be its age.
Let me embrace a little child
Before it is too late
Or save an older person from
The horror of that fate.
Enable me to be alert
And hear the weakest shout,
and quickly and efficiently
To put the fire out.
I want to fill my calling
To give the best in me,
To guard my friend and neighbor
And protect their property.
And, if, according to your will,
I have to lose my life,
Please bless, with your protecting hand,
My family and my wife.

Puff is missed by everyone who ever met him.
Beloved firehouse pooch, Puff, euthanized.
'Puff' was a fixture in Chinatown for 16 years.
By YVONNE LATTY
mailto:lattyy@phillynews.com
215 854-2000 x 4917 Philadelphia Daily News
12156861350

P
uff, "the dragon fire dog," who for 16 years, brought love, smiles and extraordinary companionship to his Chinatown firehouse and neighborhood, was to be put to sleep today. He was 16 and the fire dog of "The House of Dragons," the fire station of Engine 20, Ladder 23 and Medic 1. Puff became a part of the Chinatown family 16 years ago. During a major winter storm, Firefighter Vern Yeager went him even though he was so big." Chen said Puff's declining health broke her heart. "He could barely walk," Chen said, her voice cracking with emotion. "He couldn't even jump out of the bed the last time I went to the station. Usually when he saw me he would just jump out of bed and get all excited. I looked in his eyes and I started crying because I knew he was suffering. I'm ready for this, but I'm going to miss him a lot." Yeager said he has lots of wonderful memories of Puff, a dog who was obedient and very easy to train. "When the fire bells went off he would bark and get excited as he watched us run around like crazy," Yeager said. "He always waited patiently for our return. When we'd come back he'd always be wagging his tail. We'd block the traffic to come back in the station and he would block the traffic with us." Slightly overweight, Puff was a big eater who especially loved Chinese food. "The neighbors would come and bring him Chinese food all the time," Yeager said. "He loved it. He was chubby because he was constantly being fed." After the firefighters get Puff's cremated remains from the veterinarian, they will set up a special place for them in the firehouse and build a memorial to the dog.
"He was worth his weight in gold," Yeager said. Our fire house, nicknamed the "House of Dragons", due to our location in the Chinatown section of Philly, is designated as Engine 20, Ladder 23, Medic 1 by the Fire Department. Puff's had many "Partner". Firemen come and go in station houses, and quite a few have passed through our doors during Puff's tenure. Some took more of an interest in Puff's needs than did others, but each cared for and loved him in their own way. He is sorely missed by all!
---
In Loving Memory of
K-9 PAL
July 2, 2001


Handler: P.O. Michael O'Brien
Yonkers Police Department
730 E. Grassy Sprain Rd.
Yonkers, NY 10710 Ph: 914 377 7388

On July 2, 2001, K-9 PAL came to an accidental death. K-9 Pal & his partner, Patrol Officer Michael O'Brien
were very busy as a canine team. They were responsible for numberous felony arrests. K-9 Pal and Mike also put on several canine
demonstrations to school children throughout the city. Pal's bravery and dedication were outstanding and this canine team
will be missed by the department.