In Loving Memory of
K-9 KAHLUA
March 9, 2001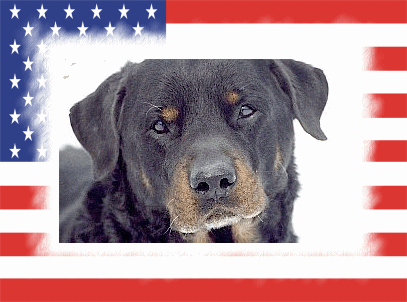 Handler: Officer David Rey
Glassboro Police Department

1 S. Main St. Glassboro, NJ 08028


THE PASSAGE OF A FRIEND
Kahlua, my partner, protector and friend passed away on Friday March 9, 2001 at 5:15 PM. The staff at the University Of Pennsylvania attempted to save Kahlua's life after a blood clot was found in his lung. He fought valiantly to the end, but was unable to overcome this obstacle. I was with Kahlua until the end. I am thankful that I could hold him in my arms as he passed. He was truly a canine with 9 lives. It was the community who reached out to help Kahlua in his time of need. Those individuals gave us two years of extended service. I don't know if these individuals will ever know how much their love and support meant to me. I will never forget. I can only hope to give back to the community what they gave to me. I would especially like to thank the members of The Glassboro Canine Unit and my loving wife for all of their support and strength. Eternally grateful, Ptl. David Rey K-934
A picture is worth a 1000 words.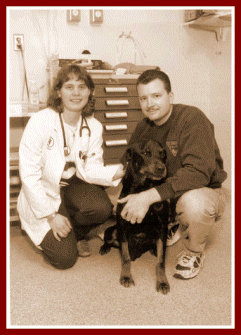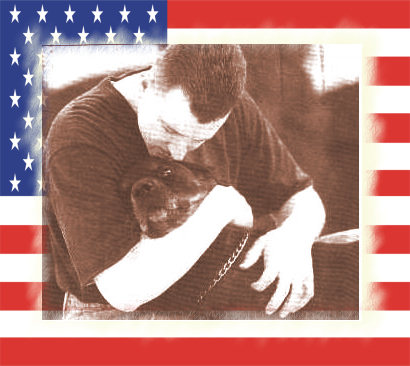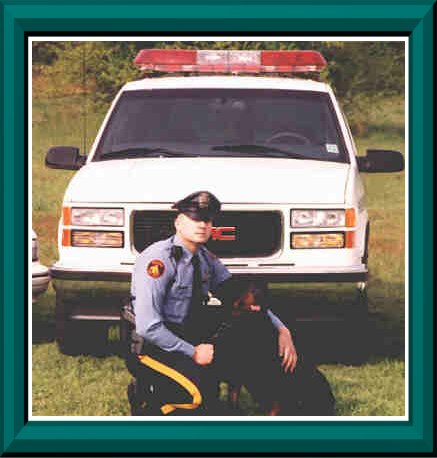 GLOUCESTER COUNTY TIMES

Through a call over the police scanner Saturday to all Gloucester County police, it was announced that Kahlua, the famous K-9 Rottweiler from the Glassboro Police Department had died in the University of Pennsylvania Animal Hospital. It was still unclear Saturday night what caused Kahlua's passing, but the canine was diagnosed with diabetes last year, which required twice daily shots of insulin injections, five days a week. Kahlua may also have been suffering from inflammatory bowel disease. He was operated on March 24, 2000, where doctors removed a foreign body from his stomach and intestines that was said to have equaled the size of a basketball. Kahlua handler, partner and friend, Ptl. Dave Rey was unavailable for comment. They're friendship and partnership began in 1993, when the two began working together and have apprehended over 49 suspects and have answered well over 200 police calls. In 1996, the two were called in to assist the state police which ended up successfully tracking and apprehending two suspects. One of the suspects was later charged with vehicular homicide.
****************
Dr. Tracey Gillespie (left), Kahlua and Officer David Rey of the Glassboro, NJ, K-9 Unit prepare for Kahlua's release from the Veterinary Hospital March 21, 2000 after surgery to remove a melon size obstruction in his intestines. Kahlua, who has diabetes and inflammatory bowel disease, gained fame when a TV news program reported that an 11 year old Mantua, N.J., girl, Erika Collins, heard about Kahlua's case and raised money at her school to help pay for his medical costs. A grateful Rey had only words of praise for the Penn team. "It was such a great experience," he said.
Photo by Daniel R. Burke

In Loving Memory of
Niko's Koppertone of Rib Mtn
KOPPER
October 8, 1996 - July 27, 2001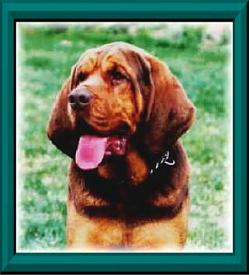 Handlers: Officer Jerry Nichols & Milica K. Wilson
LEBA
Law Enforcement Bloodhound Association
P.O. Box 471267
Aurora, Colorado 80047-1267

It is with deepest sadness that I inform you of our partner's crossing the "Rainbow Bridge."
Niko's Koppertone of Rib Mtn, Kopper, lost his battle with cancer. It came on literally over night and it hit hard and fast.
While he put up a good fight, unfortunately the cancer won out. I apologize for taking over a week to announce this, but Jerry and I have been trying to deal with his loss. It is especially hard since Kopper had not yet reached his 5th birthday. For those of you who knew, our heartfelt thanks for your prayers and good wishes. As you all know, it is most difficult to lose a partner, and they truly are family members. Kopper died in my arms which was comforting, it is the letting go that made it unbearable. He was my dog and then I shared him with Jerry, who saw his potential. Milica
In Loving Memory of
K-9 KANTO
December 13, 2001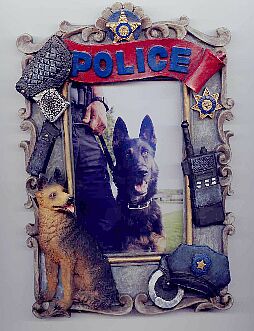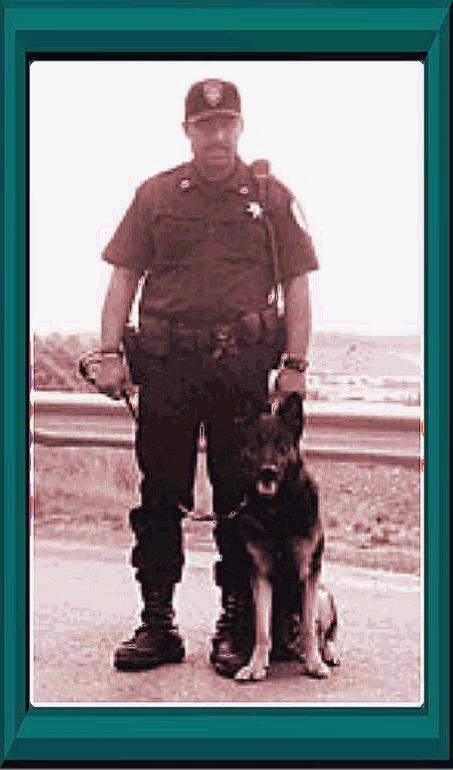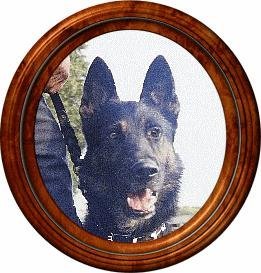 Handler: Deputy Robert Andrews
Plymouth County Sheriff Department
K-9 Unit - (508.530.6328)
Obery ST.
Plymouth, MA 02360
K-9 cop loses his best friend: Kanto killed by car Plymouth County Deputy Sheriff Robert Andrews will miss his canine partner, Kanto. The 75-pound German shepherd was killed by a car.

POLICE DOG IS KILLED IN HIT & RUN
Marshfield animal lover is putting up a $500 reward for information on a hit-&-run accident that killed a deputy sheriff's dog in Duxbury last week. James Ross has established ''The Kanto Reward Fund'' at Eastern Bank in Marshfield. He hopes the fund will collect money both for the reward, to buy a new dog for Deputy Sheriff Robert Andrews. He owned Kanto, a German Shepherd from Czechoslovakia, for 5 years. Last Wed. night, Kanto was finishing a nightly exercise routine in Andrews's backyard in Duxbury when he unexpectedly darted into the street and was hit by a car. Kanto died on impact, Andrews said. According to Duxbury police LT. Roger Banfill, whoever killed Kanto would likely only face a fine for failing to report the accident. Earlier this week, Banfill said, the police were following some leads, & hoped the reward money would bring in more phone calls. Andrews, who would command his dog in Czech, said his proudest moments were when Kanto helped find missing children or senior citizens. Kanto once helped to find a 5-year-old Plymouth boy who had run away from home. The boy was hiding in an outdoor shower stall and the dog sniffed him out. The sheriff's department pays for food & veterinary services, but K-9 officers buy their own dogs. Andrews, a 13-year veteran of the sheriff's department, paid $3,500 for Kanto, but to him, the dog was invaluable. ''I don't think I'll ever, ever find a dog to replace him,'' he said. Although Duxbury does have a dog leash law, Andrews says the real issue is the driver did not stop after hitting Kanto. ''You are to stop, regardless of who's at fault,'' he said. Last year, Ross helped rally support for a German Shepherd, Bubba who was hit by a truck in Plympton and was seriously injured. He ultimately raised more than $9,000 to rehabilitate Bubba, who ''runs like a bullet now.'' After hearing about Kanto, Ross wanted to find a way to offer his support. A self-described animal lover, he says most people don't understand how important animals are to their owners. ''The majority of them are family members,'' Ross said. Those who wish to donate to The Kanto Reward Fund may write to Eastern Bank, 1932 Ocean St., Marshfield, MA 02050. Emily Shartin can be reached by e-mail at eshartin@globe.com.Globe Staff Correspondent, 12/20/2001



DUXBURY - Kanto was a world traveler and a dedicated worker for the Plymouth County Sheriff's Depart. The 75-pound German shepherd was also Deputy Sheriff Robert Andrews' best friend and constant companion. On Wednesday night, Kanto was struck by a hit-&-run driver and killed. The driver of the car never slowed down, Andrews said. Even though Kanto had been off his leash, Andrews said the driver should have at least stopped. "If you hit something, you should have stopped," a heart-broken Andrews said Thursday. Duxbury police are investigating. It is illegal to hit a dog without reporting it to police. It is also illegal to have a dog outside without a leash, and Andrews may be liable for damages, Duxbury police Lt. Roger Banfill said. "If the dog is loose and he gets hit, it is the fault of the dog, & Andrews is responsible for damages to that vehicle," Banfill said. Kanto came to the United States from the Czech Republic 3 years ago after going through two years of police training. Andrews paid $3,500 for the dog. The sheriff's office paid for Kanto's upkeep, including food & veterinary bills. Each dog used by the sheriff's depart. is owned by the officer. Andrews learned 30 Czech command phrases to communicate with his new comrade, Kanto was soon an integral part of both the Plymouth County Sheriff's K-9 unit and Andrews life. Kanto's specialty was finding lost people & recovering evidence. "We found several little kids. We found bad guys, good guys, elderly people, stuff like that. "He loved my son and I very much. He was just a good dog. He was unique, and he was very good at what he did," he said. On Wednesday night, Andrews had taken Kanto outside to let him run in his kennel in the back yard. Once his run was finished, Kanto usually kept close to Andrews and would follow him around the house to the front door and then back inside. But Kanto either heard a noise or smelled a squirrel and bolted from his owner's side toward Franklin St. where he was struck. "I tried to talk to him and he didn't respond and I knew right at that point he was all done," Andrews said. Kanto will be cremated. His ashes kept in an urn at Andrews home, until Andrews himself dies. "In my will I'll put that he's buried with me," Andrews said. Sarah Coffey may be reached at
scoffey@ledger.com. By SARAH COFFEY The Patriot Ledger