In Loving Memory of
K-9 JAKE
August 3, 2001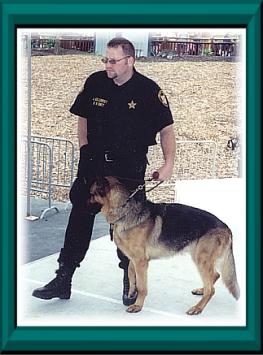 Handler: Jim Gilchrist
Geauga County Sheriff's Dept.
13281 Ravenna Rd. P.O. Box 22, Chardon, OH
44024-0224 - 440.286.4031

I lost my BEST friend last August in a Horrific car/dog accident that I will never forget. Within days, you sent me completed cards to pass out to friends and family. I don't know you, and had not heard or your service. The following week, my mother was diagnosed with terminal cancer. I was physically and emotionally depleted upon her death on November 26 2001. During this time we all suffered from the murder and destruction now referred to as "9-11." Words have no meaning here. just too much loss. I've lost so much,... but yet, I had so much... a strange but comforting thought. I've been back to work since January 2002. place. I have a new partner, "Kety," a wonderful Holland Shepherd, I love her so. The Sheriffs Office has been very good to me on my k-9 issue as well as my personal front. "The government can be good when managed by good people" I cannot tell you how many times I have looked at your card and cried, missing him. I will always miss him. He deserved so much more. What you did for me and my three boys cannot be described in mere e-mails. We passed out those cards so proudly to everyone that knew "Jake." You provided us a gift during a most sad and lonely time, you were one of the miracles my family received during those difficult time.
Jake, age 2 years, GSD Killed by auto
***********
THE FIRST & LAST POLICE CANINE
The first to sense the hostility of a suspect
The first to react to protect his master
The first to enter where danger lurks
The first to detect the hidden intruder
The first to take action against violence
The first to sense his mater's joy
The first to know his mater's sorrow or fear
The first to give his life in defense of his master
The last to be forgotten by those
who work with others like him
They know him as a "partner", not just an animal
--Author Unknown--
In Loving Memory of
K-9 JACK
August 5, 2001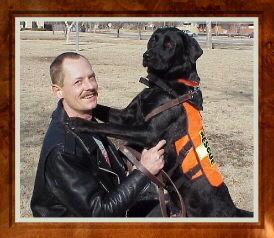 Handler: Charles Barnett & K-9 "Yukon Jack"
Unit 18 - MidWest Search and Rescue
Moore, Oklahoma

On April 19, 1995, the Federal Building was blown up. Krissie and I were both called out to the scene. I could not believe what I was seeing. In 1998 I joined the Heartland Search and Rescue and got a black lab puppy, Jack, donated to me by a family from Moore, Oklahoma. Over the next year or so, I trained him. On May 3, 1999, I was called out to help find victims in Moore, Oklahoma. I had Jack with me. I don't know how many people we found. It seemed like it was one right after the other. Jack was inducted into the "Oklahoma" Veterinary Medical Association Pet Hall of Fame" on January 22, 2000 for his work during the tornados. Soon after we joined MidWest SAR. In May, Jack helped find a drowning victim. Molly, who is now 8 years old, helped in training Jack by hiding for me and others. That is where we came up with the slogan support for search and rescue, "Get Lost." I never became a police officer, but I have one heck of a partner. His big sister, "Sam" would be proud of him. Well that is how I became involved with the SAR.



9/11/01Heard from Charlie today. This date has brought back many memories of the Oklahoma City bombing. He called to thank me for the cards to honor Jack & let me know that he will be sending a photo of newest trainee, GSD, "Buddy" who is 5 mos. old. He still misses JACK. Charlie's new partner, BUDDY BOY, who will never take the place of JACK, but is inching his way into his heart. Name of new team is PATHFINDER- The state of OK is now organized and coordinated together.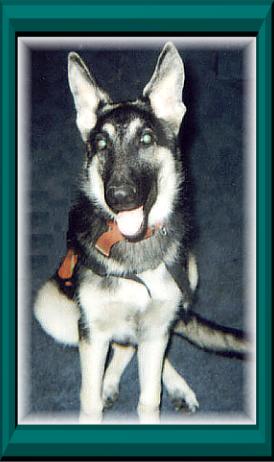 BUDDY BOY (Pathfinder)


Phone call from Charlie.... 2009! Friends ALWAYS