In Loving Memory of
K-9 IVAN
January 17, 1997- End of watch March 1, 2001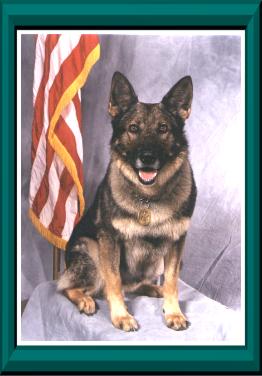 Handler: Officer Hanspeter Merten
K-9 Division
Sacramento Police Department
5770 Freeport Blvd.
Ste 100, Sacramento, CA 95822
Ph: 916 264.5471

The Sacramento police dog, K-9 Ivan, was injured Tuesday when he fell from a second story building. He later died from the injuries, the police spokesman said. K-9 Ivan and his partner, Officer Hanspeter Merten, were credited with the arrest of more than 50 felons, the police spokesman said. K-9 Ivan, a 4-year-old German shepherd, once found in a house three hiding people who were wanted on charges ranging from homicide to kidnapping. The decorated dog was a two-year police veteran. Memorial service was held March 7, 2001.
California Peace Officers Web Site
K-9 Ivan was a four year old German Shepherd who had been with the Department's K-9 unit for two years. He and his partner, Officer Hanspeter Merten, were credited with the arrest of over 50 dangerous felons. One of the more notable apprehensions was of three wanted felons at one location. The three felons were located hiding at different locations, attic and bedrooms, and were wanted for charges that included homicide, kidnapping, and parole violation. K-9 Ivan earned several awards at K-9 trial competitions during his two years with the department. K-9 Ivan was an asset to the community he served and will be sorely missed by the Sacramento Police Department.
E-mail from Hanspeter.......
I just want to say thank you very much for all the cards and bookmarks that you sent. I have passed them out to family, friends and co-workers and everyone loves them. I really appreciate all your hard work and time that you spent on remembering Ivan. I have had a chance to write a good bio on Ivan yet, but I was told about a nice piece that is available on line at camemorial.org. It is the California Peace Officers Web Site. If you look down on the left side column, you will see a K-9 sub-section. Click on that and Ivan's story will be there for you to read. Ivan was bought by the Sacramento police department in November of 1998. He was born on January 17, 1997 in Czechoslovakia and brought to North Carolina in November of 1998. From the day Ivan got off the plane at the Sacramento airport he was an instant hit around the police department. Ivan who let anyone play with him at work or at home. he loved it when people would throw his "Kong" toy for him to chase. Ivan quickly caught on to police work. He became fully certified in just under 8 weeks. During his two years on the department he is credited with over 50 felony arrests and who knows how many people he stopped from running from the police or those who decided to surrender instead of meeting Ivan up close. Ivan was known throughout the city for his wolf like face and loud bark from the patrol vehicle. He always knew when he was at work and when it was time for play at home. It was like he had an on/off switch. Ivan became an important part of our family. He went to the snow and came camping with my family. One day, Ivan and I decided that we were going to climb 10,000 ft. Mt. Tallac in the Lake Tahoe Basin. Ivan and I made it in just under 4 hours and we had a great view of the Sierra Nevada's from on top of the mountain. Ivan would go for daily walks or jogging down by the American River in Sacramento. He loved being outdoors and exploring new things. Ivan was loved by everyone at the police department, in the community and especially his family, and he will be truly missed. I know Ivan will be waiting for me at the gates above us with a "Kong" in his mouth, waiting for me to throw it one more time. Once again thank you for all that you have done for my family. It is people like you who make this world a much better place.
In Loving Memory of
K-9 IZZY
1990 - April 11, 2001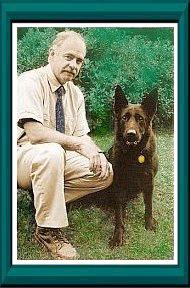 Handler: Det. Ed Stewart
Stowe VT Police Department
Lamoille County Sheriff's Department
Hyde Park, VT
Stowe's police dog dead at 11 By Pete Hartt
The identification card was signed with a tiny paw print because the card holder couldn't write. Izzy the police dog, who passed away last week after 11 years with Stowe Police Detective Ed Stewart, could do almost anything else. "If Izzy could drive, she wouldn't need me at all," Stewart said this week. "I don't think we even scratched the surface of her capabilities." Izzy was with Stewart from the time she was eight weeks old and had reached the equivalent of a doctorate in saving lives, finding people, sniffing out drugs and tracking criminals. Last week Izzy passed away after a short bout with a cancer. She was, perhaps, the best friend Ed Stewart has ever had, and a great friend to the community. "Our last trip together was to New Hampshire to have her cremated," Stewart said. "And even then, she was there for a rescue. We drove by an accident and stopped, and were the first EMT on the scene. I had to reach over Izzy to get my rescue kit. It was like she was there even after she was gone."
++++++++
Izzy came into Stewart's life after he, through the Stowe Hazardous Terrain team, had come into contact with the New England Canine rescue group on some search and rescue operations. "I was so impressed with what they did, and their dogs did, that I wanted to join," he said. "Of course, first you have to have a dog." Ben was Stewart's first dog, and partially trained when the Fidelco Guide Dog School called to offer him Izzy. "We went down to look at him, knowing I think that if we looked, he would be coming home," he said. What Ed and wife Judy found was a slightly undersized, but frenetic black German Shepherd named Izzy. A year later Ben was given to a game warden, and Izzy, already certified to search by air scent, was well on her way to a career that would take her and Stewart all over the country, including a trip to the 1996 Olympic Games in Atlanta. "She's taken me a lot of places," Stewart said. "A lot of people who knew Izzy have no idea who I am. We were in an airport in Nashville and Dolly Parton came over and signed her rescue vest, she probably wouldn't have done that to me." Since Izzy passed away Stewart has received dozens and dozens of e-mails. "If they had heard that something had happened to Ed Stewart," he said, waiving a thick sheaf of copies of the e-mails, "they probably wouldn't have known who I was, but Izzy..." A few years ago Stewart started grooming a smallish black lab named Cinder as Izzy's replacement. "Izzy started training her about a year ago," Stewart says of the active black lab from Covered Bridge Kennels in Stowe. "When you are looking for a working dog you have to try to pick out the one that is the biggest pain in the neck, the most active, the most curious. The one that always has to be doing something." Izzy eventually was certified for air search, tracking, drug detection, searching for bodies, searching for living persons under rubble and in disaster situations, and she pursued those activities all over the country. Stewart and Izzy found numerous lost people, saved a number of lives and found incalculable amount of drugs. The team, highlighted by Izzy's calm presence, visited a number of schools and helped bridge the sometimes broad gap between the police and the community. With dogs trained to operate in dangerous situations there is always the specter of a sudden and violent death, but Izzy survived all those situations. "The last few weeks she had lost a little bit of her spark," Stewart said. "We had taken her to the vet several times, but they couldn't find anything. Wednesday we were home with her and she passed away. With a dog like this you are always sending her into dangerous situations, so you're always a little prepared." After 11 years of being together almost constantly, Izzy's absence is not easily replaced by Cinder's exuberance. "We are a team, and it's like any loss," Stewart said. "We flew maybe 70 or 80 thousand commercial miles together and many more in armed forces aircraft. We did 20 to 25 searches a year. But it was different because we were together almost 24 hours a day, there are few relationships like that."