Dept. addresses available for those who want to

send condolences

to officers. See below

---
In Loving Memory of
K9 HERO
2001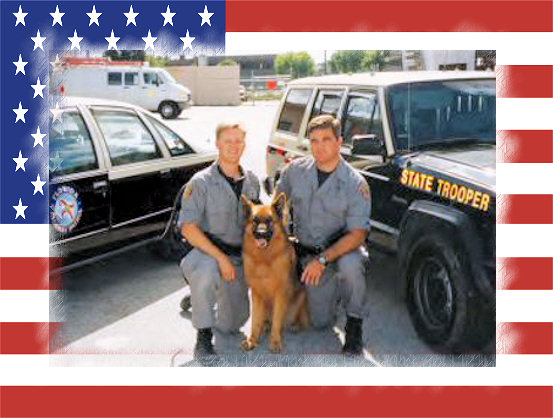 Handlers: Trooper Charles B. Paten, Jr.
Sgt. Mark Shoaff
Florida Highway Patrol

K9 Hero was imported from Germany, where he already held a Schutzhund I title, to Lake City, Florida. He paired with his handler in 1993 and together they worked for the next 6 years with three different felony partners in two different troops. During this time K9 Hero was directly responsible for the seizure of several million dollars in U. S. currency, including two separate seizures of over one million dollars each. He was also directly responsible for the seizure of over 100 kilograms of cocaine and pounds of marijuana. In one instance, he found cocaine in a van that had been under constant surveillance by U.S. and Canadian federal agents, but yet they were unable to find it when they stopped the vehicle.
K9 Hero was a goodwill ambassador for the Florida Highway Patrol, conducting many demonstrations at schools, churches, and police stations, and was a celebrity with two appearances on "Real Stories Of The Highway Patrol", yet no one will know how many times his huge frame and presence prevented a dangerous situation from erupting while his handler was on the side of the road with a subject. K9 Hero completed his service to the citizens of the State of Florida in 1999, when he was retired from service and passed away from health complications 2 years later.
submitted by Bobby Earls
---
In Loving Memory of
K9 HAHNS
1994 - 2001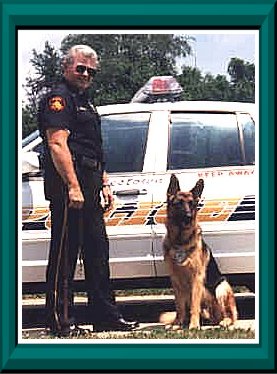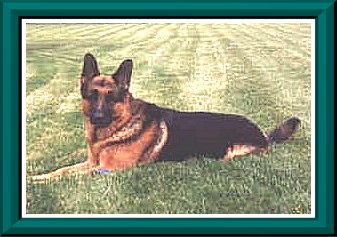 Handler: Major Ed McDonald
Charlestown Police Department
701 Main Street
Charlestown, Indiana 47111

Hahn's was donated to Major Ed McDonald at 10 weeks of age to become a member of the K-9 team. Early on, he exhibited a strong drive and ability to learn quickly. He was fully certified in narcotics and street patrol by the North American Police Work Dog Association (NAPWDA) at the young age of one year. Over the years, Hahn's was responsible for numerous arrests and was well known among area police departments, who often called upon him for assistance. After Hahn's was diagnosed with hip dysplasia and could no longer perform street patrol, he was still used for narcotics and article searches. He once found a gun used in a burglary the previous day, buried 6 inches underground, by tracking the scent from a gun clip found 30 yards away down a steep hill. In September 2001, Hahn's became ill. His local veterinarian referred him to Purdue University Veterinary Hospital where he underwent surgery and was diagnosed with inflammatory bowel disease. His illness did not respond to treatments and he died on December 28, 2001, at 7 1/2 years of age. He will be remembered as loyal, dedicated, protective of his master, and sadly missed by his family. The Charlestown Police Department is proud of Hahn's' accomplishments and loyalty to law enforcement, and dedicate this page to his memory. Thanks Hahn's.

I as well as the other K9 Officers appreciate anyone that takes the time to show respect and appreciation to our unsung hero partners. I have been in K9 since the I have been on the force and would not know what to do without them. They are a silent partner that will never run from danger, give their lives for you and protect you at all costs. They are a valuable tool to police and community, unfortunately a lot of people do not understand their full potential and time it take to have a successful K9 program. Thank you for your interest.
---
In Loving Memory of
K-9 HAMMER
September 1986-March 25, 2001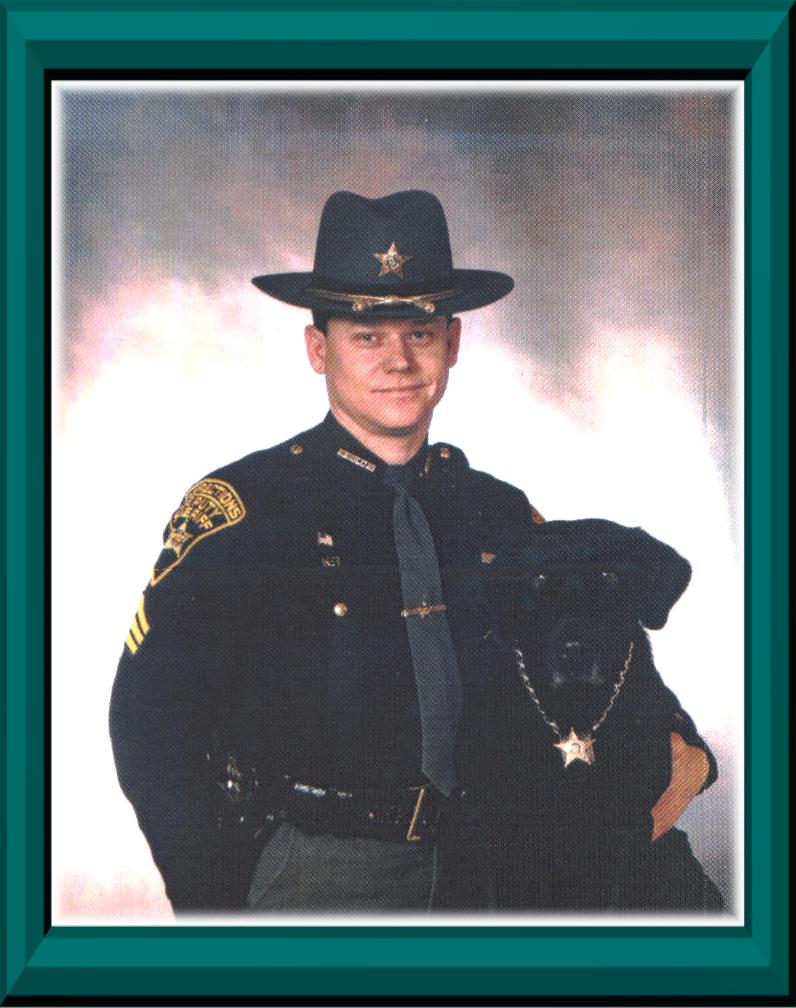 Handler: Detective Rick Sweeney
Hamilton County Sheriff's Department
11021 Hamilton Ave.
Cincinnati, OH 45231
ph: 513 825/1500 513 595 7478
"Police dog was 'always something special" By David Eck - Enquirer Contributor
During his career with the Hamilton County Sheriff's Office, he uncovered 200 pounds of cocaine, 1,500 pounds of marijuana and $8 million to $10 million in cash and assets. Not too shabby, for a dog. In his heyday working for the sheriff's department, Regional Narcotics Unit and other agencies on various drug cases, Hammer the Labrador retriever investigated cars, packages, boats and airplanes. "There isn't probably a scenario you could come up with that we hadn't done," said Hammer's handler and partner since 1991, sheriff's detective Rick Sweeney. Hammer died Sunday. He had been retired for the last two years, but remained a family pet for the Sweeney's. The sheriff's office has five drug detecting and/or SAR (search and rescue) dogs on active duty. Hammer made his debut law enforcement splash in 1992 by locating $817,000 in marijuana tainted money, Detective Sweeney said. "I guess I feel like I lost not only my dog, but my best friend and my partner," Detective Sweeney said. "I learned more from him than he learned from me. He pushed me to a higher level. He was always something special."


More about Hammer
On Sunday morning, March 25, 2001, Hammer was compassionately put to sleep by the skillful and caring hands of Dr. Roberto Legorretta, Woodbridge Veterinary Clinic, 7275 Dixie Highway, Fairfield, Ohio. Hammer recently suffered from throat polyps and was enduring a great deal of pain. Hammer entered on duty with the Sheriff's Office on August 3, 1991, and was assigned to his partner, Detective Rick Sweeney, who is currently assigned to the Computer Crimes Task Force. Hammer and Rick quickly demonstrated their effectiveness, efficiency and skills in the work of drug detection. Throughout Hammer's career this team was responsible for locating in excess of 200 pounds of Cocaine, 1500 pounds of marijuana, and over 10 million dollars in asset seizures and forfeitures. Hammer and Rick also made countless appearances at D.A.R.E. programs and other public events. Hammer was always a joy to the kids. As with all police canines, Hammer was also the Sweeney family pet. He grew up with Rick's daughters, Nicole and Kristine, and he even became the best friend of the Sweeney cats, Buster and Simon. Hammer was loved by all that met him and worked with him. He will be missed.


THE CREATION OF MAN'S BEST FRIEND
God summoned a beast from the field, and he said,
"Behold man is created in My image. Therefore, adore him. You shall protect him in the wilderness, shepherd his flocks, watch over his children, accompany him wherever he may go – even into civilization. You shall be his companion, his ally, and his slave. To do these things, I endow you with the instincts uncommon to other beasts: Faithfulness, Devotion and Understanding, surpassing those of man himself. Lest it impair your courage, you shall never foresee your death. Lest it impair your loyalty, you shall be blind to the faults of man. Lest it impair your understanding, you are denied the power of words. Speak to your master only through your mind and your honest eyes. Walk by his side; sleep in his doorway; ward off his enemies; carry his burden; share his affliction; love and comfort him. And in return for this, man will fulfill your needs and wants – which shall be only food, shelter and affection.
So be a friend of man. Guide him through the perils along the way to this land I have promised him. This shall be your destiny and your immortality."
The dog heard and was content.
---
In Loving Memory of
K-9 HOOVER
April 25, 2001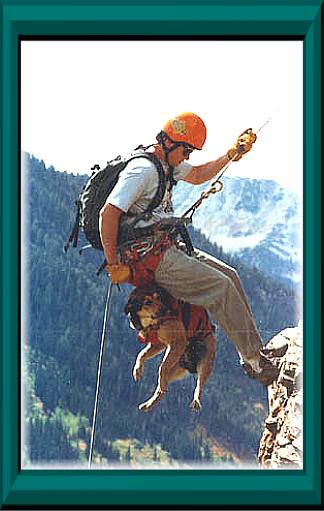 ..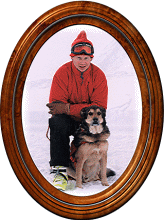 Handler: Dan Davis
Salt Lake City, UT SAR
1632 Roosevelt Ave.
Salt Lake County SAR
Office Search & Rescue Team

On April 22nd, 2001, a very special dog named "Hoover" went to sleep for the last time.
Over sixteen years old, Hoover had an extraordinary life and a very special human partner that made sure his last days were comfortable and full of love. Hoover was adopted as a young pup at the Humane Society of Utah by Dan Davis. Hoover was very quick to learn and Dan knew he had chosen a very special dog. They began training for search and rescue and soon Dan and Hoover were certified as a team by Salt Lake County Search and Rescue. The team also worked for Dear Valley Resort as Avalanche Rescue support. Hoover's keen sense of smell and his intense love of humans led him to find eleven lost people. As if saving human lives wasn't enough, Hoover's gentle nature, rugged good looks, and intense desire to please made him a natural for the film industry and had a very successful career in film. Hoover is best known for his role in the popular "Don't Waste Utah" campaign in the early 90's and for his starring role as "Fuzz" in the movie "Little Heroes". Hoover has appeared in many other films and has made special appearances with two of Utah's Governors, several famous actors, and has even co-hosted a KJZZ Movie Festival. Hoover will be missed by many and remembered by anyone that was fortunate enough to meet him and see his big brown eyes and constantly wagging tail. Dan Davis asks that donations to the Humane Society of Utah be sent in memory of Hoover.
Hoover was involved in finding 11 people.
Personal note:
Search & Rescuers are volunteer workers. They are not compensated for expenses. We should all appreciate them and let them know. ! Thank you, Christy for YOUR press release and photos. Dan I could hear the pain in your voice over the phone. We are so sorry for your loss. Dan is having a difficult time with his loss. This is normal and it truly hurts. Glad the cards arrived. Take care, time seems to be the only thing that helps.
---
In Loving Memory of
K-9 HERSHEY
Aug. 3, 1986 - Sept. 27, 2001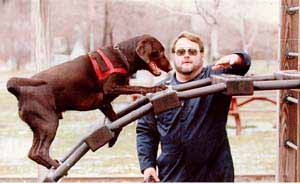 New York State
Office of Fire Prevention & Control
Investigator: Richard P Rogozinski
Bethlehem, Albany County, NY



THE PASSING OF K-9 HERSHEY
It is with deep regret that the New York state Office of Fire Prevention and Control (OFPC) reports the passing of K-9 Hershey, one of the original two K-9 accelerant detection bio-sensor units utilized by OFPC's Arson Bureau. The OFPC's Arson bureau implemented a K-9 accelerant detection unit in 1988 as part of its program for providing fire investigation assistance to local fire departments, law enforcement and arson task forces. At that time, K-9 Hershey, a chocolate Labrador retriever and K-9 Buddy, a yellow Labrador retriever, (deceased Oct. 98) along with their human partners, Investigator Richard P Rogozinski and Michael E Knowlton (respectively) attended and completed an intense 10-week training school conducted by the Atlantic City, New Jersey Police Department. The K-9 teams were trained to detect minute traces as well as large quantities of ignitible liquid residue (gasoline, kerosine, etc.) used by arsonist to imitate and/or intensify a fire. K-9 Hershey worked for the state Arson Bureau for 10 1/4 years retiring from active service in October 1998. During K-9 Hershey's career, he assisted in 302 statewide cases and assisted with cases in Vermont and Massachusetts. Two hundred and twenty-six (226) of those cases were arson jobs, which claimed 164 lives and resulted in more than 125 million dollars in direct fire losses. One of those set fires, the Happy land social Club fire (March 1990), resulted in New York's largest arson homicides. A total of 87 people lost their lives. The perpetrator, Julio Gonzales, had argued with his former girlfriend and vowed revenge after being evicted from the bar. Less than one gallon of gasoline and revenge is all it took to destroy 87 lives and cause injury to 38 firefighters. K-9 Hershey and Investigator Rogozinski were flown from Albany to New York City in a NYS Police helicopter to assist in the investigation. Within three hours of the request, Hershey was searching the building for ignitable vapor residues. K-9 Hershey detected accelerant residues in the hallway of the building's only usable exit. K-9 Hershey confirmed the NYC Fire Marshals' area of origin and suspicions on the use of an accelerant. The arsonist received the maximum sentence of 25 years to life imprisonment. He was convicted on 174 counts of murder 2nd, two for each death; he was also sentenced to 25 to life for an arson 1st conviction and five to 15 years on an assault charge.
---