Memorials to Fallen K-9s


2001-F
The F.A.S.T. Co. donates sets of memorial cards to all partners
I need your help to inform me of such losses.


Dept. addresses available for those who want to

send condolences

to officers. See below
---
In Loving Memory of
K-9 FERRO
AKA; Ferro vom Sickenger Moorwerk
December 14, 2001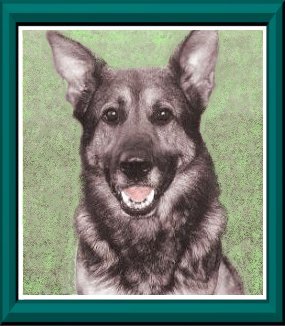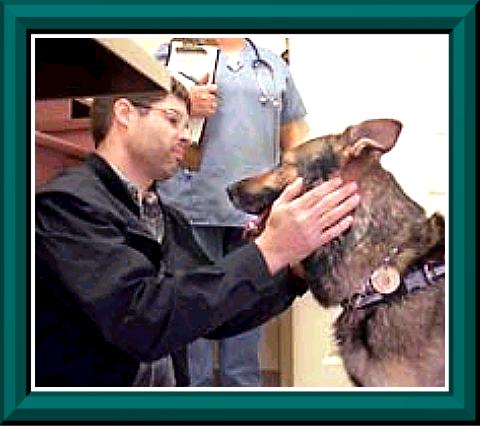 ........Handlers: Deputy Greg Premo & Deputy John Reding
Pierce County Sheriff's Department
WA.
Pierce County Sheriff's Department
930 Tacoma Ave. South
Tacoma WA 98402
Attn: Ed Troyer

Pierce County Sheriff's Department
c/o K-9 East Precinct
271 John Banaola Way East
Puyullup, WA 98373
Pierce County Sheriff's Deputy John Reding checks out his K-9 partner Ferro at a Tacoma veterinary clinic in May 2001, after the dog was found near where he had been lost a week earlier. Ferro was killed by a patrol car 12/14/01. 253.798.4721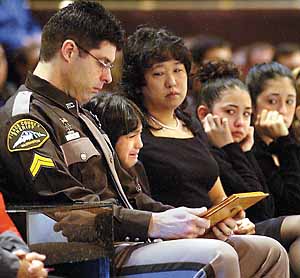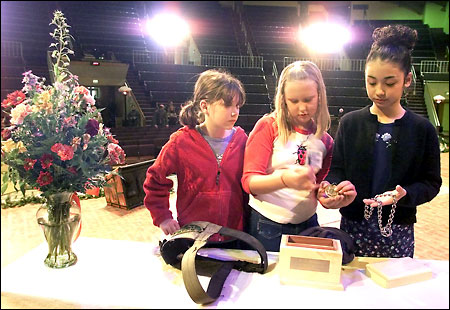 Deputy John Reding examines the Heart of Service award given to him by Sheriff Paul Pastor on behalf of his former partner, Ferro. Members of Reding's family – wife, Jill, center, and three daughters, from left, Corteney, 8; Karie, 10; and Ashley, 12 – sit with him in the front row in Covenant Celebration Church, Thursday, December 20th at 1:00PM at Covenant Celebration Church, 1819 E. 72nd St, Tacoma during Thursday's memorial for the sheriff's department dog. Reding was Ferro's first handler. Russ Carmack/The News Tribune
***********
Hundreds bid farewell to Ferro
Service for sheriff's crime-fighting dog somber with occasional bits of humor .Jason Hagey; The News Tribune
Hundreds gathered Thursday at a Tacoma church to remember the late Ferro vom Sickenger Moorwerk, arguably the most famous crime-fighting dog in Washington. The Pierce County Sheriff's Department's 5-year-old German shepherd, killed last week during a police chase, achieved the bulk of his celebrity from his many appearances on the TV show "Cops" and from surviving a week lost in the Mount Baker-Snoqualmie National Forest. Yet for all his glorious exploits, those who spoke at Ferro's memorial service recalled just as fondly some of his most doglike moments. Like his penchant for shredding stuffed animals at the precinct office. Or the way he enjoyed running around the parking lot with a 2-by-4 four in his mouth, knocking into the patrol cars. And the time he inexplicably urinated all over a woman's leg at a community festival. "She had a good sense of humor about it," said Paul Schneider, the department's K-9 unit sergeant. The anecdote lent some levity to an otherwise somber service. Ferro died in the line of duty Dec. 12 after he was accidentally struck by a patrol car during a pursuit in Parkland. The man being chased got out of his car and ran. Ferro ran after him and was hit by another arriving patrol car. Deputies loaded the injured dog into a car and rushed him to an emergency veterinarian, but he could not be saved. Sheriff's deputies arrested the felon shortly afterward at a nearby apartment. Ferro's memorial service at Covenant Celebration Church, 1819 E. 72nd St., came with many of the elements of a standard police funeral and testimony to the intimate bond between man and animal. Before the service began, more than 40 K-9 officers from as far away as Ferndale and Clark County drove in a procession from the Tacoma Dome to the church. Inside the sanctuary, video screens showed giant pictures of Ferro with his ears standing on end and his mouth smiling wide. The Tacoma Scots Pipe Band played bagpipes. A lone bugler played taps. "You can't explain the bond that you reach," said Schneider, himself a former K-9 officer. "But it is an awesome bond." Ferro had two handlers during his career, deputies John Reding and Greg Premo. Both men sat in the front row with their families and walked up on stage together to accept the sheriff's department's first Heart of Service K-9 award. Sheriff Paul Pastor presented the award, which will be given to sheriff's dogs that show exceptional "heart, courage and resourcefulness." Premo, the dog's handler at the time of the accident, also was presented with a medal of valor from the state K-9 officer association. Pastor said police and sheriff's dogs not only protect the public but they also keep officers out of harm's way by searching for criminals in dark houses, warehouses and bushes. "It is very comforting to have a K-9 go in," he said. The sheriff's department plans to add another dog to its force, and they're hoping to find "another Ferro," Schneider said. It's difficult, though, to imagine another dog matching Ferro's fame. In one of his several appearances on "Cops," Ferro captured a man who shot at deputies during a chase. And his public recognition skyrocketed in spring when he emerged from the woods near Greenwater nearly a week after he got lost tracking three suspected car thieves. Ferro lost 22 pounds but returned to duty just a couple of weeks later. At his service Thursday, Schneider gave Ferro one final command - one K-9 officers use when they want their dogs to relax for a moment. "Take a break, Ferro," Schneider said. "Take a break. We're going to miss you."
- - -* Reach staff writer Jason Hagey at 253-597-8486
******
Ex-partner rushed to injured dog's side FERRO:..By Stacey Burns, The News Tribune........
Deputy deeply saddened after famous sheriff's dog dies in his arms
As Pierce County sheriff's deputy John Reding toiled with paperwork late Wednesday, he listened on the scanner as his former partner chased after a suspect. He could tell Ferro was excited by the yip in the 5-year-old German shepherd's bark. "He gets so jacked up in the cars," said Reding, who was Ferro's handler until three weeks ago when he transferred out of the department's K-9 unit. "I got to know his yip after almost five years." Suddenly, a voice screamed over the radio. Another deputy's patrol car had accidentally hit Ferro in Parkland while he chased a fleeing man across Pacific Avenue South near 112th Street East. Reding dropped what he was doing and rushed to be with his friend. Two hours later, Ferro died in Reding's arms, but not before Reding stroked him and whispered into his ear. "It made me feel like something happened to one of my children," a sorrowful Reding, the married father of three girls, said Friday. "You go through so much with that darn dog that the bond is unbelievable," said Reding, a dog handler for four years. Ferro, a purebred from eastern Germany, was one of five Pierce County sheriff's dogs. He was the county's most famous crimefighter, man, woman or dog, having been featured several times on the TV show "COPS." He'd also recently survived a week lost in the Mount Baker-Snoqualmie National Forest near Greenwater. Ferro helped capture hundreds of criminals, including suspects in killings, kidnappings, rapes, burglaries and armed robberies. "That dog was amazing," Reding said. "He was a tough dog with a lot of heart, a lot of personality." Ferro lived for riding in the patrol car, but he also enjoyed hauling around large objects, playing tug-of-war and racing to fetch. And like most dogs, he loved to be petted. "He'd go to sleep in your arms just like he did the other night," Reding said. "He died at work and that's the way, if he had any human thoughts, I think he would have been happy doing - dying at work." The department plans a public remembrance for Ferro on Thursday. He will be cremated and his ashes given to Reding, who is more saddened than upset at Ferro's death. When Reding transferred out of the K-9 unit he had wanted Ferro to step down as well, but another deputy needed the German shepherd's help. "I wanted Ferro to retire also, that way he'd have a good, long life," Reding said. "But it was nice for the guys in patrol because they all loved Ferro."
* Staff writer Stacey Burns covers Pierce County crime and safety issues. Reach her at 253-597-8268 or stacey.burns@mail.tribnet.com.
- - - Service, donations for dog
* A public memorial service for Ferro will be Thursday at Covenant Celebration Church, 72nd Street and Portland Avenue. 1 PM
* Donations for the Pierce County Sheriff's Department's K-9 unit can be made in Ferro's name at any TAPCO Credit Union in Tacoma or Pierce County. For more information, call the credit union at 253-565-9875.



K-9 veteran Ferro dies in the line of duty By CANDACE HECKMAN SEATTLE POST-INTELLIGENCER REPORTER
A Pierce County police dog was accidentally killed by a patrol car shortly before midnight yesterday while in pursuit of an armed felon in Parkland. Pierce County Sheriff's Deputy John Reding checks out his K-9 partner Ferro at a Tacoma veterinary clinic in May after the dog was found near where he had been lost a week earlier. Ferro was killed by a patrol car yesterday. Ferro, a 5-year-old German shepherd, had been with the Sheriff's Department since birth and has been responsible for many fugitive and narcotics arrests, sheriff's spokesman, Ed Troyer said. The accident happened after Ferro's partner, Deputy Greg Premo, stopped a suspect for speeding in a car with invalid license plates. When the suspect jumped out of the car and ran into a gas station, the dog quickly sniffed him out & chased him across the street. Ferro was hit when he ran in front of another patrol car that came to support the pursuit. "The deputy who hit him is all broken up about it, but we're not placing blame anywhere," Troyer said. "It was just a tragic accident." The dog died at an emergency veterinary clinic within an hour of being hit. Authorities eventually caught the suspect with help from a Tacoma police dog. They believe the car he was driving had been stolen. "Dogs such as Ferro are true partners and members of their handler's family," Pierce County Sheriff Paul Pastor said. "Ferro was a K-9 of tremendous heart, and he will be greatly missed by this agency and this community." Troyer said Ferro was probably more popular and famous than any of his human colleagues. The dog was featured several times on the television show "Cops," sniffing out suspects and pulling criminals from trees. Ferro last made the news in the spring, when he became lost for a week in the woods near Mount Rainier. He and his former handler, Deputy John Reding, had been tracking a suspected car thief in the dark when the deputy lost sight of the dog. Ferro was eventually found in the same spot from where he vanished. The dog had lost 20 pounds, but was back to work within a month. The department is working on plans for a memorial service for Ferro, which could be scheduled for next week. The dog will be cremated, Troyer said. Donations to the K-9 unit in Ferro's name may be made at any Pierce County branch of TAPCO Credit Union. 253.565.9875.
jason.hagey@mail.tribnet.com. © The News Tribune 12/21/2001



Sheriff's Dog Struck & Killed by Car in Parkland Green River Murders... Thursday, December 13, 2001
More about Ferro: A Pierce County Sheriff's Department dog has been struck and killed by a patrol car. Deputies say the accident occurred during a pursuit at an intersection in Parkland. At least one juvenile with a gun has been arrested, but the reason for the chase remains unclear. Detective Ed Troyer says the dog, Ferro was struck while chasing someone in the street. The German Shepherd died about 12:30 this morning after being taken to an urgent care facility for animals. Ferro gained attention in May after surviving for nearly a week in the woods north of Mount Rainier. Deputies lost track of the dog during the search for a fugitive near Greenwater. Ferro lost about 20 pounds during the ordeal but quickly regained the lost weight. In August, the dog helped sniff out a 15-year-old boy who was accused of killing his aunt in Graham.



Tacoma pays tribute to a fallen canine hero Friday, December 21, 2001 By ELAINE PORTERFIELD SEATTLE POST-INTELLIGENCER REPORTER
TACOMA -- He was a German aristocrat with a wolfish smile, and he was a television star to boot. But he never insisted on anyone using his full title -- Ferro von Sickenger Noorwerk. Plain old Ferro would do just fine. Barring that, "Good Boy" was equally welcome. Yesterday the ashes of Ferro, police dog extraordinaire, were carried through the streets of Pierce County in a final procession to honor the canine killed in the line of duty. Silent passers-by stopped to gaze at the cavalcade of police vehicles bringing those ashes to a memorial at an East Tacoma church. Schoolchildren waved.
John Reding, Ferro's first handler, comforts his daughter, Courteney, after receiving a service plaque in memory of the fallen police dog during memorial services yesterday in Tacoma.



Mike Urban / Seattle Post-Intelligencer
Once inside Covenant Celebration Church, several hundred people sat in attendance -- many of them police officers and K-9 handlers from around the Northwest. The Tacoma Scots Band played in Ferro's honor. Other K-9 dogs in attendance bore the pipes stoically, although none appeared terribly happy. "Ferro died doing what he did best -- chasing bad guys," Maj. Tom Miner of the Pierce County Sheriff's Department told the audience. The dog boasted 152 misdemeanor and felony arrests, and successful tracks that led to the apprehension of dozens of other criminals. He and his handlers searched countless darkened buildings, fields and forests where other deputies could not safely go. Ferro captured a national audience after five appearances on the television show "Cops." Last summer, on camera, he managed to capture one bad guy who fired at deputies during a pursuit. He even endured his own trial in the wilderness in May, when he disappeared while chasing a suspected car thief in the rugged woods near Mount Rainier. During the chase, he became separated from his handler at the time, John Reding. Despite a search by dozens of search-and-rescue workers and other tracking dogs, Ferro was missing for seven days. He was found in the same spot where he vanished, more than 20 pounds lighter. In a month, however, he was back on the job. "I kept him safe; he kept me safe," Reding said yesterday. "He had a lot of heart." From left, McKenzie Spencer, Olivia Moody and Karie Reding look through the contents of a box containing the ashes of Ferro the police dog. A compartment in the box held the dog's police badge, work collar and other mementos. Ferro and Reding began their service together Jan. 1, 1998. During his off hours, Ferro lived with Reding, his wife, their three young daughters and a leggy blonde named Heide, another German shepherd the family laughingly called Ferro's girlfriend. But on Dec. 13, shortly after midnight, Ferro's luck ran out. His new partner, Deputy Greg Premo, had stopped a man for speeding in a car with bad license plates. The man jumped out of the car and ran into a gas station. Ferro quickly sniffed him out and chased him across the street. That's when Ferro was struck by another patrol car coming to help. Deputies rushed him to an emergency veterinarian, who worked for two hours to try to save his life. Numerous deputies crowded into the animal hospital, first to hold a prayerful vigil for his recovery, then to mourn his passing. Reding completed his tour of duty in the K-9 unit last fall, and Ferro was assigned to Premo. The two had only been together a few weeks at the time of Ferro's death. The two had already developed a strong bond, and Reding said Premo has profoundly apologized to him for Ferro's death. "I told him, 'Don't worry about it,'" Reding said. "It was something that just happened." Reding's three girls, ages 12, 10 and 8, are still grieving the loss of the dog they called their "baby boy." Sympathy cards have flooded in from all over, even from police in New York, where officers surely have a more profound grief with which to deal. Yesterday's ceremony likely would have been unbearably solemn for a mischievous dog such as Ferro, who was 5 when he died. Around station houses, he delighted in shredding any stuffed animals he could find. He was especially merciless when it came to his nemesis, a stuffed monkey that hung from the ceiling in one precinct. For that creature, Ferro would uncoil an awesome vertical leap of almost 8 feet to bring the monkey down to earth. "The dog just didn't want to quit," Sgt. Paul Schneider told those at the service. Mainstream religious wisdom has long debated whether animals have souls; many authoritative sources say they do not. But yesterday, from the grief written on the faces of those in attendance, to the tender way they stroked their own dogs, it was clear Ferro had gone to heaven. He is survived by his handlers and their families; his girlfriend, Heide; and at least two littermates, Frankie and Felicia.
P-I reporter Elaine Porterfield can be reached at 206-870-7851 or elaineporterfield@seattlepi.com
---
In Loving Memory of
K-9 FALK Von Batu
June 11, 2001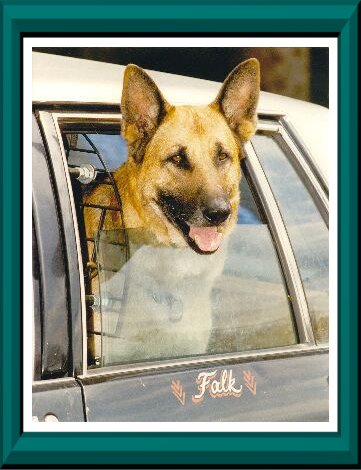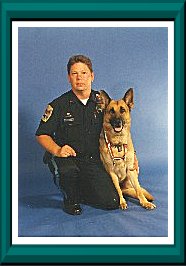 Handler: Officer Bruce Bertram
Danbury Police Department
203 797.4611-203.748.6456
120 Main St. - Danbury, Connecticut 06816
Read Bruce's "Day In The Life Of A K-9 Handler"

K-9 Falk was imported from German as an untrained dog in 1989, and joined the Danbury K-9 Unit on Jan 1990. K-9 Falk was trained by his handler, Officer Bruce Bertram. K-9 Falk was the first recipient of the prestigious Daniel Wasson Memorial K-9 Award. He was also awarded Danbury Police Departments highest award, The Medal Of Valor, among many other medals and awards. K-9 Falk, after being trained as a dual purpose K-9, was credited with make many hundreds of arrests, both in general patrol work and in narcotics and also the recovery of thousands of dollars in stolen property. In 1992 while searching for a shooting suspect, K-9 Falk was shot through the neck by the suspect at the start of a gun battle between Officer Bertram and the suspect. Despite the severe wound K-9 Falk continued to function as an outstanding police dog and was credited with saving the lives of five officers including his handler. K-9 Falk returned to active duty seven months later and continued to served Danbury's K-9 Unit until he was retired in 1996. On K-9 Falk's last day of work before retirement, he responded to a call for assistance from Ridgefield PD to search a large building for a burglar hiding inside. K-9 Falk located the suspect and physically apprehended him. The Ridgefield Officers stated that they were proud to be able to give K-9 Falk a retirement dinner. After getting used to civilian life K-9 Falk enjoyed retired life in the home of his handler. K-9 Falk passed away at home in June of 2001 after suffering a stroke. Plans are being made for a police memorial service for K-9 Falk at the Danbury Police Department where his ashes will be buried. The expected date will be Police Memorial Day in May of 2002.



Connecticut Police Work Dog Association A very informative site to visit
AWARDS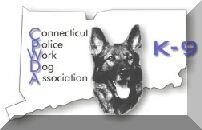 Daniel Wasson Memorial Award
Medal of Valor Award plus others.
information submitted by: Frank McDermott & K-9 "Hero" PRESIDENT & James A. Cortina - Board Director Treasurer & one of the 3 founders of the C.P.W.D.A.
In Loving memory of
K-9 FURLOW
July 3, 2001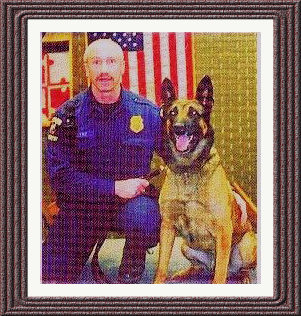 Handler: PO3 John Green
Montgomery County Police Headquarters
2350 Research Boulevard
Rockville, MD 20850
Main Number 240-773-5000
Established in 1961, the Montgomery County Police K-9 Section is made up of 13 officers and 17 dogs. Since 1961, 91 dogs have served in the unit. The County uses a variety of breeds including German Shepherds, Labrador Retrievers, Malinois, and Bloodhounds. The dogs get yearly physicals with a contracted veterinarian. They are fed high protein diets supplied by the county. The dogs live with their handlers and are a part of the handler's family. Once the dogs are retired, they stay on as pets with their handlers. If you want more information on how you can meet these K-9s, click here to see the K-9 news and events.