In Loving Memory of
K-9 DUTCH
September 13, 2001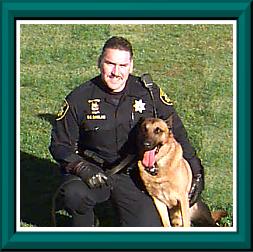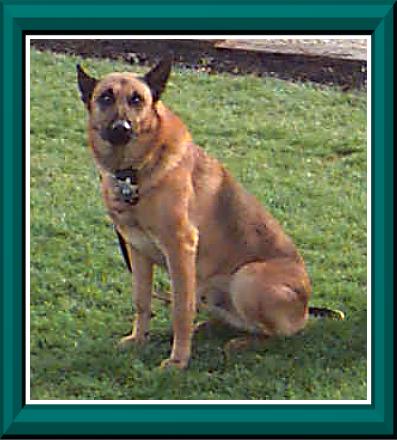 Handler: Officer David Sawlaw
Rantoul Police Department
109 E. Grove Avenue
Rantoul, IL 61866
217.892.2103
On September 13, 2001 at approx 2200 hrs. Dutch, a Dutch Mallinois, died in the line of duty working as a K-9 for the Rantoul (IL) Police Department. Dutch had 6 years of service and over 1000 drug seizures for the Village of Rantoul. While searching a three story building for a burglary suspect, Dutch fell off the roof. According to officers present, Dutch and his handler K-9 Officer Dave Sawlaw were clearing the building. Apparently Dutch heard a noise on the roof and ran out a door leading to the roof. As his handler gave the command for him to stop Dutch had already leaped 15-feet away from the building and off the roof, falling three floors. A nearby ambulance crew responded and transported Dutch to Heritage Animal Hospital, Champagne, IL, where he was pronounced dead.



Memorial service will be held Thursday, Sept. 20, 2001
*************
Chief requesting police dog successor
Rantoul's police chief has asked the village for money to get a new police dog to replace Dutch, a beloved dog that died in the line of duty Thursday night. Black ribbons draped the walls of the Rantoul Police Department on Monday to honor Dutch, a dog that assisted with 957 drug arrests, tracked down 27 suspects, and helped with the seizure of more than $150,000 in cash and 23 vehicles over the last six years, according to police records. Dutch died late Thursday when Rantoul police responded to a burglary in progress at White Hall, 801 Commerce Drive. White Hall had been the largest building owned by the military until the construction of the Pentagon. According to a police report, officers from Rantoul, Ludlow, Thomasboro, Fisher and Gifford helped to secure the 500,000-square-foot building while a canine team searched for the intruders. During a search of the three-story building, Dutch gave chase to apparent intruders on the roof before he fell into an open courtyard inside the building. On Monday, Police Chief Paul Dollins said he will ask the village board to spend up to $6,000 to buy a new police dog. Mayor Neal Williams said he wholeheartedly supports Dollins' request and would put it on the agenda for the Oct. 2 village board meeting. Dollins said he would give Officer David Sawlaw, who was Dutch's handler, full discretion in choosing a new police dog. "He's going to have to live with the dog and work with the dog, so he should have the most expertise as to the kind of dog that would be best," said Dollins. Rantoul has a second police dog named Rocket that works with Officer Jim Sullivan.
---
In Loving Memory of
K-9 DEKE
February 21, 2001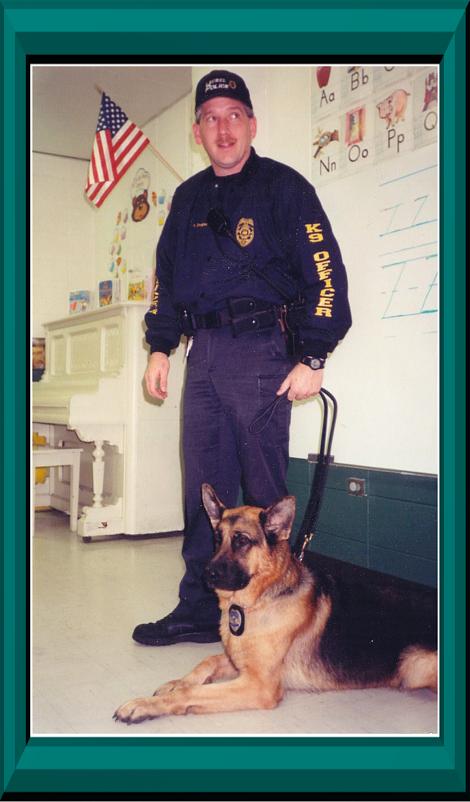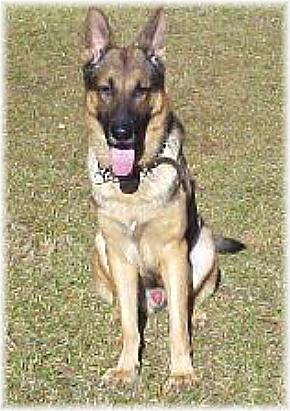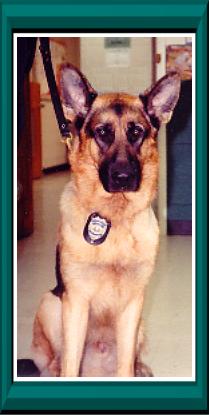 ...
Handler: Office Russell Douglass
Laurel Police Department
Chief of Police Walter Martin
317 S Magnolia St
Laurel, Mississippi 39440 (601)425-4711

The accident occurred on February 21, 2001. I was in route home at 05:30 AM. The fog was very dense. A log truck "with no logs" had pulled onto the road and had no trailer lights working. I did not see the truck until seconds before impact. The pole of the truck came though the front window of my personal car and though the plastic kennel that Deke was in and though the back glass then lodging in the trunk. When I came to, the log truck had moved and continued leaving the scene of the accident. I immediately began looking for my partner. The rear passenger door of my car was open and the kennel was shredded. My partner was gone. I called out, but it was no use. He would not respond. I attempted to get out of the car, but I was trapped in the front seat. Two young men on their way to work stopped to help and stayed with me until the fire rescue arrived. The guys from my shift began to arrive and started a search for Deke. Later at the hospital in the E.R., I was informed by another K-9 handler that Deke was found across the road at the nearest house to the accident scene. I was then told that Deke was dead. I was crushed. I was saved and my partner had been killed. I believe that Deke was trying to get help for me because, he seemed to be heading to a house close to the accident. It is hard and thank you for sympathy. I returned to light duty a month later a had only minor injuries. I have a new partner Rex. Thank you again, Russell
In Loving Memory of
K-9 DRAKE
July 16, 2001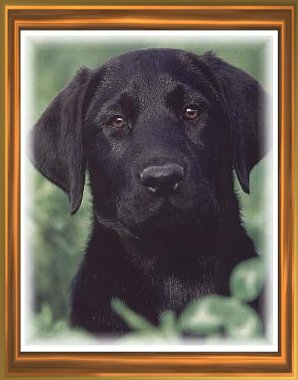 Handler: Deputy John Palermo
Harris County Sheriff's Department
1301 Franklin - Houston, TX 77002
713.450.1623

July 30, 2001, 9:47PM Sheriff's Department alters K-9 policy after dog's death By LISA TEACHEY
The Harris County Sheriff's Department has changed its K-9 units policy after the death last month of a drug sniffing dog left in an air-conditioned vehicle. Lt. Ricky Williams of the Harris County Organized Crime and Narcotics Task Force said Monday dogs can no longer be left alone in a vehicle for more than 10 minutes. The policy change comes after a black Labrador retriever named Drake died last month while his handler was attending a mandatory training session. At the time of Drake's death, department policy allowed deputies to keep their dogs in air-conditioned vehicles while they attended court, training sessions and other functions where the dog was not needed. "Until we figure out what happened to Drake, we have changed the policy," Williams said. On July 16, Drake's handler, Deputy John Palermo, attended a required street survival training session at a church near Katy, Williams said. The day was hot and humid, and Palermo did not want to leave Drake in a kennel all day at his home, Williams said. Instead, he brought the dog, which the county paid $5,000 for, to the session and left him in an air-conditioned Chevrolet Tahoe. "He checked on the dog at every break," Williams said. "At 11 a.m., the dog was fine. At noon, he was dead. "He (Palermo) is devastated," Williams said. An autopsy report on the cause of Drake's death is not complete, Williams said. At first it was thought the dog died from poisoning, but that has since been ruled out. Drake, who was almost 2 years old, had been with the department for about five months, Williams said.
In Loving Memory of
K-9 DOC
November 7, 2001 Meet Doc & Marlie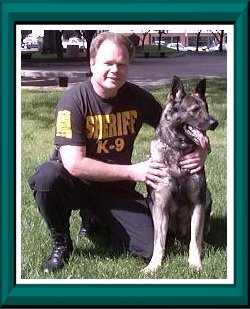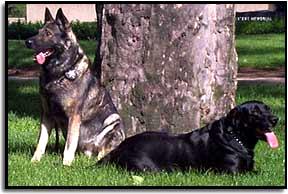 Handler: Detective Ed Roman
Cuyahoga County Sheriff's Department
Narcotic Unit
1215 W. Third St. Cleveland, OH 44113 - 216.443.6000
+++++++++++++
Doc @ work below with Deputy Roman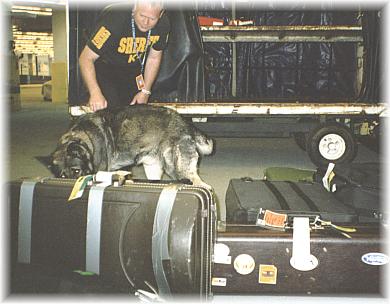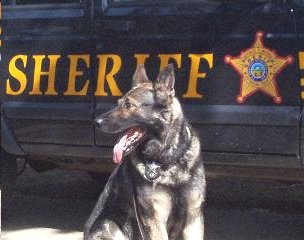 Deputy Roman will be getting another partner, but not to fill Doc's collar, but to help us all feel safer.
Doc was a really good dog, he made me look good. I guess you got a picture of him off the Cuyahoga County Sheriff's Office web site. Marlie is a little black Lab that is for narcotics only. Doc and her were good buddies. Marlie's handler, Dave and I are partners in the Narcotic unit.
A little about Doc:
He was in service for our department from June 15, 1995 until a sudden illness of kidney failure. He passed away on Wednesday, November 7, 2001. He was both patrol and narcotics certified through NAPWDA and the State of Ohio. He would have been eight years old on January 1, 2002. We have two GSD females right now, just pets, but I will get another K-9 like Doc, after this giant hole in my heart is healed.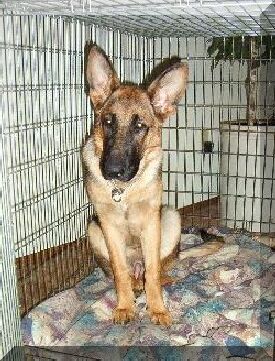 K-9Saber @6 Mos. - Oct. 2002, New partner.