In Loving Memory of
K-9 CHIEF
October 8, 2001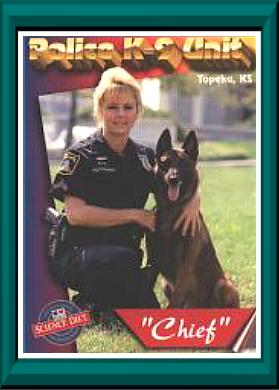 Handler/Partner: Sgt. Julie Hoffman
Topeka Police Deparment
320 S. Kansas - Topeka, KS 66603 - 785.368.9551
This morning at 1:30 AM, my partner since 1994,Chief, died in my arms after a long battle with cancer.
I never knew being a K-9 handler could be so painful,but losing a partner and best friend is beyond words.
God I know there are no criminals in Heaven,but please make sure Chief has a place to play.
God speed Chief. My partner, my love, and my heart has gone to the angels.
Sgt. Julie Hoffman and Angel K-9 Chief
UPDATE
Officer Hoffman has been on the department since 1983. Chief has been in the department since 1994. Chief was one of the oldest working police dogs. This is one of the baseball cards that we handed out to children.
Incidentally, Julie is formerly from Elizabeth, NJ.
Julie will never forget Chief.
************
Julie has a new partner: K-9 JOKER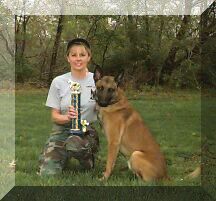 We competed in a narcotics detection competition and won a 2nd place trophy. In that category he is a lot like Chief. His name is Joker and he is very ornery. He came from the same man who raised and trained my Angel boy Chief. I cannot come to your website without the tears pouring out. I miss my boy so much. I was cleaning the other day and I had placed a bag of Chief's hair behind his picture but had forgotten it was there. I held it to my heart and cried a river. He was always there for me and I just wish I could have done more for him. I would like to meet you someday and get your autograph in my book. Your compassion for us handlers is beyond words. You hold a very special place in my heart. You don't know how much the cards meant. You helped me heal. For you and all you do, I will always be grateful. God speed Angel Chief, keep watch over Lulu and keep her safe.
Julie and K-9 Joker (his name fits his personality
---
In Loving Memory of
K-9 CHASE
December 31, 2001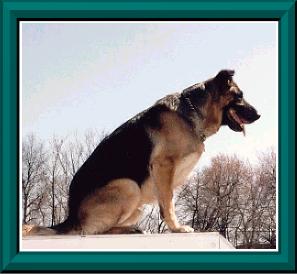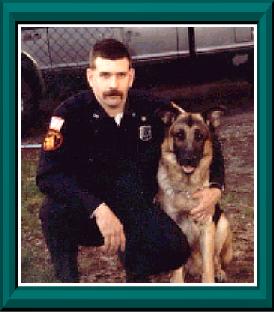 Handler: Patrol Officer Robert Gooding
City of Beacon (NY) Police Department
845-831-4111
The City of Beacon
1 Municipal Center
Beacon, New York, 12508
(845) 838-5000 Fax (845) 838-5012

Beacon is a small river city along the Hudson River, about half way between New York City and Albany. Beacon is five square miles with a population of approx. 15,000. Our department has 38 officers, and currently there are four
K-9 teams working. The are trained in routine patrol methods, suspect tracking, and narcotic identification. Chase was with the department from 1989 to 1996. I was not his original handler in the department. I worked Chase from 1993 to his retirement in 1996. He was retired when I was out on a job related injury. Again, thank you very much.
Bob Gooding
PO Robert Gooding, Jr.
City of Beacon (NY) PD

I do have a new Shepherd, his name is Kovu, but I am no longer with the K-9 unit.
---
In Loving Memory of
K-9 CIROS
October 15, 2001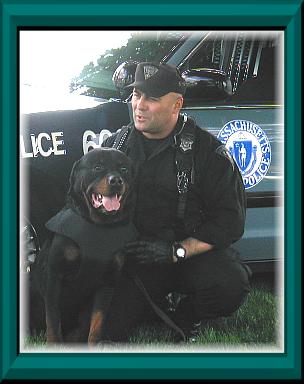 Handler:Trooper Mike Fiore
Massachusetts State Police
Special Operations K-9
MSP Stoneham Barracks
166 Pont St. Stoneham, MA 02180
781 279 1283
K-9 Ciros (Rottweiler) leans on his partner, Trooper Mike Fiore, Massachusetts State Police Special Operations K-9 Unit
From Sgt. Robert McCarthy,
Eastern MA Supervisor of MA State Police Special Operations K-9 Unit:
I have some sad news concerning Ciros. Last week, Mike and Ciros were involved in a pursuit of bad guys that ended in New Hampshire. The chase ended in a car accident involving Mike and Ciros. Ciros sustained back injuries that were deemed inoperable, leaving Mike with the heartbreaking decision of having to put his partner to sleep. MIke put Ciros down on Monday. He is now searching for a replacemnet,
but no dog will ever fill Ciros' collar.
*********
An example of K9 Ciros' work
Tpr. Mike Fiore and K9 Ciros did a bang-up job on a day shift recently in Malden. A robbery suspect was doing a fine job of eluding the police in the area of Rt. 99. The suspect would be seen running and then seek cover, until flushed, and the process would start all over. When Ciros got involved in this ordeal, the suspect decided he would be safer hiding in a house. The police surrounded the house and Ciros was put on a building search. After a few minutes, the suspect was located hiding in a corner, with a Rottweiler on his chest. One in custody for Malden PD for a host of charges. Tpr. Fiore and Ciros were then summonsed back to the scene by the Malden detectives. Ever the good cop, Tpr. Fiore knew he had to connect several pieces of this puzzle. The detectives had a victim, and a suspect, but they still needed assistance looking for the implements of the crime. Mike and Ciros backtracked their route during the earlier pursuit. A knife, duct tape, hat, mask and gloves were all located and submitted as evidence.
***********
K-9 Ciros (Rottweiler) leans on his partner, Trooper Mike Fiore, of the Massachusetts State Police Special Operations K-9 Unit. Tpr. Fiore is interviewed by the producers of "Pet Project," A program which features volunteer efforts for the humane care of animals. The filming was for a segment about Massachusetts Vest-a-Dog and the founder, 13-year-old Lisa Hinds of East Walpole, to be aired on Animal Planet in Spring 2002. K-9 Ciros will be fondly remembered as a loving 'leaner' - when you patted him, he leaned his whole being onto you - what an affectionate being!
Doing the job before and after WTC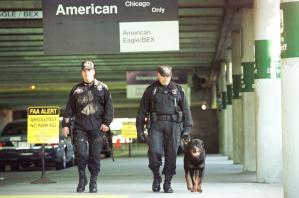 9/18/01 Trooper Fiore and K-9 Ciros
THis photo was printed in from 9/18, of Tpr Fiore and K-9 Ciros at Terminal B at Logan Airport in Boston, CREDIT: AP Photo/Gretchen Ertl
The caption that goes with the picture above - and is due to be in our 2002 calendar (looks like we will dedicate the calendar to Ciros)K-9 Ciros (Rottweiler) leans on his partner, Trooper Mike Fiore, of the Massachusetts State Police Special Operations K-9 Unit. Tpr. Fiore is interviewed by the producers of "Pet Project," a program which features volunteer efforts for the humane care of animals. The filming was for a segment about Massachusetts Vest-a-Dog and the founder, 13-year-old Lisa Hinds of East Walpole, to be aired on Animal Planet in Spring 2002. Before the filming, K-9 Ciros enjoyed lots of pats, as Tpr. Fiore talked with many folks about K-9 work at The Stray Pet Fund Day in Mansfield.
---
In Loving Memory of
K-9 CYRO (pronounced Ki-ro)
1993 - May 27, 2001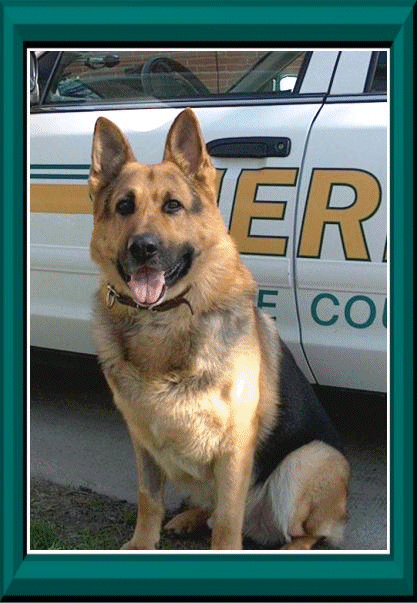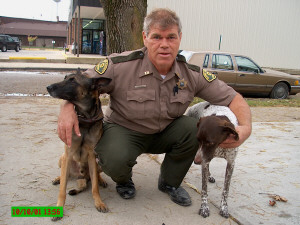 Araas, pronounced Are-iss) Chief Brown & Missy, miss their buddy, Cyro
Handler: Chief Deputy Vernon Brown
Wayne County Sheriff Department
N. Lafayette St. Corydon,
50060 (641) 872-1566
Cyro was born in Holland, 1993 and came to America in 1995. He began as a corrections officer until June to Dec. 1996. Mark Beauregard became his handler. In 1997 Jim Olson became his handler for the Marion County Sheriff. In 1999 Cyro began to work for Wayne County with Deputy Vernon Brown and stayed until his death. He was a talented dog and a dedicated police officer. He loved to work and live with Vernon, a match made in heaven. We loved and miss him very much. He wanted to be with Vernon, no matter what he was doing. He wasn't happy staying home from work with the house dog, Missy a GSP. He loved to ride in the patrol car and bark which intimidated many people. Inside he was a puppy who loved his toys and chew rawhides. He had a great nose for drugs. His talent will be missed, but the love he gave everyone will be missed most of all. He had an official funeral service, with speakers, music and honor guards. and was laid to rest in a ceremony that included soft music, a few poems and kind words from a Methodist minister. Several people, including officers from other counties who brought their own police dogs, gathered in the yard behind the sheriff's office in Corydon for a memorial service to the 8-year-old German shepherd that died of cancer. Cyro was faithful and true to the last beat of his heart." He helped deputies sniff out drug dealers and drug stashes and chase criminals. On occasion, he worked on interstate highways helping officers and state troopers go through vehicles suspected of carrying drugs. "He could find even the smallest amounts," said Vernon Brown, his handler and chief Wayne County deputy. But, it was Cyro's friendliness with children, his unwavering will to work, his gentle personality that made him popular, according to Brown. "He was special," said Brown. The dog was buried in the yard. Brown said there will be a marker placed at the site.
---
In Loving Memory of
K-9 CAESAR
May 10, 1994 - May 16, 2001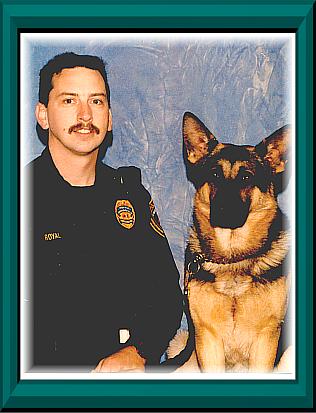 Handler: Officer Tommy Royal
Springfield Police Department
321 E. Chestnut Expressway
Springfield, MO 65802-3899

Rivermont Memorial Gardens, Springfield, MO.
Caesar's grave is the one with the fresh flowers. He retired early because of physical reasons. He continued to live with Officer Thomas Royal. Officer Royal is no longer in the K-9 Unit, but continues his career in the department,
keeping us safe in this country of terrorists.
I'd love to say that we got another dog and actually we did for a while, but we sent him back. It was too soon and he wasn't Caesar. Tom's still working in Patrol and I was promoted earlier in the year to be the Police Services Administrator.
Sherry & Tommy Royal
---
In Loving Memory of
K-9 CHIP
March 15, 1990 - July 9, 2001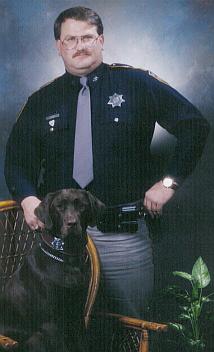 Handler: MIKE
Harris County Texas Sheriff's Department
1200 Baker Street
Houston, TX 77002
Chip, a male Chocolate Labrador Retriever, born March 15, 1990, was one of the first dogs to join the Harris County Sheriff's Department Canine Unit. As were most of the Department's original dogs, he was donated to the Department by a citizen in Harris County. Chip's was trained by Joey with assistance from Kenny Ray Hartman and Greg Bisso of the Houston Police Department Canine Detail. He was originally trained as a Narcotics Detection dog, however, during tracking training, he was found to possess some unique qualities in aggression or bite work not normally found in a Labrador Retriever. He was then put through some simple handler protection training and as he excelled in that area, was trained in building search and area search. Chip's nature, drive and intelligence allowed him to be one of the few Labrador Retrievers in the country that was able to be fully trained as a Patrol/Criminal apprehension dog. In his 4 year tour of duty, he was responsible for over 3500 pounds of marijuana seizures, 300 kilos of cocaine seizures, $300,000.00 in cash seizures, and over 150 arrests as a result of criminal apprehension work.
In Loving Memory of
K-9 CAO
January 11, 2001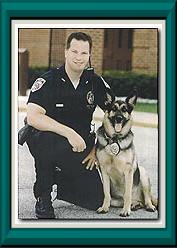 Handler: Officer Keith Stevens
Crown Point Police Department
Crown Point, IN
Police dog dies of unknown causes
Autopsy could pinpoint reason for Cao's death. BY SUSAN ERLER Times Staff Writer
CROWN POINT - Cao never got the attention of her more famous counterpart, Udo, but the 4-year-old German shepherd didn't lack for heart and courage, her police department co-workers said. The three year department veteran died early Thursday after suffering a seizure, the dog's handler, Officer Keith Stevens said. The dog had been on the job with Stevens Wednesday night and seemed normal just before she died, Stevens said. "She was just laying where she normally lays. She got up and collapsed and she was gone," Stevens said. An autopsy performed Thursday at the Purdue University Animal Hospital could help determine whether the dog ingested poison, he said. "With it being a police dog, we have to make sure it's not somebody throwing something over the fence," Stevens said. Cao, an American bred shepherd, was trained to sniff out drugs and track missing people. She'd spent her whole career with the Crown Point department and during that time helped take a total of 140 pounds of marijuana off the street and locate suspects in several burglaries and a battery case, Stevens said. On occasion, she'd been loaned to federal, state and county law enforcement agencies to help solve crimes. "She did a lot of good work for a lot of people," Stevens said. Like the rest of the department, Cao had been awarded a police badge, Stevens said. "They are members of the department just like everybody else," he said. Cao's death leaves the department with two police dogs, Udo, owned and handled by Officer Charles Sprague, and Enzo, Stevens' newest dog. Udo and Sprague got nationwide attention last year when the pair were nearly separated after Sprague left his former department to work in Crown Point. An outpouring of sympathy for the close bond between police dogs and their handlers resulted in Crown Point city officials agreeing to buy the dog from its former owners and grant ownership to Sprague for life. Stevens said Thursday that he understands that bond only too well after losing a dog he described as attentive, loving and playful. "That's why she was so good at narcotics detection," he said. "Her reward afterward was to get to play. "You never realize how much you love the dog because they're always there. When something like this happens you're just floored, especially the way it happened," Stevens said. "A 4-year-old healthy dog. It's just unbelievable." Results of the autopsy are not expected for several days.
Susan Erler can be reached at serler@howpubs.com or (219) 662-5331. Photo provided to The Times - Crown Point, IN
**********
Memorial Service Jan. 26, 2001
Crown Point, IN is Lake County seat in northern Indiana.
Officer Keith Stevens said Cao, a 4-year-old German shepherd who was a three year veteran of the Crown Point Police Department,
died early Thursday after suffering a seizure. Stevens, who was Cao's handler, said the dog had seemed healthy.
No results from autopsy.
In Loving Memory of
K-9 CYR
February 19, 1996 - May 20, 2001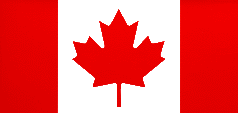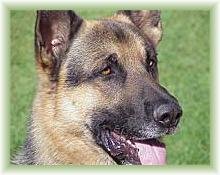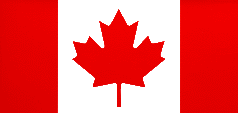 Handler: Constable Steve Kaye
Saskatoon Police Department
Saskatoon, SK, Canada Saskatoon Police Service
P.O. Box 1728
Saskatoon Sk S7K 3R6 Canada ..

In Memoriam Police Service Dog Cyr "Forever Watchful" "The Working Dog"
My eyes are your eyes,
To watch and protect you and yours.
My ears are your ears,
To hear and detect evil minds in the dark.
My nose is your nose,
To scent the invader of your domain.
And so you may live,
My life is also yours.
~Author unknown.
Fallen comrade becomes first canine casualty for city police
PSD CYR was born on February 19th 1996. His partner and friend was Constable Steve Kaye. Kaye and Cyr had worked together protecting the citizens of Saskatoon since April 1998. On May 21st 2001, members of the Saskatoon Police Service were attempting to effect an arrest on firearms related matters when the suspect fled the area in a truck. A chase ensued which ended on Highway 41. The male suspect exited his vehicle discharging shots into the air and was commanded by police several times to drop his weapon. In an attempt to disarm and subdue the subject Police Service Dog CYR was commanded to attack. PSD Cyr took on the challenge of subduing the subject without hesitation as he had done a million times before. He did it because he was asked to. He did it to protect his partner and the community. There was no fear...only determination...to do what was right. The subject discharged his weapon killing Police Service Dog CYR. Cyr died instantly, and at that moment we lost a colleague, a partner, a friend and a police officer.
Cyr for your courage and strength we remember you. You have paid the ultimate price to protect us. We will never forget you.


5/29/01 Police Acquire Grandson of Slain Dog
In Sherwood Park, Alberta at 11:00 a.m., May 30, 2001, Constable Steve Kaye of the Saskatoon Police Service will receive a young dog named "Blue" for training as a police dog. Blue is the grandson of Cyr, Constable Kaye's slain canine partner. Kaye describes Blue as a clone of Cyr and added that the young dog has tremendous potential to succeed as a police dog. Blue has been living with a foster family, the Robinsons at 8 Gilmore Avenue in Sherwood Park. (Contact person Paul Robinson 780-467-4948) Paul's son Garret Robinson has been Blue's caregiver. Garret will present Blue to Constable Kaye. Blue was owned by Heartridge Training Academy in Sherwood Park, Alberta (780-417-6638). Peg O'Neil of Heartridge knows how difficult it is for a child to relinquish fostership of a dog, her daughter had been prime caregiver to Cyr before he became a member of the Saskatoon Police K-9 Unit. Heartridge will be supplying Garret with a new canine companion.


Memorial For Saskatoon Police Service Dog Cyr
A memorial service for Saskatoon Police Service Dog "Cyr" will be held Thursday, May 31, 7:00 p.m.
at the Francis Morrison Library Auditorium. This is a private memorial for Police Members and family.
Media representatives will not be allowed access to the auditorium.
In Loving Memory of
K-9 CARO
September 30, 1992-December 28, 2001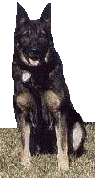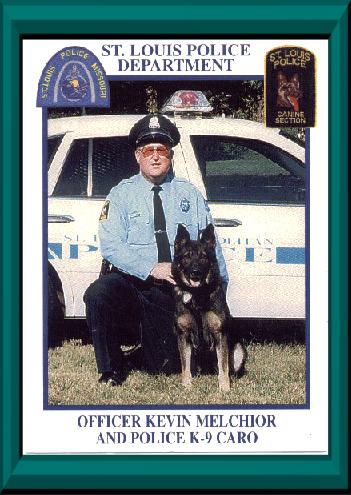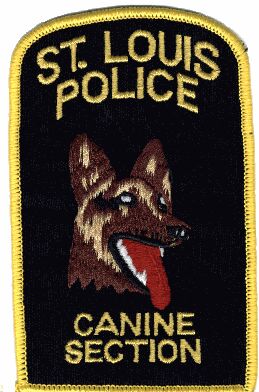 Officer: P.O. Kevin Melchior
St. Louis Metropolitan Police Department
314.444.5524 ..
POLICE CANINE CARD
Breed: German Shepherd
Color: Dark Sable - Weight: 82 lbs.
DOB: Sept. 30, 1992 Birth Place: Hungary
Graduate Canine School December 16, 1994
Dual Trained - Patrol/Narcotics
U.S.P.C.A. Region 16
"CHAMPION"
1996, 1997, 1998
USPCA Certified PD1 - 1995, 1996, 1997, 1998
USPCA Nationally Certified PD1, 1995, 1996, 1998
USPCA Nationally Certified Narcotics Detector - 1998
USPCA - Regional 16's Narcotics
Find of the Year 1995-1996
Handler, Officer Kevin Melchior
Police Officer - February 25, 1980
Canine Handler - April 27, 1987
Police Dog Trainer - June 28, 1991
Member of
USPCA-NAPWDA-DAD/DAC-MPCA
On December 28, 2001, retired St. Louis Metropolitan Police Canine "Caro" was put to sleep. Caro was taken to the vet because he had not eaten for two days but everything else seemed normal. During the examination the Vet felt a mass in Caro stomach area. It was decided to do exploratory surgery. During the surgery both of Caro's kidneys were tumors the size of cantaloupes. Because nothing could be done to keep Caro in the quality of life that he was used to, he was put to sleep. Caro was a Police Canine until September of 2000, when his handler P.O. Kevin Melchior was transferred from the canine section. P.O. Kevin Melchior handled Caro from September 1993 until September 2000. When Caro was retired, Kevin and Linda Melchior purchased him so he could become their pet. But was he a pet, Officer Melchior could not let Caro see him in his uniform because Caro would get extremely excited and try and find his police car, to go to work. Canine Caro was one of the most decorated Police Dogs that the St. Louis Metropolitan Police Department has ever had. He received numerous awards from the United States Police Canine Association, The German Shepherd Dog Club,and The Human Society for both his work on the street and during dog trials. Caro is the only 3-time Champion of the USPCA-Region 16, Field Trials.
Through his career Caro conducted numerous canine demonstrations to thousands of people. He truly loved doing these and then letting the people pet him afterwards. Caro could not resist giving the kids a kiss as they left. Caro you were one of the best, you did almost everything that I ever wanted you to do, and did it with style and personality. You will be missed, not only because you were my best partner, nor that you were a great Police Dog,but also because you were my best friend.
By Kevin Melchior