In Loving Memory of
K-9 BLONDIE
December 31, 2001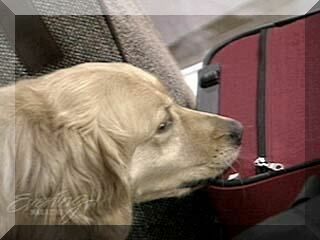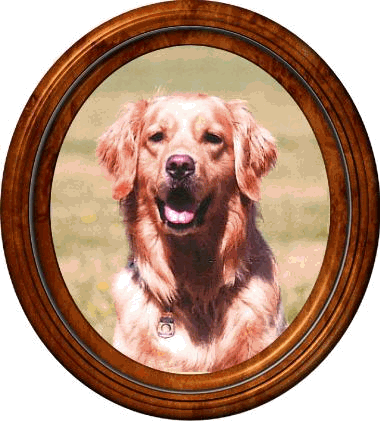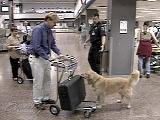 Handler: Officer Sean Mulligan
Seattle-Tacoma International Airport
U.S. Customs Service
1000 2nd Avenue Suite 2100
Seattle, WA 98104

Working hard for a rolled-up towel
Reported by John Stofflet, Evening Magazine
What government worker helps keep us safe and expects nothing more than a rolled-up towel in return? The answer is found at Sea-Tac Airport. They're man's best friend, but not if you're a drug smuggler. Last year alone, U.S. Customs Service canine teams detected hundreds of tons of illegal narcotics, worth several billion dollars on the street. Since 1970, customs has been using specially trained dogs, usually rescued from animal shelters, to detect illegal narcotics in packages or luggage entering our country. The canines can inspect several hundred packages or bags an hour. "If we had to hand-pick through all the bags, if we had to stop each individual and speak to them, we would be here all day just to do one flight," said Sean Mulligan. Officer Mulligan and Blondie, a golden retriever rescued from an animal shelter, went through four months of training together. If she smells drugs in someone's luggage, she'll simply sit down. As a reward, she gets to play with a rolled-up towel. The officers don't mind letting their partners enjoy their reward. After all, these canine cops work hard, and never complain. The dogs' skills are well known among smugglers. In fact, customs officers watch for nervous reactions when the dogs come in to the baggage area. "As soon as the dogs come out here looking for narcotics, we're also looking at the passengers as well. If you start seeing passengers moving away from the dog, that kind of gives you a clue," said Luis Sanchez. The dogs have to have at least a 95% success rate at finding drugs to stay on the job. A sad update to that story. K-9 enforcement officer Sean Mulligan lost his partner, Blondie, to cancer on New Year's Eve. Blondie was a customs dog for 5 years. In that time, Blondie was responsible for several busts, including discovering 57 pounds of marijuana on a Canadian fishing boat in 2000. Officer Mulligan says Blonde's greatest accomplishment though, was visiting thousands of school kids at countless schools in the area and educating them about the dangers of drugs. Sean says the kids don't always remember him, but they always remember Blondie.
************
On New Year's Eve, I lost my loyal partner, "Blondie." She was diagnosed with cancer on December 13th.
My wife and I were able to spend Christmas with Blondie.
Blondie was a 7 year old Golden Retriever. We started working together in 1997. At the time I was assigned to work for U.S. Customs in Calgary, Canada. Blondie was discovered at a animal shelter in California. Blondie got sick on Nov. 27th, 2001. On Dec 6th, she had surgery to remove a tumor from the right side of her heart. The results came back, the tumor was malignant, exactly one year to the day, Dec. 13th, I lost my dad to cancer. Blondie was released from the vet hospital on Dec. 14th. She came home with me to recover. She "officially" retired on Dec. 23rd. The best Christmas present was just that Blondie got to spend Christmas with me and my wife. Blondie's health and attitude was great. We spoiled her with gifts and her own turkey dinner. It didn't take her long to learn how to enjoy the "retired" life, going for rides, going on walks and even watching football games on the couch.
TO HONOR BLONDIE:
Irish Blessing

May the roads rise to meet you,
May the winds be always at
your back,
May the sun shine upon your face,
The rains fall softly upon the fields,
And until we meet again,
May God hold you in the
hollow of His hand.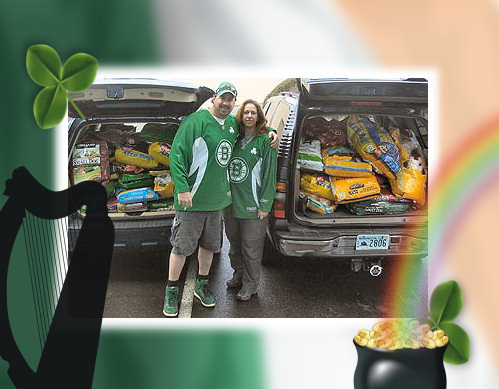 UPDATE
Earlier this month Stephanie and Sean (a CBP field canine trainer) Mulligan set out to collect 1,000 pounds of food to donate to a local Seattle Animal Shelter. This year's Annual St. Patrick's Bash at the Mulligan home netted a whopping 2,460 pounds of pet food and $600 in gifts, tripling last year's cash donations! According to the Tacoma Humane Society, this is enough to sponsor one of their K9 kennels and called the donation a "Pot o' Gold for Homeless Pets!" Sean and Stephanie Mulligan with two full vehicles containing more than a ton of donated pet food from their 2009 St. Patrick's Day Bash.
---
In Loving Memory of
K-9 BART
December 13, 2001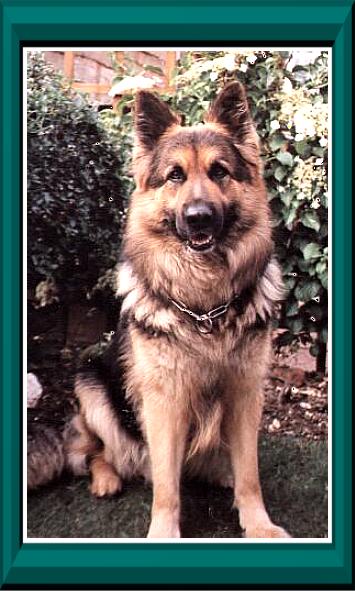 Handler: Peter Bryce
Canine Specialist Protection,
3 Oaks Training Kennels.
Botley Road, Bishops Waltham.
Southampton, England
SO32 1DR UK

From Peter:
My boy's name was Bart, a long coat German Shepherd Dog. He died on the 13/12/01 at 10-40 hours. He had a ruptured spleen. also a tumor from his kidney's to his liver. The vet let him go while under the anesthetic. He was with me for ten years, good and bad times. I lost a friend yesterday. A friend I had loved for ten years. His passing has left a void which will never be filled again. He was part of me, my companion and protector, my ears and my eyes. We did not need words. We anticipated each other. We were one, beside each other every day throughout the years. His only purpose in life was to please me. We worked and relaxed together. For those short years, we were inseparable. The end was quick with no warning. We had no time to prepare. For my friend this was a blessing as the pain was short, but my pain will last much longer because I had no time for good-byes.
My handsome, majestic friend has gone ahead of me............
Wait for me, Bart, as you have done before. I will walk through that door one day and you will be by my side once again.
---
In Loving Memory of
K-9 BRIX
November 18, 2001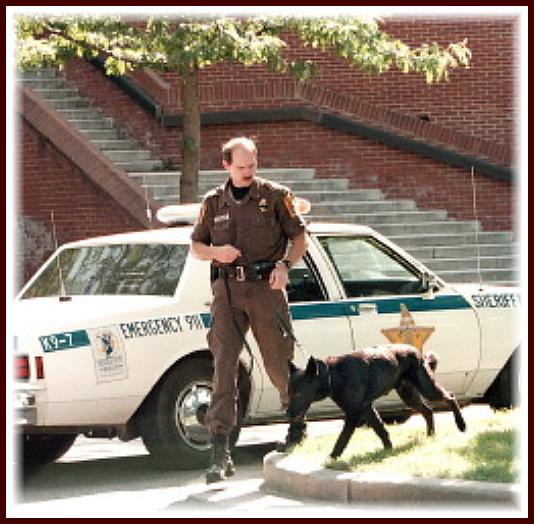 Handler: Corrections Officer First Class
Sam Stottlemyer
Frederick County Sheriff's Department
(301) 631.3025 & 365.3613
7309 Grove Road - Frederick, MD 21704
Ph: 301-694-1532
E-Mail: mailto:Jim_hagy@co.frederick.md.us

POLICE DOG DIES OF CANCER By Kate Leckie - News Post Staff
Corrections Officer First Class Sam Stottlemyer and Brix begin a search at the rear of the Frederick County Court House during a bomb scare in May 1998. Brix, a dog the Frederick County Sheriff's Office used to detect explosives, died Sunday of complications from cancer that had gone undetected. "We're all kind of stunned because there were no signs that anything was wrong," said Sgt. Keith Robeson, head of the sheriff's office K-9 unit. Brix and his partner, Correctional Officer First Class Sam Stottlemyer, had finished working about 2 p.m. when the dog collapsed and was rushed to Glade Valley Animal Hospital, where he "died in Sam's arms," Sgt. Robeson said. Although a necropsy will be conducted to confirm the cause of death, Sgt. Robeson said initial indications are that the dog had cancer of the heart and spleen, which caused the heart to rupture Sunday. Plans are being made to hold a memorial service for Brix, a 6 1/2-year-old, all black German shepherd who was in great demand for his explosives work throughout the Western Region of Maryland as well as in Pennsylvania, Sgt. Robeson said. Sheriff Jim Hagy said this is the first time since he's been in office that a K-9 has died while still an active working patrol dog. "He's been a valuable member of our agency and an ambassador for the Frederick County Sheriff's Office," Sheriff Hagy said. Rep. Roscoe Bartlett, R-6th, donated the money for the K-9 to the sheriff's office in October 1996 after a pipe bomb was found at the Frederick County Detention Center. Contacted Monday morning, Dr. Bartlett said, "It's always sad to lose a dog we love." Sgt. Robeson said Brix was particularly busy after the disaster at Columbine High School. In the days following the school massacre, Brix was called out to conduct 28 explosives scans throughout the area. Brix also came to Officer Stottlemyer's aid during a fight at the jail when an inmate swung at him. "Brix was a good dog. He'll be missed," Sgt. Robeson said. Sykesville Police Chief John Williams, formerly head of Frederick County's K-9 unit, trained Brix and Officer Stottlemyer as partners in explosives and patrol work. "This certainly is a traumatic time in" Officer Stottlemyer's "life. These officers spend as much time with their police dogs as they do with their families. And these dogs actually do become a part of the family," Chief Williams said.
---
In Loving Memory of
K-9 BLITZ
Born in Canada - October 11, 1987- March 26, 2001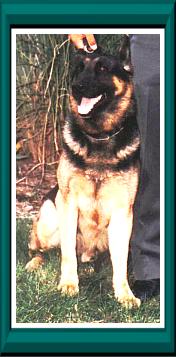 Handler: Detective Bob Valencia
Overland Park Police Department
12400 Foster St.
Overland Park, KS 66213

I am a member of the Overland Park Police Department in Overland Park, Kansas and currently am a member of the K-9 section and have K-9 Bruno. My trainer, Bob Valencia recently had to put to down his police K-9 BLITZ who was 14 years old. Blitz was the first dog on the department and Bob's trusted friend for many years. The lieutenant of the Corps read Blitz eulogy and the fact that Blitz had a love for fast food. Another lieutenant read,
"The Rainbow Bridge."
The fast food story was also told. Bob spent his last five dollars on Arby's roast beef, and when Bob was out of the car and Blitz decided to help himself. Just on of the many memories of Blitz. The chief presented a plaque to Bob. It hurt him deeply when he made the trip to the vet that one last time and held Blitz in his arms. As he watched his eyes close I'm sure he felt as if his heart was breaking. Our police department buried Blitz in front of the station. We have been assured, that when our dogs time comes to pass on, the department will honor them properly. Thank You, Robbie



THE TIME HAS COME
If it should be that I grow frail and weak,
And pain should keep me from my sleep,
Then, will you do what must be done,
For this, the last battle cannot be won.
You will be sad, I understand,
But don't let grief then stay your hand,
For on this day, more than the rest,
Your love and friendship must stand the test.
We have had so many happy years,
What is to come, can hold no fears,
You would not want me to suffer so,
When the time comes, please let me go.
Take me to where my needs they'll tend,
Only, stay with me until the end.
And hold me firm and speak to me
Until my eyes no longer can see.
It is a kindness you do for me.
Although my tail its last has waved,
From pain and suffering I have been saved.
Don't grieve that it must be you
Who has decided this thing to do,
We've been so close, we two, these years,
Don't let your heart hold any more tears.
(unknown author)
In Loving Memory of
K-9 BRUNO
May 23, 2001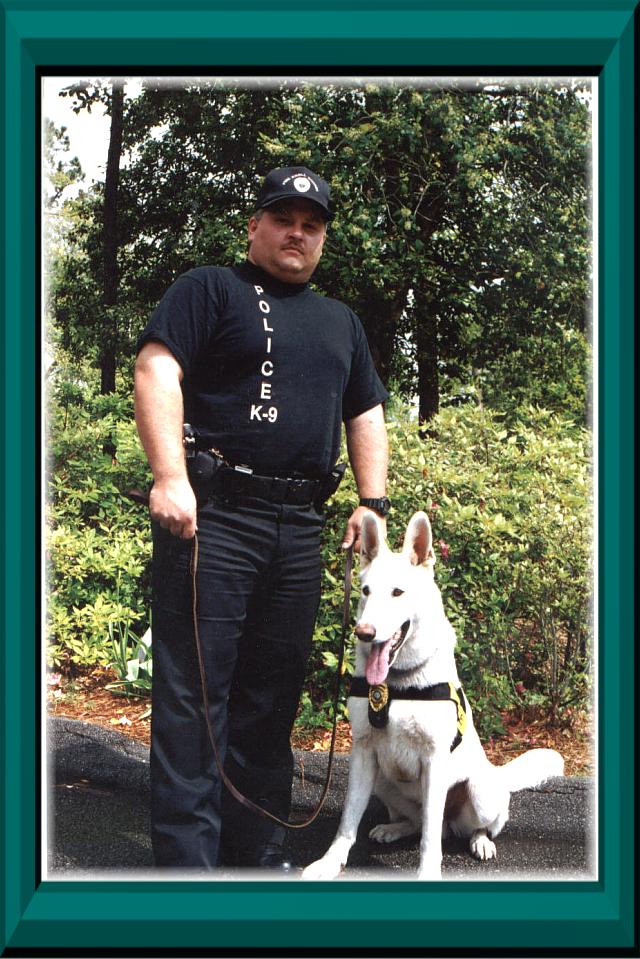 Handler: Lt. Ethan A. Hazard
The Pine Knoll Shores Police Department
M.M. Muhlig, Chief of Police
100 Municipal Circle
Pine Knoll Shores, NC 28512
(252) 247-4353 ext. 15

I want to thank you for your wonderful web site and being a kind and understanding person. So many people fail to understand that the death of this "dog" was actually the loss of a partner and police officer. I have now lost two officers that were mine as a chief; one was a "human" police officer killed in the line of duty, and I feel the loss no less with Bruno. We have a saddened police department. Lt. Hazard has a 10 year old boy that is also devastated. Bruno was the complete K-9, talented, loyal, fearless and a loving family pet. Bruno earned countless awards for successful drug raids, finding lost children and the elderly, locating escaped prisoners and valor. Bruno proved himself repeatedly. He always served his partner and community with pride and professionalism. Intelligent, loyal and fearless were his police traits. Loving, face licking "good boy" was his soul. He will be a partner for life. His death is still under investigation. Bruno was found hanging outside of his kennel at his handler's home on the morning of May 23,2001. We may never know exactly what took place or how Bruno was lost to all of us. The difficult thing is he is gone and we must pull it together and go on. Bruno would have it no other way.
Mary M. Muhlig, Chief of Police- Pine Knoll Shores, NC
*********

.
Bruno's headstone & Pine Knoll Shore Officers -The flag was present to Ethan on Oct. 9, 2001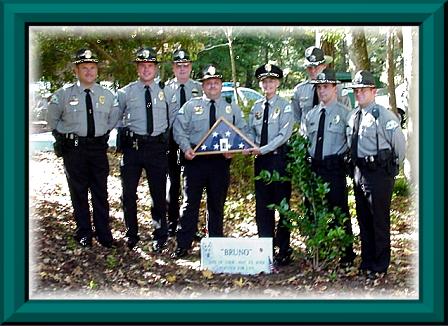 Chief Mary had a serious car accident, MARCH 2002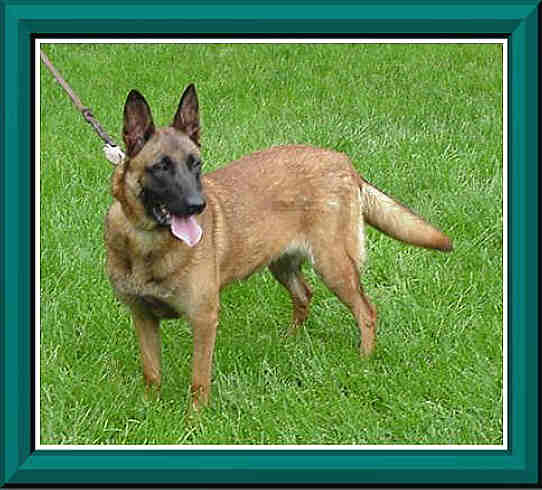 7/30/01 "KYRA" the newest officer & Partner for Lt. Hazard. Congratulations & welcome to NC. Bruno will never be forgotten
In Loving Memory of
K-9 BLUR
July 27, 2001


"Blur was NOT just a dog! He was an officer, he was one of us, one of the family."
Handler: Officer John Allovio
Waco Police Department
721 N. 4th St.
Waco, TX 76701

Officer shoots police dog during search for suspect By MIKE ANDERSON/Tribune-Herald staff writer Mike Anderson Anderson@wacotrib.com or 757-5755.
A Waco police officer shot and killed a police dog Friday during a search for a robbery suspect. Officers attempted to pull over a car about 3:15 a.m. at the intersection of West Avenue and North Ninth Street. The car was reported stolen in Dallas, said Waco Police spokesman Steve Anderson. The car's driver, Bradford Carr, 23, of Waco fled from police. Officers followed until Carr stopped the vehicle and fled on foot in the 800 block of Harlem Avenue, Anderson said. Officers surrounded the area, and with the assistance of a police dog, they began a yard to yard search, he said. As the canine and its handler approached the fence of one yard, Carr stood up and surrendered, Anderson said. An officer, hearing the commotion, approached the scene from behind the canine. The dog, sensing a threat to its handler, bit and held onto the approaching officer's left arm, Anderson said. The dog released the officer upon his handler's command. Another officer, with his gun drawn, approached from the same direction, and the dog again bit and held onto his left arm, Anderson said. Before the handler could order the dog to stop, the officer shot the canine in the side, he said. It died at the scene. "He shot on an impulse," Anderson said. "It was a very quick reaction to the seriousness of the situation. He fired one shot, and that killed the dog." Police would not release the names of the officers involved. Both bitten officers were taken to Hillcrest Baptist Medical Center, where they were treated and released. Anderson said one officer's wounds required stitches. Anderson said the dog, a 3-year-old Dutch Shepherd named Blur, was purchased by the department in May. The dog was trained to use its mouth to restrain anyone it perceived as a threat to its handler. You can train and train and train, but then you get out into a high stress situation where everybody is tense and the suspect is believed to have a gun, and the unexpected can happen," Anderson said. "We will have to work this into our training in the future." The dog's body was sent to a veterinarian to check for rabies, he said. Waco's police dogs are used mainly to sniff out narcotics, but they are also used to locate weapons and track people. Anderson said the dog's death has been difficult for the department. "Sure it was only a dog, but it is still one of us," he said. "For the canine officer, this was his partner. It lived with him as part of his family. He's taking it very hard. It is also hard for the officer who fired the shot. It is a bad situation all the way around." Anderson said it was too early to determine whether a memorial service will be held for Blur. Both injured officers were on medical leave Friday. Waco police Sgt. Dennis Kidwell said there will be an investigation into the shooting, but said that is routine in such cases. Carr remained in the McLennan County Jail late Friday on charges of evading arrest and aggravated robbery, a jail spokeswoman said. Bond was set at $11,500, she said.
In Loving Memory of
K-9 BUDDY
July 30, 2001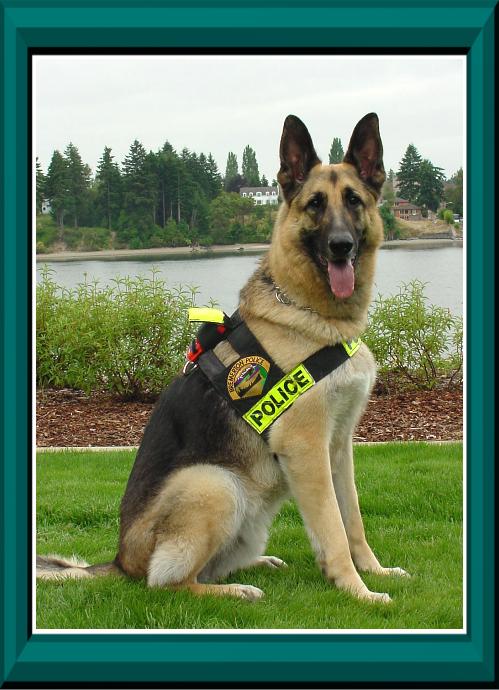 Handler: Officer Mike Davis
Bremerton Police Department
Department Chief of Police Robert D Forbes
239 4th St Bremerton, Washington 98337 (360)478-5220.
Memorial service to be held Aug. 8, 2001 at 2:30 PM Bremerton High School

On 7/30/01 at 0145 hrs,
Officers responded to a City of Bremerton park to investigate a report of someone shooting a gun. One officer spotted the suspects who started running through the park toward where Officer Mike Davis and K-9 Buddy where waiting. K-9 Buddy engaged the suspect, who then shot Buddy. The suspect then shot at Officer Davis. Officer Davis returned fire, hitting the suspect. K-9 Buddy was rushed to Central Kitsap Animal Hospital where he was pronounced dead. The suspect is in critical condition. The suspect's gun was stolen last year in a burglary. Officer Davis and K-9 Buddy where a new team, having replaced K-9 Zaro and I when I got promoted. They accredited in May. K-9 Buddy was turning out to be an excellent dog, well ahead of where he should have been on the learning curve. In his two months of service, he had over 10 captures. The arrests included the drivers of several eluding vehicle, an escapee from Mission Creek Youth Camp, several DV assault suspects and a suspect in a drive by shooting who fled after a pursuit. He will be sorely missed. Sgt. Jim Burchett, Bremerton P.D.
Follow UP
Trial begins for suspect in Buddy shooting August 20, 2002 - By Travis Baker - Sun Staff (360) 792-9217
Aaron Williams, also accused of trying to kill a Bremerton police officer, didn't fire any shots, his lawyer said. More than a year after a nighttime shooting at Lions Field took the life of Bremerton police dog Buddy, the trial of 22-year-old suspect Aaron Williams of Bremerton got under way Monday in Kitsap County Superior Court. Williams' defense against charges he tried to kill a Bremerton police officer after killing his canine partner may hinge on the darkness of Lions Field the night of the shooting and whether there were dog bite marks on Williams' arm. Those were the two main themes that emerged Monday as Williams' lawyer cross-examined the first prosecution witnesses in the trial arising from a July 30, 2001, shootout in the East Bremerton park. "It was not Mr. Williams who fired any of the rounds alleged to have been fired," lawyer John Muenster said in his opening statement. Police dog Buddy died of a bullet wound that early morning. His handler, Officer Mike Davis, testified that two shots also were fired at him. And Williams was hit in the side as Davis shot back. Kitsap County Prosecutor Russ Hauge set forth the evidence against Williams for Superior Court Judge Anna Laurie. She is hearing the case without a jury, at Williams' request. Hauge said police were sent to the park after Williams or his companion, Maurice Jackson, fired off a full clip of 9-mm ammunition in a residential street near the park. They were celebrating Williams' 21st birthday, he said. But the celebration turned deadly after the two ran to the park, Hauge said, and Officer Davis confronted a person there. He ordered the person to stop. Buddy was at Davis' side. He "was looking at me, waiting for a command," Davis testified Monday. When the person ran, Davis gave the command, "pauken" — German for "get 'em," Davis testified.
Buddy ran around a fence and "contacted" the person, Hauge said. One or two shots rang out and the dog was mortally wounded. Davis testified he saw it happen in the dim illumination from a street light and a light on a nearby house.He said he chased the suspect into a darker part of the park, clicking his flashlight on and off as he went. He saw the person had stopped with his arm extended toward him. He heard two shots and saw one muzzle flash, he testified. Davis said he then emptied his own gun at the moving suspect, 10 shots. Within one to three seconds of his last shot, he saw Williams lying on the ground, flailing around, wounded. Officer Clay Schultz, backing up Davis, testified as to what happened next. Schultz said he arrived and asked, "Where's the gun?" According to Schultz, Williams said, "I threw it," and nodded toward where Schultz testified he saw a gun on the ground, jammed and inoperable. Williams' lawyer questioned Davis at length about what and how he could see as he fired at the figure in the flickering flashlight beam.
He asked where the officer and the suspect were standing during the gunfire. He asked if it's possible Williams was shot while already on the ground. Davis said he doubted it. Muenster also asked Schultz if he saw any bite marks on Williams' arm, and was told no. He asked Davis about where Buddy was trained to bite a suspect and was told the first point of contact, unless it's the head or neck. Davis testified he saw Buddy going for or grabbing the suspect's arm. Hauge asked Davis about whether the dog might have struck Williams with an open-mouth bite then relaxed and held him by the arm of his shirt. Davis said that's possible. But there was no medical evidence presented in the first day's testimony as to whether Williams did or didn't have any bite marks.
Notation:
Since Bremerton started its K-9 program in 1982, the city has used 10 police dogs: Bo, Radar, Jake, Chase, Blaze, Tessie, Quazar, Zaro, Roscoe and Buddy. He was a new dog--barely two months on the street. But, he already had ten captures and the admiration of almost everyone who saw him.
In Loving Memory of
K-9 BUCK
July 9, 2001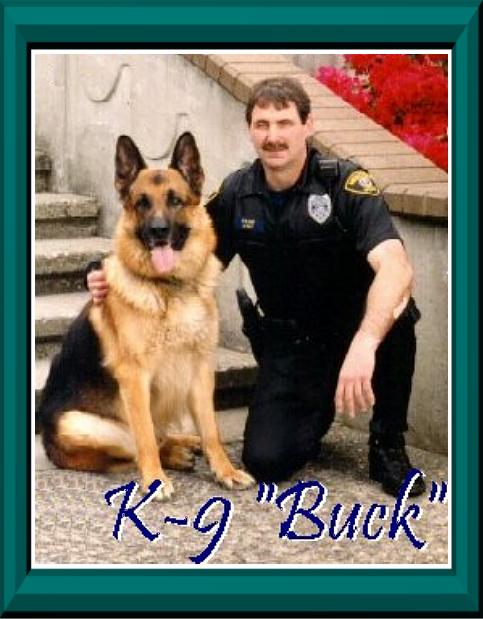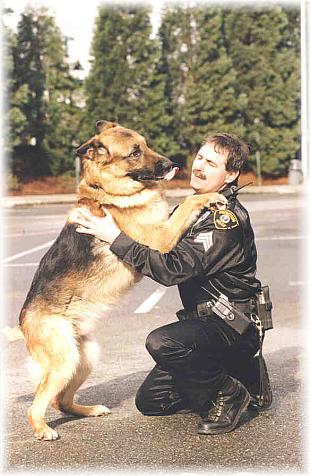 Handler: Sgt. Mark Day

Renton Police Department

http://rentonwa.gov/government/default.aspx?id=1688
253.852.2121 & 425.430.7500
1055 Grady Way-Renton, WA 98055

"Buck was born in Frankfurt, Germany on April 30, 1990. He was the son of a Frankfurt Police Canine nicknamed the " Red Baron". His dad was a highly decorated officer (so they tell me.) He was brought to the United States via West Virginia by Jack McDonald (a legend in Police Canine training in Washington.) We tested about 40 dogs including Buck. I knew he was the one the first time I laid eyes on him. We loaded him on a plane and brought him to Renton to start his career. Jack McDonald trained Buck and I and together we became the last team trained by the legend himself (Jack retired after we graduated. ) Buck was commissioned on January 28, 1992. His first night on patrol he tracked a burglary suspect from Hazen High School and located him in a chicken coop; his career was well on its way! His career consisted of arrests for rape, arson, kidnapping, burglary, and even two homicide suspects. He had over 200 arrests during his career. My recollection tells of even a time he tracked a burglary suspect who had left the scene in the back of a pickup truck. Can you imagine the surprise when we showed up on her doorstep after she had gone to bed and arrested her for the crime? He found a kidnapper in Auburn who had taken a 4 year old child in a carjacking attempt. Christmas morning 1996, he tracked a stolen vehicle suspect in Tukwila near the Duwamish River. He found the suspect who jumped into the water with Buck attached to him. After a lengthy rescue attempt, I am sorry to say the suspect would not allow himself to be rescued. There was a time during a violent struggle with a felony assault suspect that Cmdr. McClincy was introduced to Buck when he nibbled on her back side when she got between him and the suspect. ( I don't think she ever forgave me or Buck for that!) He captured two homicide suspects, one for Tukwila and the other for Seattle PD. The capture for Seattle was his last before retiring in March 1997. Buck, a favorite at K9 demonstrations and Citizens Academies. During a demonstration for children at the library he somehow got some chewing gum stuck in his fur. The senior librarian covered him in peanut butter saying it would get the gum out. Have you ever seen a German Shepherd with peanut butter and chewing gum all over him? It was very funny! Buck sired 37 puppies. Many are currently working law enforcement dogs today. His son Rico took his place on the force at the Renton Police Department. Some of the pups became partners for individuals who are sight impaired and others are just family members. When I see the offspring, I see so much of him in their mannerisms and actions. I guess what I really cherish the most is when I was struggling to fight the cancer that had me on the ropes. He was always there. Buck helped me tremendously to face each day of therapy with determination and hope. He, or at least I would like to believe, he understood what a battle I was in for. Just like at work, Buck never left my side or let me give up. On July 9, 2001, the partner that shared so much of my life lost his own battle to cancer. He left suddenly and in my arms. I miss him so. I did not believe I could hurt so much as when it happened. I can never put into words what my time with him meant."

UPDATE: Dec. 2011

source: Jim Cortina's CPWDA Dir. Website
In Loving Memory of
Sgt. Mark Day
December 22, 2011
Sgt. Mark Day
December 22, 2011 - Renton, Washington - Age ?
Retired Renton Police Sergeant Mark Day died on December 22, 2011, following a fifteen year battle with cancer. At age 38, he made the decision to pursue a career in law enforcement. Sergeant Day graduated first in class overall in 1987 from the Washington State Criminal Justice Training Commission, Law Enforcement Academy, and joined the Renton Police Department later that year. Sergeant Day worked for the Renton Police for 23 years, retiring October 31, 2010. During his career Sergeant Day rose through the ranks, eventually becoming an Acting Commander and ultimately a Sergeant in the Investigations Division. Sergeant Day was selected by the Renton Police Department as the Employee of the Quarter twice: first in 1997, and again in 2008. In 1990 Sergeant Day was awarded a position on the Canine Unit, and was assigned a German Shepherd puppy named Buck as part of the City's "Puppy Program." K9 Officer Buck partnered with Sergeant Day until 1997, when the Buck retired from the police force to live out his days with the Day family. Sergeant Day went on to lead and train the Renton Police Department Canine Teams, ultimately becoming a Master Canine Trainer in 2001. The dynamic duo of Day and Buck arrested over 200 suspects including a person who kidnapped a four-year-old and two homicide suspects, one in Tukwila another in Seattle. Buck passed away on July 9, 2001 also from cancer. A book was written about Day and Buck both dealing with cancer at the same time, with the animal dying in his arms. Ted Koppel, formerly of ABC-TV's "Nightline," interviewed him after learning that Day was going to have another of his tracking dogs blessed at his Catholic church, which stirred some national controversy. Sergeant Day graduated from Renton High School in 1968. While at Renton, Day was student body president his senior year, chosen for the high school All-American Football Team in 1967, and was captain of the football and track teams in both 1967 and 1968. He earned a full athletic scholarship to the University of Washington and played with Stanford's Heisman Trophy-winning quarterback Jim Plunkett. Sergeant Day is survived by his wife of over 40 years, Marcia Day; his three grown children: Natalie , Kyle , and Aaron.
In Loving Memory of
K-9 BRUNO
August 20,2001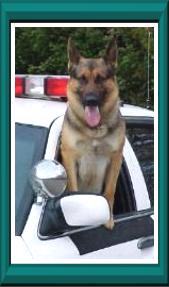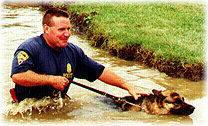 1999 at the Connecticut K-9 Olympics. Officer Proulx & Bruno
Handler: Officer William Proulx
East Hartford Police Department
497 Tolland St.
East Hartford, CN 06108
860-528-4401
State Champion town police dog Bruno put to sleep
By:Linda Medura, Gazette correspondent August 23, 2001
The town's most celebrated police dog, Bruno, afflicted with crippling spinal arthritis, had been ailing for some time. On Monday morning Officer Bill Proulx drove to a veterinary hospital in town where arrangements had been made for Bruno to be put to sleep. But before stopping at the vets Officer Proulx, accompanied by his children Ryan, 10, and Nicole, 7, took his retired K-9 partner around East Hartford in his police cruiser for one last patrol. In the past two weeks his condition had deteriorated to where he could not stand without assistance and Proulx, after much soul searching, decided it was time to end his partner's suffering. The dog was 9 1/2 years old. "You reach a point when you realize they are staying alive because of you and that's when you have to do the right thing - not for you, but for them," he said in a voice breaking with emotion. In the world of K-9's there are the good and the very good. Bruno was incredibly very, very, very good! A 4 time, First Place winner in the CT. K-9 Olympics, he has had two books written about him: Dogs With Jobs and Everyday Heroes and was recently featured in the June 2000 issue of Readers Digest. In January on CPTV, he starred in the television series Dogs With Jobs which has been seen by audiences around the world. On the job his record of service was equally impressive. Despite being shot at, battered, punched and injured in the 6 years he was on the force, Bruno, at the time of his retirement, has been credited with 1100 arrests, half of which were felonies, the recovery of 9 lost children and 3 Alzheimer's patients and numerous demonstrations. With his aggressive bark and sharp bite that targeted legs and buttocks, he was a criminal's worst nightmare. In fact, many in that particular line of work felt you were no one unless you'd been bitten at least once by Bruno. In 1995 - the only year he placed 2nd in the K-9 Olympics - he was the only police dog selected by a panel of judges from the Connecticut Chief of Police Association to receive the Daniel Wasson award for disarming a gunman at a local motel and saving Proulx's life. A member of the 56 K-9 Training Troop, he graduated first in his class from the Connecticut State Police Academy in May, 1994.
Friendly and spirited off the job, he possessed a dignity and presence that seemed to embody all that was best in his kind. He enjoyed his work, put his whole being into it, and in the process brought recognition and fame not only to the EHPD and Proulx, but to our community. Because he was one of the few K-9's whose career was regularly documented by The East Hartford Gazette, residents - especially children and seniors - were treated to a personal, inside look at what life on the streets is like for policemen and their K-9 partners. And they responded accordingly with adoration, lots of affectionate pets and friendly greetings and, at holidays, gifts of homemade cookies. But Bruno won the hearts and earned respect of any in and outside of East Hartford, not because of headlines but because he definitely was that rare and genuine bright and shining star. He will be missed by many. Donations honoring Bruno can be sent to the East Hartford Police Department, 497 Tolland Street, East Hartford, CT 06108 Attention Police Canine Retirement Fund. Monies will be used to help cover veterinary costs for retired canines.
Photo taken by Jim Cortina, Dir. CPWDA
AWARDS:
1994 Officer William Proulx & K-9 Bruno won Daniel Wasson
Memorial K-9 Award-Outstanding Achievements - K-9 Policing
1995 Officer William Proulx & K-9 Bruno won 2nd place award
1996 Officer William Proulx & K-9 Bruno won 1st place award
1997 Officer William Proulx & K-9 Bruno won 1st place award
1999 Officer William Proulx & K-9 Bruno won 1st place award
Four-time police Canine Olympics winner euthanized By Associated Press, 8/21/2001 17:46 - East Hartford, CN(AP) Bruno, an East Hartford police department German shepherd who assisted in more than 1,100 arrests and won the state police Canine Olympics four times, was euthanized Monday. Bruno ''went downhill really fast since retiring 10 months ago, Officer William Proulx said. Crippled by arthritis and Lyme disease, the 10-year-old dog had become progressively weaker, despite doses of steroids. By last week, Proulx said, Bruno could no longer stand without assistance. Bruno and Proulx graduated together from the state police canine training academy in May 1994, the top team of that year's class. When it came to work, Proulx said, Bruno was ''all business.'' But the dog who licked thousands of hands and faces at schools, senior centers, Scout and 4-H camps, ''had both sides,'' Proulx said. ''He was such a friendly dog, he loved to be petted,'' Proulx said. Proulx said the dog saved his life several times, once spotting a man in the bushes who was aiming a gun at the officer.
In Loving Memory of
K-9 BLAZE
Dec. 7, 1991 - Dec. 19, 2001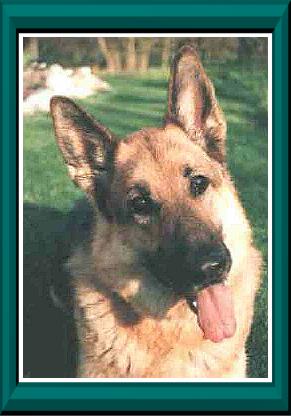 Handler: Robert Leonard C.F.E.I.
Accelerant Detection K-9- WI
On Wednesday, December 19, 2001, my Fire Investigation companion, Blaze passed away. This was just 11 days after her retirement. In her distinguished career, Blaze assisted in the investigations of 170 fires in the state of Wisconsin.
Blaze was a pioneer as an Accelerant Detection K-9 in Wisconsin. We were the first privately owned company in the State of Wisconsin to offer the services of an Accelerant Detection Dog. Blaze was certified in 1995 and retired Dec. 8, 2001.
Blaze was an exceptional dog. She was a great pet and a great companion. She will be truly missed and remembered for years to come.
Robert Leonard C.F.E.I.