In Loving Memory of
K-9 AJAX
Oct. 31, 1995 - September 9, 2001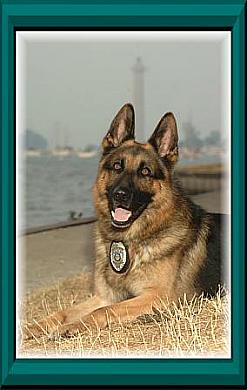 Handler: Officer Phillip L. Howell
Put-in-Bay, Ohio Police Department
P.O. Box 268
Put-In-Bay, Ohio 43456-0401
419-285.4121

Put-in-Bay memorializes Ajax, K-9 officer - Friday, September 14, 2001 By BRENDA M. CULLER wrote the article which first
appeared in the Sandusky Register Friday Sept. 14, 2001. brendaculler@sanduskyregister.com
A trumpeter's "Taps." Blasts from the American Legion's 18-gun salute. A bagpiper's "Amazing Grace" -- all aimlessly drifting into the wind. It is a scene that, in light of national activities, will be replayed thousands of times over the next few weeks.
But for the close-knit Put-in-Bay island community, Thursday morning's memorial service was a time to remember one of their own -- Officer 905 -- "A very special dog who thought he was king." Ajax, a 5-year-old German shepherd, was Put-in-Bay's first canine cop. "This is a tribute toward Ajax and all of the lost canines and officers throughout the U.S. and especially the tragedy we had in New York City Tuesday. It is a sad day for us." said Put-in-Bay Police Chief Jim Lang. "Today, the village has lost a valuable asset to law enforcement and a loyal friend," said Father Jeff Nordhaus, from Mother of Sorrows Catholic Church. Ajax died Sunday. "The tragedies of this week are unbelievable," said Put-in-Bay Mayor John Blatt. Few, if any, of the 150 or more police officers, emergency medical personnel, island residents and passersby in attendance had dry eyes. Six police dogs, heeled at their handlers' sides, barked with the saluting guns. When Ajax's memorial was planned Monday, more than 300 officers were expected. Many canceled as their services were needed for security at airports, power plants, and elsewhere across Northwest Ohio. "A lot of the island children thought of Ajax as their friend. (But) the saddest part is that Ajax would have been able to serve four to five more years on the islands as an active narcotics certified police dog," said Maj. Robert McDowell Jr. from the Huron County Sheriff's Department. McDowell, owner of M&M Canine Boarding Kennel, helps officers from across the country train police canines. McDowell helped Howell get Ajax, "a narcotics tracking machine." "Phil worked his heart out training with Ajax all last winter getting prepared for what he would face on Put-in-Bay this summer," McDowelll said. Ajax served from Memorial Day weekend through evening duties Sept. 7., tallying more than 65 narcotic arrests during that time, Howell said. Those arrests included drugs ranging from LSD and cocaine to marijuana, ecstasy and oxycontin. Ajax also helped the Ohio Department of Watercraft seize a boat with drugs and check incoming ferries and planes from Canada's Pelee Island, Howell said. Island officials said they are looking to find another canine narcotics dog to help patrol the island. McDowell said if Howell can obtain a dog within the next few months, the dog can easily be ready for patrol at the beginning of Put-in-Bay's 2002 summer season. Ajax will be laid to rest near Oak Harbor, Howell said.


Special thanks to: Brenda Cullen reporter & Tim Fleck, photographer, and their paper,
Sandusky Register for contributing to this memorial.

Nov.14, 2001 - Alex takes over the Put-in-Bay beat of Ajax, died Sept. 9,2001
For about an hour, three-year-old Alex sat quietly on the floor, legs crossed with gentlemanly poise. But when it was time to play, the pure-bred German shepherd bared his sizable teeth and attacked his "hidden-ball box" like a whirlwind, ultimately shattering the Plexiglas window to get to the ball -- something most dogs never do. "He's got good ball drive. He's obsessed with the ball," said Huron County Sheriff's Office investigator Robert W. McDowell Jr. "If a dog has good ball drive, they will make good drug dogs." Training centers around Alex's enthusiasm at playing ball, McDowell said. When Put-in-Bay Police Officer Philip Howell plays ball with Alex, the dog learns the ball is his toy. Later in the training, the ball will be put away while Alex watches. Alex learns that by pawing, digging, scratching and barking at the barrier separating him from his toy, Howell will reward Alex by getting the ball and playing with the dog. After this is mastered -- Alex is a quick learner, Howell said -- the ball is hidden with marijuana and the dog learns to associate the drug's scent with his toy. "We start with marijuana because it is the drug with the strongest odor," McDowell said. McDowell, owner of M&M Canine Boarding Kennel, trains dogs in narcotics detection and tracking. He is helping Howell train Alex to be South Bass Island's next K-9 officer. "He's like a vacuum cleaner with his nose down on the ground tracking a scent," Howell said. Alex replaces Officer 905 Ajax, who died Sept. 9 after becoming ill during a drug bust Labor Day weekend. Ajax was so well-liked by island businesses and residents for his drug-busting and safety services they donated around $5,000 for Howell to purchase and transport Alex from his home in the former Czechoslovakia, Howell said. He arrived in the United States Oct. 19. Island residents expect Alex to take up where Ajax left off, especially during tourist season. "Ajax made a serious impact on the drug habits of summer visitors (with more than 63 arrests in four months) and I anticipate that by next summer, Alex will be fully trained and ready to go," said Mayor John Blatt. Alex's training began in his native country, and he brought to the U.S. a working knowledge of suspect apprehension, tracking and off-leash obedience, McDowell said. This means it will only take about one month for Alex to train with Howell, and for Howell to acclimate himself to giving commands in Czech for Alex to become a certified police dog in Ohio. Howell and McDowell said it will take 60 days of intense training for Alex to become state-certified in narcotics detection. Police dogs in Ohio have to be certified every two years but the dogs must be practice their skills on almost a daily basis to perform best. Alex's temperament also fits the people-friendly attitude that is a must on the island. "It is a must that a dog on Put-in-Bay is non-aggressive around people because thousands of people are walking around the island everyday who may walk up to Alex and pet him," McDowell said. "But if Phil tells Alex the right command, he will light up like a firecracker."
************************
His badge number was #905. He was born in Germany in 1995, October 31st. He was trained in criminal apprehension,
narcotics, tracking. and article search. Phil Howell (936)
.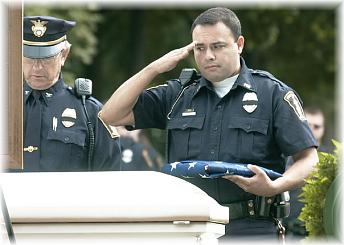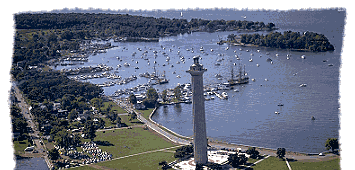 Service Sept. 12, 2001 This is Put-in-Bay Ohio
++++++++++++++++++++++++++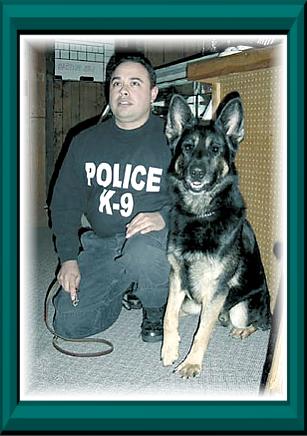 Ajax's new trainee, Alex, who will never replace Ajax's collar, but will help keep America safe with Sgt. Howell.

photo of ALEX by Brenda Cullen
---
In Loving Memory of
K-9 ARKON
August 25, 2001


...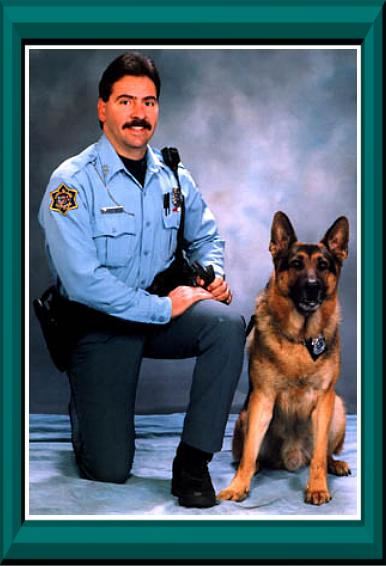 Handler: Officer Steve Endrie
Fond du Lac Police Department
180 S. Macy St.
St. Fond du Lac, WI 54935

200 people attend service for police dog Associated Press
FOND DU LAC, Wis. - About 200 people attended a memorial service for a police dog that died from cardiac arrest.
They included about 60 law enforcement officers, representing jurisdictions such as Winnebago County, Fond du Lac County, Oshkosh, Manitowoc, Manitowoc County, Ripon, Wisconsin Dells and Racine. Arkon, one of five dogs serving with the Fond du Lac Police Department, died Saturday. Twenty to 30 police dogs from other K-9 units came with their handlers, most of whom know Arkon's handler -- Officer Steve Endries -- from training workshops. Endries said during the ceremony Wednesday at Rienzi Cemetery's pet burial grounds that Arkon had been "a loyal partner and best friend" to him for nearly six years. Mount Horeb Police Officer Blaine Hall said that part of the loss that is hard to deal with is the bond of trust built up between a police dog and officer. "You learn to trust the dog with your life," Hall said, adding that more than once on duty, his own police dog, Sierra, "made people change their minds" about getting violent with him. Winnebago County Sheriff's Department Officer Greg Weitz said many people don't appreciate police dogs as much as they should. "The dogs are a lot more valuable to a police department than people realize, and it's nice to see people give them some recognition," he said.
*********************
In May of 1996 K-9 Arkon along with handler Officer Steve Endries joined the unit. Then in November of 1997 the City Council continued to show their support of the K-9 program by funding 2 additional dogs bringing the units current level to four dogs. Yalco and his partner Tina Braun joined the unit in May of 1998. K-9 Manto and handler Officer Bill Ledger completed the four team unit in September of 1998. All four K-9s are dual purpose patrol & narcotics detection dogs. The K-9s are also trained and certified as reasonable force (find & bark) dogs.
*********************
Officer Steve Endries and K9 Arkon have been partners on the Fond du Lac Police Department since May of 1996. Arkon is a dual purpose five year old male German Shepherd imported from Germany. This K9 team work along with the officers on patrol and on emergency on-call type basis. Arkon is trained to protect his handler and other officers who are nearby when needed. Arkon is extremely useful when searching buildings, fields, parks, etc... for fleeing or hiding suspects who may be armed. Arkon can be used to track the direction of travel of a fleeing suspect through terrains where Arkon can use his nose to locate the suspect. Upon finding the suspect, Arkon will bark to advise officers of the find.
*********************
AWARDS:
DPO -1 Title - September 1998
Arkon successfully completed passing scores in tracking, obedience and officer protection phases. Arkon and Officer Endries were nominated for the Outstanding Apprehension Award by the Wisconsin Law Enforcement Canine Association in October of 1998.


Officer Steve Endries and Ronny
In October of 2001, K9 Officer Steven Endries was teamed up with a new K9 named Aron (AKA Ronny). K9 Ronny is an 18 month old German Shepherd imported from Germany. K9 Ronny is a dual purpose K9 certified in detecting narcotics and patrol work. The patrol work ranges in skills such as tracking, area searches, article searches, building searches, criminal apprehension and handler protection. K9 Ronny already has to his credit a felony arrest for possession of cocaine with intent to deliver. A total amount of 21 rocks of crack cocaine were found inside a vehicle while parked at the Taycheedah Correctional Institute. Over $1,500 in cash was also confiscated along with a 1990 Chevy Lumina that was used to transport the drugs from the Milwaukee area to Fond du Lac.
K9 Ronny's food is donated by Larry Filo of Steinig Tal Kennels. K9 Ronny receives 40 lbs of National brand dog food each month. Dr. Thompson from Country Hills Vet Clinic has volunteered his veterinarian services to the Fond du Lac Police Department for K9 Ronny. K9 Ronny was purchased for the Fond du Lac Police Department by the Evening Kiwanis Club of Fond du Lac. They have made Ronny an honorary member in their organization.
---
In Loving Memory of
K-9 ADDI
May 25, 2001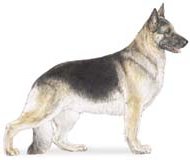 Handler: Chris Vasquez
Houston I.S.D. Police Department
1200 Travis St.
Houston, TX 77002
Phone K-9 Div. 713 812.5151

The Houston I.S.D. Police Department along with Handler Chris Vasquez are mourning the loss of one of there K-9's . K-9 Addi was diagnosed with Hip and Back problems that would not let her do what she lived to do. K-9 Addi expired Friday May 25, 2001.
K-9 Addi was used in detecting contraband inside of Houston Schools. Addi was very dedicated and worked up to the week of her diagnosis. She will be missed. K-9 Officer Chris Vasquez plans to start the search to replace his partner this summer, and be ready to work with the K-9 when the new school year starts.
*******
10/18/01
Addi was our neighbor for a little over a year. I have seen her perform some of her talent within our neighborhood. She was amazing. It was sad to see her go and Chris (her handler) dearly misses her. He has received his new "partner" named Carlo. I am not sure who submitted the information you have. I talk to Chris on a daily basis.
Sincerely,
Laura Strothers
---
In Loving Memory of
K-9 AXEL
May 22, 2001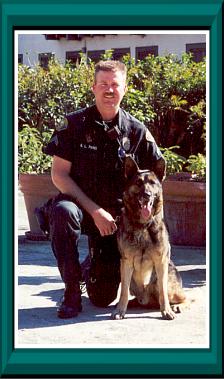 Handler: Cpl. Greg Manis
Long Beach Police Department
100 Long Beach Blvd, Long Beach, CA
90802, phone number 562 570-7260

MEMORIAL SERVICES FOR TWO POLICE K-9'S
The Long Beach Police Department is saddened to announce the Memorial Services for two of the Department's Patrol K-9's. On May 14, 2001, Rocco, with only three months on the job, was critically injured after a fall during a burglary investigation and was euthanized on May 16, 2001. On May 19, 2001, the second K-9, Axel, died at home from a sudden intestinal problem. The Memorial Services for both dogs will be held on Thursday, May 31, 2001, at 3:00 p.m., at the Long Beach Police Academy, 7290 East Carson Street, Long Beach. The Long Beach K-9 Officer's Association will be raising funds to replace the much needed service dogs. Tax-deductible contributions can be sent to the association at P.O Box 17366, Long Beach, CA 90807. For further information, please contact the Long Beach Police K-9 Detail at (562) 570-5971.
K9 Rocco is posted on mem2001-R.html

(Axel and Rocco, two beloved Long Beach police dogs who died in the same week, were memorialized Thursday afternoon before a crowd of officers, canines and other mourners gathered at the Long Beach Police Academy. Panting in the hot sun, about 20 police dogs from Long Beach, Orange County and as far away as Pismo Beach sat on mats flanking their officer partners and rows of seated spectators at the service. The animals marked the close of the service with a symphony of loud barking, tugging at their leads as the 21-gun salute commenced. "I think they want to go chase bad guys," a boy whispered to himself toward the memorial's end. "Some people think an animal is just an animal," observed Debbie Lim, 40, her infant nephew asleep in her arms. "But when they serve us, these dogs become a part of the family." Lim works at a fast-food restaurant frequented by many of the K-9 officers. Because dogs are not known for long attention spans, the double funeral was brief, opening with a Police Department color guard and drummer and including remarks from the department chaplain and the playing of taps. "It was wonderful, very respectful," said Clarice Mooney, widow of Bill Mooney, the Long Beach police chief who started the canine unit in the city 23 years ago. The funeral was held near the special cemetery the department and its formidable citizen support group maintain for 30 departed police dogs. Each deceased service dog has a headstone, in which its cremated remains are entombed should the cemetery need to be moved. That has already happened once, when the Police Academy had to move to make way for the Towne Center shopping complex off the southbound San Gabriel River Freeway. Rocco and Axel will be laid to rest at the cemetery, where each headstone features a photograph of the dog and its handler. The headstones surround a lawn beside the department's kennels, where the dogs stay while their handlers receive training. On the night of May 14, Rocco was pursuing a possible burglar at the Museum of Latin American Art. A 2 1/2-year-old Dutch shepherd whose specialty was tracking people by scent, Rocco followed a trail onto the roof. He leaped onto an aluminum awning which collapsed. Then he struck a railing, which broke his back and left him paralyzed. He was euthanized two days later. Three days later, Axel, a 7-year-old German shepherd, was found dead in the garden of Cpl. Greg Manis, his partner of four years. A veterinarian later determined that Axel had a rare but lethal intestinal disorder. "My youngest [son] decided to name his tadpole Axel," Manis said, "so his name will live on." Rocco's death marked only the third time a Long Beach police dog has died in the line of duty. To lose two police dogs in the same year, much less in the same week, is rare. "It hit us pretty hard," said Officer Richard Lubchenko, who brought his dog, Jaro, along for the funeral but, because of the withering heat, "tossed him back in the air-conditioned car with a bowl of water." Along with a large police presence, there were a sizable number of people who just love dogs and felt the loss of the pair. In what is already a dog-loving town, there is a citizens group called the Long Beach K-9 Officers Assn., which hosted a reception after the funeral.
By NANCY WRIDE, Times Staff Writer
---
In Loving Memory of
K-9 ARCO
1998 - May 7, 2001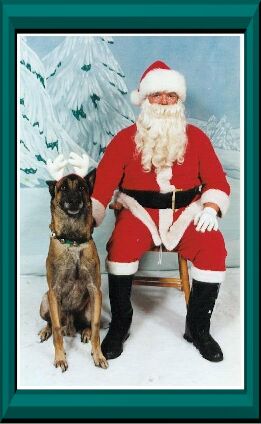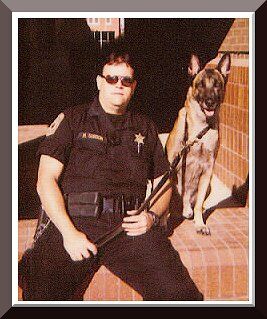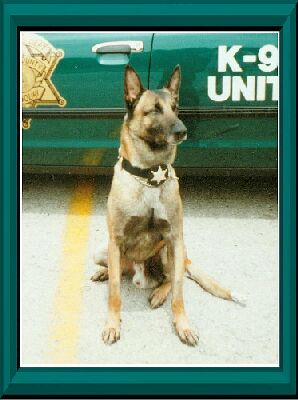 Handler: Deputy Michael W. Gordon
Clay County Sheriff
12 S. Water
Liberty, Missouri 64068

Arco was in service from May 1996 until February 2001. He had originally been with the Kansas City Police Department. Arco was born in 1989 in Belgium, and he passed In May of 2002.Thank you so much for providing us with this web site. This has brought back some very strong memories for me, and I realize how much he meant to me.
Michael Gordon is a K9 handler for the Clay County Missouri Sheriff's Department. A little over a year ago, I lost probably the best friend I ever had. My partner, K9 Arco. We worked together for six years. We were quite a team. Arco retired and lived with me for a year, when his back finally gave in and he could not walk or sit without agony. That trip to the vet was the hardest ride I have ever made. Even in his excruciating pain, his eyes lit up like in the days we were a team. He knew he was back in HIS car. We stopped at a Quik Trip and I bought him a couple of hot dogs. There were people looking at him in the patrol unit, he was as fierce and brave as ever. When the time came, I held him in my arms and watched as his pain fade away. I still cry and my heart aches to this day. I have a new partner, and I love him too, but Arco was my first and he and I had that bond that everyone talks about. We were shot at, rode out a tornado together in our unit. Arco could find dope anywhere, anytime. Other handlers would always request Arco to "proof" the tougher finds. On a cold January night, Arco found a half a million dollars that was headed to Texas to purchase drugs. Arc's nose netted about $474,000.00 in cash during a drug bust February 5, 1997, on Interstate #35 in Clay County. A Trooper stopped a car for a traffic infraction, called K9 Arco because the suspects gave conflicting stories. K9 Arco went crazy. He hit upon the bumper of the vehicle, toward the back end. Apparently these suspect were carrying a suitcase full of money. The patrol officer opened the trunk and found the suitcase where Arco indicated. It had the odor of drugs. Money alone will not attract a trained K9, but apparently the suit case where the money was, previously carried the drugs. Both people inside the car denied ownership of the money or even knew it was there. The driver was issued a traffic summons and they were released. The department has started an effort to seize their share of the money. The good news was it would help the budget. K9 Arco had T-bones for dinner that night. Without him, we would not have remove numerous guns and untold amounts of narcotics from the street. He even had a bounty on his head, he was that good. If you would please list my friend on your memorial, I would be eternally grateful. I will attach a picture of him in his prime, and you will see how handsome and proud he was. I miss him terribly.
---
In Loving Memory of
K-9 AXEL
April 21, 2001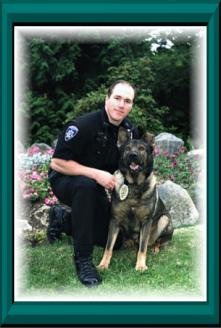 Handler: Officer Stephen Shepherd
Tacoma, WA Police Department
Tacoma Police Union
901 S. I St., Suite 201
Tacoma, WA 98405
"Gone but not forgotten."

Tacoma police to hold service for Axel, the retired police dog News Tribune Stefano Esposito
Tacoma police lost a trusted friend over the weekend. Axel, the recently retired police dog, died Saturday after his vital organs began failing, a police spokeswoman said Sunday. Veterinarians decided to put the German shepherd to sleep when it became clear he wasn't making the recovery from prostate surgery they had hoped for. Earlier this month, the Tacoma police union asked the public to help pay for mounting medical bills. Axel started acting sluggish a couple of months ago and his condition began to worsen, police said. Veterinarians found a tumor in his prostate, which was later found to be benign. With death, police intend to use any remaining funds to help pay for future retired police dog medical bills. Officers were unable Sunday to say how much money had been collected. Axel was set to retire in a couple of months but was forced into early retirement because of the illness. In his 4 1/2 years with Tacoma police, Axel racked up 220 arrests, police said. Officers plan a memorial service for this week, though they didn't have a firm date Sunday. Donations for the retired police dog fund are still being accepted at any Key Bank branch. You also can send a check, made out to Key Bank.



TRACKING BAD GUYS IN HEAVEN
Police dog, Axel, passed away April 21, after a tiring struggle to recover from surgery. Axel provided courageous and loyal service to his fellow officers and citizens of Tacoma. In addition to apprehending 220 felons, he protected and saved the boundless lives. We are blessed for having Axel with us for over four years. Officer Stephen Sheppard and his family grieve his loss, as well as all those whose lives he had touched. The K-9 Unit wishes to thank the men and women of the Tacoma Police Department, who provided financial and emotional support. The Tacoma Police Union, Phoenix Central Labs, Arc Northwest, and the business and citizens who donated so generously for Axle's medical care. We will be forever grateful to the doctors and staff of the 56th South Durango Animal Emergency Hospital for their constant loving care, compassion, and expert medical treatment for our beloved Axel.
***********
A memorial is planned for May 10th for Axel. We will use your cards, which will provide a keepsake reminder for all who attend. Officer Sheppard is doing well...he has good and bad days, as might be expected. We have found a new dog for him, with whom he has begun training. The new dog is providing a much needed respite from his grief. Steve has named him "Elvis." He is an excellent tracking dog. They look forward to many years of partnership.


Thank you again for your thoughtful donation during our difficult time. Sgt. Karen Kelly - Tacoma WA. Police Department, K-9 Unit Sgt. Karen Kelly at 253-591-5990.
---
In Loving Memory of
K-9 ARGO
October 5, 1991 - May 6, 2001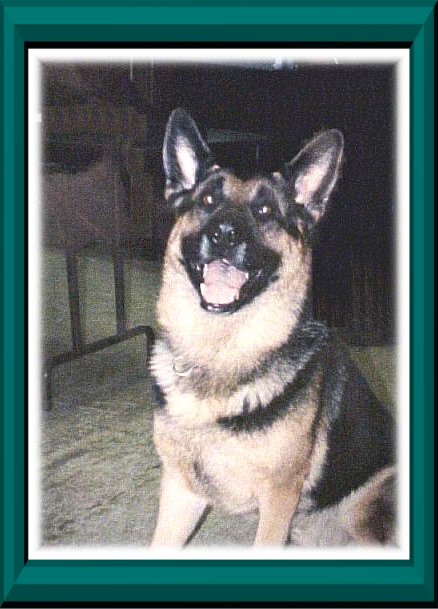 Handler: Sgt. Paul Shaughnessy
C.M.H.A. Police Department
Cleveland, Ohio 44104
216.739-7837
FAREWELL TO A K-9 COMRADE 5/12/01 By Mike Tobin & James Ewinger
It had all the trappings of a police funeral - the procession of cruisers with flashing red and blue lights, the honor guard, the final volley of gunshots. The only difference was that when the kilt-clad policeman played "Amazing Grace," the air was filled by the sounds of bagpipes - and barking dogs. Man and beast alike paid final homage to a fallen comrade yesterday as Argo the police dog was buried at an animal cemetery in Richfield. "We look at this as seriously as if one of our human officers would have died," said Stanley Murrey, a deputy chief with the Cleveland Metropolitan Housing Authority police department.
"He's going to be missed by our department." After nearly a decade of tangling with violent criminals, Argo died from a chest infection early Sunday afternoon. The robust German shepherd had served the CMHA police, assisted numerous other departments and saved his handler, CMHA Sgt. Paul Shaughnessy, from death or serious injury at least a half-dozen times. Last weekend, Shaughnessy tried to save Argo, rushing him to a veterinary clinic because he was not eating. Shaughnessy spent Saturday night at his partner's side, went home the next day and expected to return that day to bring Argo home with him. Instead, he had to plan a funeral. More than sixty people attended yesterday's memorial, including about forty police officers from departments throughout Northeast Ohio, as well as two dozen police dogs and their handlers. "When a police dog goes down, police come from all over," said Tom Schmidt, who breeds German shepherds. "Police are a close-knit group, and the K-9 units are even closer." When he wasn't patrolling with Shaughnessy, Argo was a fixture at the Justice Center because his partner had to testify frequently. "We got thousands of arrests. That's why you saw him in court every day," Shaughnessy said. "Nobody gets away." Last Nov. Argo tracked down a juvenile who was a suspect in a homicide and carjacking. The youth had eluded sixty Cleveland police officers during a chase and subsequent search. Shaughnessy said he was nearly beaten to death last year by a man who already had been imprisoned twice for assaulting police officers. But Argo leapt from the patrol car and brought the attack to an end. "I have no doubt that guy would have killed me," Shaughnessy said.
---
In Loving Memory of
K-9 ARNO
August 16, 2001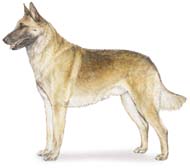 Handler: Cpl. Joseph Welda
Walker Police Department
PO Box 988
Walker, Louisiana 70785
225.664.3125
SUDDEN ILLNESS FATAL TO WALKER POLICE DOG By Florida parishes bureau, Louisiana
WALKER — Arno, the police dog, died Thursday of an unknown ailment after three years of active duty with the Walker Police Department. "We're totally devastated around this place," Police Chief Elton Burns said Friday. "He did it all — tracking, officer protection, drug searches, crowd control." Arno, a 5-year-old Belgian Malinois, lived with the family of his police handler,
Cpl. Joseph "Jo Jo" Welda. The Belgian Malinois is a breed related to the Belgian sheepdog that is well-suited for police work.Burns said Welda called him Wednesday night to report that Arno was ill. Welda took Arno to a veterinarian Thursday morning and then brought him home to recuperate. When Welda's wife, Beverly, returned home at 3:30 p.m., she discovered Arno's lifeless body, Burns said. Although the dog was taken to the LSU School of Veterinary Medicine for an autopsy, officials do not suspect poisoning, the police chief said. Burns said the Welda family members were very attached to Arno. "Their 15-month-old baby, Olivia, was crying 'dog, dog, dog' on Friday," Burns said. Arno was one of two police dogs with the 10-member Police Department. Hondo, also a Belgian Malinois, was a gift from the Livingston Parish Sheriff's Office. "They're members of the force," Burns said of the dogs. The city purchased Arno from a Kaplan trainer through a federal grant, Burns said.
The police chief said he's already contacted town officials about buying another police dog, which may cost about $5,000.
That doesn't include the cost of training with the assigned police trainer, Burns said.