..The Loss of SIRIUS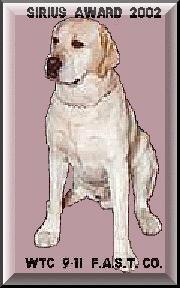 ..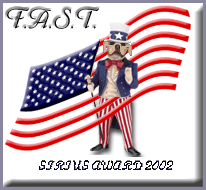 Above - to be awarded to websites in honor Sirius from F.A.S.T. Co.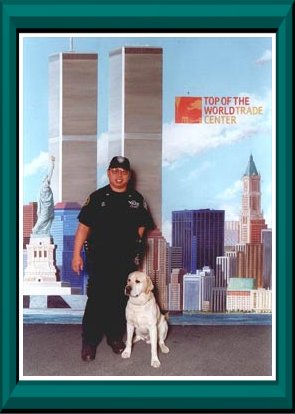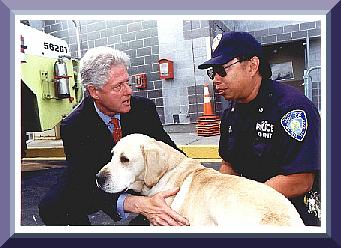 This was taken on September 11th, 2000
during Hillary's US Senate election campaign.
I met the President @ the Downtown Heliport
during one of his visits.




Meet Sirius Name-sake...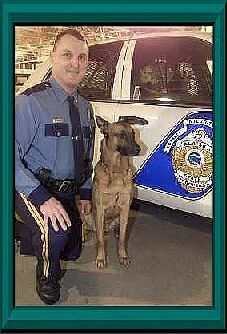 New Alaska State Trooper canine Sirius
..The Lim's will be visitng Fairbanks
NEW TROOPER CANINE-- Alaska State Trooper Lee Baker and his new partner Sirius are shown Friday afternoon in the Fairbanks troopers headquarters. Sirius is named after a New York Port Authority explosives detector canine who is missing in the rubble of the World Trade Center.
Canine named for Ground Zero hero.

..The Legacy of Sirius
By BETH IPSEN - Staff Writer 12/31/01
Little does new Alaska State Trooper canine Sirius realize he has a huge legacy resting on his 2 year old shoulders. The almost 90 pound Belgian Malinois is one of five dogs recently added to the troopers' ranks and the only one coming to Fairbanks. At the moment, the Alaska Sirius is perfectly happy to play fetch and tug of war with his handler, trooper Lee Baker, before they head off to canine academy Jan. 6. When Sirius comes back to Fairbanks, he'll not only have to live up to the reputation trooper canines Nissan and Comco have built here, but also to the story of his namesake--a New York Port Authority explosive detection canine. The East Coast Sirius was the only law enforcement dog to die in the attack on the World Trade Center. About 3,000 people were killed. "Sirius stands for something more than a dog," Baker said. "Unfortunately it's because of a tragic event. Maybe that will remind us that there is good in people." It was trooper Gary Tellep's idea to name one of the five new dogs after Sirius. It was just luck that the dog was to be assigned to Tellep's location. Tellep is from New York and grew up walking by the World Trade Center construction site. After the attacks, like many others, he watched and read the harrowing stories of survivors.


To read more about David, go to
http://www.ailf.org/notable/iaa/ny2001/dlim.htm
http://www.asianconnections.com/community/david_lim/
http://www.portauthoritypolicememorial.org/sirius.htm
"One particular moving piece of film was about a Port Authority officer named David Lim," Tellep said. Lim, Sirius' handler, was one of the few people to climb out of the rubble alive. Unfortunately, his our legged partner didn't. Tellep knew the state was in the process of buying the dogs, and as the local representative of the Public Safety Employee's Association, he brought up the idea of naming one of the new dogs after Lim's missing dog. The union bought the dog. Other organizations, such as various Lion's Clubs, helped raised funds for the other four dogs. Because the $4,000 for Sirius was provided by the union, "in our small way, it was to show solidarity and support to the victims of the 9-11 (attacks) and to the policemen and firemen," Tellep said. The name comes from the brightest star, "Sirius," in the constellation Canis Major, meaning great dog. But it has taken on a whole different meaning since Sept. 11. Lim, 45, has told his story countless times on shows such as the Today Show, Extra, Entertainment Tonight and has given many speeches. Lim and Sirius, a 4.5 year old, 90 lb. yellow Labrador, started a normal day at 5:30 AM in the basement of the World Trade Center, Lim said in a phone interview from JFK International Airport in New York on Sunday. Sirius is one of two dogs whose job was to check incoming trucks for bombs. But at 8:48 a.m., everything changed when an airliner crashed into the first tower at the World Trade Center. "Oh my god, they got one (bomb) by us," Lim remembers saying to Sirius. He told the dog to stay put while he went upstairs to check things out. He struggled past falling debris and people streaming down the stairs until he reached the plaza floor. There he saw a dead body lying next to a stage. "I've been a police officer for 21 years and had never seen a dead body like that," Lim said. Soon after, another body landed about 50 feet away from the first one. He called his wife Diane. That's when he learned a plane had hit the first tower. When he reached the 44th floor, the second plane hit the other tower. "I saw this debris and fire coming toward the window. It blew out the window and knocked me and everybody there down," he said. "When the second one hit, I knew we were in trouble and we were under attack." When he and another fireman were helping probably the last civilian in the building escape from the fragile tower, the world came crashing down around them. "The sound, it was something between an onrushing locomotive and an avalanche," Lim said. "It lasted 15 seconds, but it seemed like forever." They were on the fourth level at the time and half of the staircase in front of them had disappeared. They started looking for a place to hunker down until they could be rescued and they passed Lim's two cell phones around for people to call their families. Soon after, Lim started smelling jet fuel and they started back up the stairs again. The reached the top of what remained of the World Trade Center on the sixth floor. There they radioed for a ladder team who threw them rope and they climbed down roughly three stories to Ground Zero. There Lim turned around and saw a sight he described as surreal and horrific. "It reminded me of the movie 'Terminator' where they're going through the big junk yard during a battle at the beginning," Lin said. "It looked like a big kid kicked over his Legos." Lim still believed his dog was alive and was trapped in pockets underneath the rubble. He tried several times to re-enter the debris, only to be turned back by firemen and police officers. Finally, some of his fellow Port Authority officers threw him in the back of an ambulance. He cried the entire way to the hospital. Sirius and 37 officers of the 1,000 strong Port Authority were gone. The dog's loss has hit the Lim family hard, especially Lim's 12 year old son Michael. Sirius lived with the Lim's like most canine officers. Lim's life, like the country's, has pressed on. But things are different for Lim. Lim will be getting a new canine next week, but there isn't a World Trade Center to protect anymore. He's had his story published in international magazines, he's received scores of e-mails and letters, most of them wishing him sympathy. He's had 160 people offer him replacement dogs. He rang the buzzer on the New York Stock Exchange's reopening day September 17, has met royalty, movie stars and high profile politicians. People even recognize him on the streets. There are plans for Lim to meet Sirius' Alaska namesake in March. Tellep has been trying to organize sponsors to help Lim and his wife travel up for the start of the Iditarod and to spend two days in Fairbanks. Meanwhile, the Alaska Sirius is beginning what will hopefully be a long career as a trooper canine. Trooper Lt. Randy Hahn, the statewide canine coordinator, went to Alabama to select five dogs who would be suitable for the tough job of a law enforcement canine. The dogs were matched with the personalities of the troopers selected for the canine program. The dogs and their handlers are headed for roughly 10 weeks of training to become dual certified as narcotics and patrol dogs, doubling the number of dogs troopers have already. Sirius is originally from Holland and knows commands in Dutch, but at the academy all of the dogs will be taught commands in German. after the academy, one of the dogs will go to Sitka, two will be stationed in Soldotna, one in Palmer and Sirius will come to Fairbanks. Sirius has spent the last month bonding with Baker and lives with him, his wife Tracy and their 3 year old Greyhound-Dalmatian mix. Baker spent 13 years in the Army prior to becoming a trooper. He has experience only in the logistical side of the military's canine program in the Pacific area, but he's always wanted to be a handler. "The only adjustment I've really had to make is the idea of working with a partner," Baker said. "He's my partner. I've got to watch over him and he watches over me. It took a few days to get used to."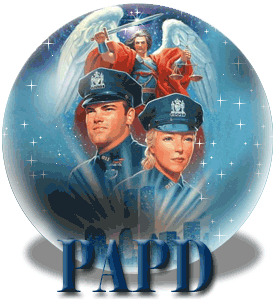 gif above by Mario

click on patch
NY NJ Port Authority Police Memorial
click on above link to know more about the NYNJ Port Authority who lost 38 officers (37 human, 1 canine)- 9/11/01