In Loving Memory of
K-9 "SIRIUS"
Badge # 17 WTC - LODD
September 11, 2001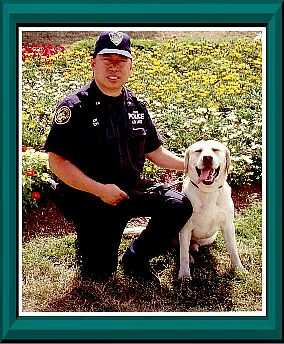 Partner: Officer David Lim
Port Authority Police Department NYNJ
World Trade Center NYC



Click on the PAPD to see memorials
for all 37 employess who lost their lives on 9/11/01
...The PBA has set up a separate fund specifically for
the purpose of aiding and assisting the survivors.
Tax deductible donations may be made to:



"God Bless America"
Russ Hess, National Executive Director
The United States Police Canine Association, Inc.
PO Box 80, Springboro, Ohio 4506 -
mailto:uspcadir@aol.com 800-531-1614



.



Officer Lim with SOLO, brother of Sirius.

....
From September and on and on, Dave was doing charity work, and sharing Sirius memorial cards.


Hi Lulu,
I gave Sirius' cards to Gov-elect McGreevy,
Drew Barrymore, Whoopi Goldberg, Dennis Quaid,
Armand Assante, Dennis Leary, Ed Burns & Robert DeNiro
over the last couple of days, mostly charity work.
Dave, "Out on a" Lim
....

This K-9 pin is being sold to help raise funds for a Memorial for Sirius to be erected in Liberty Park, NJ. They sell for $10.00 each. Please click the pin to visit Lapel Pins & More
or call 1-800-758-5890
for more information. Click on pin for more information.
http://www.pinworld.com
.

December 06, 2001
HONORING THE FALLEN
The Annual Blue Mass on Nov. 8 took on additional meaning this year in the aftermath of Sept. 11. The Mass honoring fallen officers is held each year at the Cathedral Basilica of the Sacred Heart, 89 Ridge St. Newark. Mass was celebrated by Most Rev. John Joseph Myers, Archbishop Newark.


..
To order laminated Sirius memorial cards
How Sirius Got His Name
Sirius - Related: Stars
(sir´ees) , or Dog Star, brightest star in the sky. It is located in the constellation Canis Major (1992 position R.A. 6 h 44.8 m , Dec. 16°42); its Bayer designation is Alpha Canis Majoris. Sirius [Gr.,scorching], having an apparent magnitude of 1.45, is exceeded in brightness only by the sun, the moon, and Venus and by Mars and Jupiter at their maximum brightness. A white, main-sequence star of spectral class A1 V, Sirius is about twice the size of the sun and about 20 times as luminous. It is also one of the nearest stars, lying at a distance of 8.7 light-years, so that it has been studied extensively. From an analysis of its motions, F. W. Bessel concluded (1844) that it had an unseen companion, which was later (1862) confirmed by observation. The companion, Sirius B, is a white-dwarf star and has also been the object of considerable study because it is the first white dwarf whose spectrum was found to exhibit a gravitational red shift as predicted by the general theory of relativity.
xApply for K-9 Sirius Webpage Awards
#1 #2
....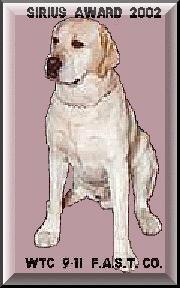 ..........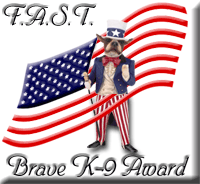 BELOW:
#2 award was made to honor
the brave WTC K-9s who did SAR work @ WTC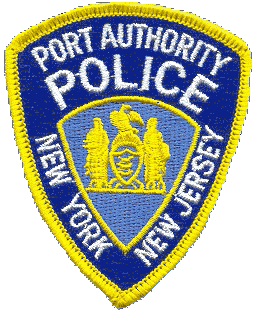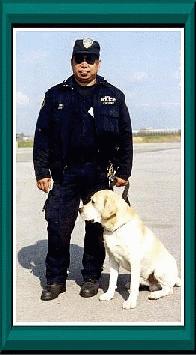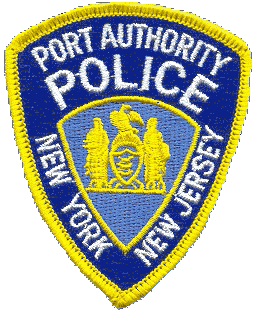 "I will always love my partner.
He helped me search trucks entering
the WTC for Explosives.
I left him in his kennel
to help rescue people in Tower #1.
He may be a dog to most,
but he was a 'friend' to me."
~David W. Lim

"One Got By Us"
Officer Lim was in the K-9 office in the basement of the WTC and heard the explosion on an upper floor. Thinking it was a bomb that had exploded David put his K-9 Sirius in the dog crate and told him to stay, he was going to investigate. David told K-9 Sirius, "one [bomb] must have gotten by us." Officer Lim had no idea of what had actually occurred or how the world was rapidly changing for all of us. The officer started up the stair way directing people out and reached about the 44th. floor when he heard the second explosion. The officer still did not have any idea what was happening and felt that missiles had hit the building. The building evacuation was under way and he was assisting several people down the staircase. Officer Lim stated they could now hear the building collapsing and he was helping a female down the staircase when the whole building came down around them. The officer and others believe they were at about the 5th level in the stairwell that was partly standing after the collapse. The smell of jet fuel was heavy and they elected to go up to the now top of the World Trade Center, the sixth floor. They were eventually tossed ropes to get down and were making there way across the debris when small arms fire was heard. David stated he first thought that a battle was under way and thought to himself he was he going to get shot after living through the building collapse? It was later found the small arms fire was ammunition that was stored that was now being detonated by fire. David made several attempts to find a way to get to the basement were K-9 Sirius was crated but was rebuffed by fireman and officers now trying to secure the scene and set up rescue operations. His Canine Sirius #17 is still listed as missing. Officer Lim and Sirius were new members of the USPCA having joined in July of this year. They were members of Region 15 and had participated in certification trials. Officer Lim told me that his department has had several offers to replace his canine. He asked me to pass on to you all his sincerest appreciation for all of your thoughts and prayers. We still hold out hope and pray for those missing. Officer Lim told me that his Department, The New York Port Authority, are missing thirty-seven officers Plus officer,
K-9 Sirius in this attack and he asked me to pass on the following information for anyone who wishes to make a contribution to his Department. The Port Authority PBA is extremely grateful to all those who have offered assistance to our membership in this time of need. We have offers of financial help for the families of members of the Port Authority Police Department affected by the World Trade Center disaster.
Officer D.W. Lim

October 30, 2001
COURAGEOUS CANINES!
When Port Authority K-9 police officer DAVID LIM responded to the World Trade Center disaster on September 11, he brought along his trusty bomb sniffing Labrador retriever, SIRIUS. But when he realized he'd be more effective freehanded, Lim left his canine companion inside the building. "Nobody thought these buildings would fall down," he told ET. "At that time, I couldn't think of a safer place for Sirius to be than in the basement while I was up doing the rescues. Of course, now, when I look back, he probably saved my life by just sitting there." Sirius perished in the tragedy, leaving David alone without his co-worker. "He's very special," said David. "All dogs go home with us. So not only was he my partner, but he was also my pet and my friend." The bond between canine and master is a special one. And while David realizes the human tragedy may overshadow the death of his dog, any pet owner can attest to the impact an animal makes on our daily lives. "We were very close. No matter where I went, he went. Whatever I asked him to do, he did. He never complained. Sometimes we'd be working for long hours, searching hundreds of cars or trucks, and he'd just look at me like, 'What do you want me to do now?'" When Seventeen magazine heard of David's situation, it decided to make a difference. Last Friday in New York City, in front of a roaring crowd, the K-9 police officer was presented with a new dog, BUSTER, at the 9th Annual Seventeen's Star Showcase, a charitable event for 3,000 teens now benefiting New York City Disaster Relief. During the uplifting event, featuring concert performances by EDEN'S CRUSH and 3LW, plus fall and holiday fashion shows by Seventeen's Style Squad, David took the stage with his family and was presented with his new pooch. "This is a fine example of a new beginning," David said. "Everybody talks about September 11. Let's talk about the future. The future is a new dog that I'll be working with,
that'll be just as good as my buddy, Sirius."


*Please NOTE: Buster is NOT Dave's new dog! He belongs to Kevin Cottrell!
No dog could ever take the place of Sirius in Dave's heart.