In Loving Memory of
K-9 WAYLON
January 10, 2000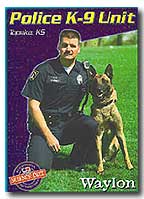 Handler: Officer Steve Purney
Topeka Police Department
Chief of Police Ron Miller
320 S Kansas Ave Ste 100
Topeka, Kansas 66603 (785)368-9551

Waylon, shown with Topeka Police Officer Steve Purney was euthanized Thursday morning. Two K-9 helpers euthanized
By TIM HRENCHIR - The Capital-Journal
Waylon, also a male Belgian Malinois, had been a canine cop with the Topeka department since 1995. Waylon made numerous felony apprehensions during his career as a patrol utility dog, said Lt. Jerry Young. Young said Purney released Waylon to give him a break Monday while they were on the former Topeka State Hospital grounds at S.W. 2nd and Mac Vicar. Waylon chased a rabbit onto S.W. Mac Vicar and was struck by a pickup truck, whose driver stopped at the scene, Young said. Waylon was taken to Animal Emergency Medical Services and later to Western Hills Veterinary Service before police concluded his injuries were too serious to overcome. Waylon was euthanized at about 11:15 a.m. Thursday, Young said. He said a funeral service for the dog would be scheduled for a later date. Two veteran police dogs, one suffering from hepatitis and the other from injuries received in an accident, were put to sleep separately Thursday morning. Authorities reported the deaths of Topeka police K-9 officer Waylon, the partner of officer Steve Purney, and Shawnee County Sheriff's K-9 officer Kilo, the partner of Deputy Brad Metz. Kilo, a 7-year-old Belgian Malinois, had a drug-related name but was the sheriff's department's primary deputy dog used to sniff out explosives. He had joined the department in 1994 as one of the first explosives-detection dogs used in Kansas.