In Loving Memory of
K-9 VELLO
APRIL 3, 2000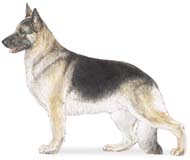 Handler: Officer Hovda
Olympia Police Department
Olympia Police Dept. - 900 Plum St.
Olympia WA 98501 - (360) 753-8300

"Vello and Hovda had been nominated for the Red Cross award and were considered by several sources to be the top contenders for the prize this year. The team had received a missing person's report last year and was able to track down an Alzheimer's patient who had wandered away. One blast from a shotgun Authorities said Amos drove his white four by four pickup truck around the locked gate that stood at the entrance to the 2-mile-long driveway of the woman's home. Leaving his girlfriend in the truck, Amos allegedly approached the dog and shot it once with a shotgun. He then dumped the dog into the bed of the pickup, drove off with him and tried to hide his body miles away in a wooded area, authorities said. Brown said that Amos knew he was killing a police dog. In fact, he had allegedly met the dog and made threats toward Vello during past encounters with Hovda and his estranged wife, authorities said. In addition, Vello had become a well regarded member of the force after undergoing three surgeries on his spine, said Sue Larson of the American Red Cross. "As a team, the dog and Officer Hovda had come through a lot of adversity," she said. "The dog has been very successful in his career," added Machan. "He is missed not only by our agency but by some others around that we do work for." moss is now charged with killing a police dog, a class C felony, which could mean up to five years in prison and first degree theft, which is punishable by up to 10 years in prison. He also is charged with various domestic violence offenses that could put him behind bars for life, Brown said. A strange twist at court. After Hovda, who had been the dog's handler for about three years, discovered the dog missing and reported it, Lewis County authorities went to the home where Amos lived with his girl friend, 42-year-old Mary Chichester. Brown said the sheriff's department found blood and fur on the pickup. That was enough to get a search warrant for Chichester's home, where the sheriff's department allegedly found more evidence, officials said. The case got stranger at Amos' first court hearing Wednesday when police found Chichester sitting in the audience and arrested her because the search of her home turned up illegal weapons. Chichester has past convictions for domestic violence and is not permitted to keep guns, Brown said. After being arrested at court, Chichester allegedly told police about witnessing the dog shooting. This new information prompted Amos to later get up in court and admit to shooting the dog, Brown said. Amos also later led police to the canine's body, which probably would never have been found. Police grieve Meanwhile, the death has filled many people at the Olympia Police Department with grief. Spokesman Dick Machan said that Hovda is on leave and too saddened to talk. "Obviously, in any of these kinds of things, the dogs are kind of like family so it's a big loss," he said. "And it's affected people very hard, the same way it would with anybody that you have around a lot. "Chichester, meanwhile, faces weapons charges. Ed the department in 1995 after K-9 Aron retired in 1996, Velez said in a press release. Ringo participated in more than 300 searches, including sniffing out a pound of hidden cocaine last June. He was the first K-9 in the city to be nationally certified for narcotics detection and minimum force apprehension.

The person who shot K-9 Vello was prosecuted and sentenced to serve time & pay restitution. Vello was a great loss to department and especially Officer Hovda. Many cards and well wishes were sent in honor of Vello. GOOD NEWS: K-9 Conan just finished training school and received exemplary scores. He has been on the job with successful tracks and apprehensions. Good Luck Conan and your new partner. Thanks to department secretary for updated news. emailed Ofc.Hovda's PD 10/15/02

Oct. 2002
I am working patrol now. Have been since. Enjoying every day, thanks to Vello. He is still with me. He school me in the art of finding people and I think he still guides me at times. I still train with our new K-9, Conan. He is a great police dog and has a lot of the same personalities as Vello. I also train with Lacey's K-9 Kuda. The handle is Bob Lions and when I was
in K-9, Bob had Baron. Baron has since past away and now he has Kuda. So I am still involved a little but it certainly is not like having a partner, 24 hours a day.

Nov. 2002
Since you have emailed me, I have been thinking about all the things Vello did for me. I just thought I would share one or two with you. Vello was injured about the second year of his career. He had two discs go out in his back. He barely could walk. I had to make a decision to try and fix it or put him down. Knowing Vello and his strength and the love he had for his job, I decided to let the doctor try and fix his back. After three surgeries on his back, carrying him around for months while he recovered, he came back tot he road and never lost that desire to work. In fact, he earned the Red Cross Life saving award before his death. He found a patient that walked away from a hospital and lost his way in the woods. When Vello found him in the middle of the night, The elderly gentleman was near death. If it had not been for Vello and the speed he found him, he would not have made it and we would have never found him. I received the award for Vello after he was killed. Vellos last track for a suspect was for an auto thief. He ran over fences, through yards, across streets and into his own house. Vello couldn't jump anymore because of his surgeries, but it didn't stop him. I would lift him over things to help him and he would track like nobodies business to help me. Vello found the house and in fact went right to the door. The suspect was taken into custody. This was his last track. Like every handler, there are just some things you wont forget. I just thought I would share it with you, it might give people a better insight of how powerful the bond is between the two partners. Thank you for listening. Let me know where you want the pictures and I'll get them for you. By the way, I am very glad for Bill that he was able to do that. I have thought about doing the same. Maybe someday I will. I know if I do, Vello will jump right out and talk my ear off, like he always did when we were on tracks. I'm finding out he still does. Anyway, Ill talk to you soon. Mike
********
Baron in the next day or two. Baron and Vello worked together and trained together all the time. They were backing us up or we were backing them up. They did a lot of Tag team tracks together. I will be sending a little info about him. One of the pictures I am sending will have Vello and Baron in it together. Baron will be in the left, black and tan and Vello will be on the right, he is the
sable. Ill get back with you soon. (did not receive further info or .jpg)
In Loving Memory of
K-9 VALCO
July 17, 2000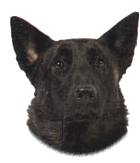 Handler: Officer James Thomas
Indianapolis Police Department
901 North Post Road
Indianapolis, Indiana 46219
(317) 327-6696

K-9 Slain in Drug Bust of 85-Year-Old - Cops Say Friendly Fire Claimed Life of Rookie Police Dog
By Seamus McGraw INDIANAPOLIS (APBnews.com) -- Police are mourning the death of a canine gunned down by a confused officer in a raid on the home of a suspected 85-year-old drug dealer, police said. Rookie police dog Valco, a Dutch Shepherd, became the first police dog killed in action in the city's history during a raid on the home of Charles Howard on Monday night, Sgt. Paul Ciesielski said. "He got away from his handler, and one of officers thought it was a strange dog coming at him," Ciesielski said. "It's not the first time we've shot a strange animal, but it is the first time since the canine unit was established in 1961 that a police dog has died in the line of duty."A history of drug busts: It happened at about 9 p.m. as plainclothes officers were preparing to serve Howard, a senior citizen with a history of drug arrests dating back more than a decade, with a warrant charging him with marijuana possession and possession of drug paraphernalia, Ciesielski said. Police had decided to bring Valco along for an extra measure of security, he said. "We often use police dogs in drug arrests," Ciesielski said, both for their commanding presence and because " if a suspect runs, a dog can chase him better than we can." Dog breaks free , but Valco, who joined the department's canine unit less than a year ago, broke free of his handler at precisely the same moment officers were preparing to rush Howard's door. One of the officers saw the dog running toward him, wrongly believed that it was an attack dog sent by the suspect, and shot and killed it, Ciesielski said. Howard gave up without a fight, Ciesielski said. Bail information on the man was not immediately available. It was not immediately clear what, if anything, the department planned to do to honor the slain pooch. "That hasn't been decided yet," Ciesielski said. "We feel that we ought to do something. Regardless of the circumstances, he did die in the line of the duty."