In Loving Memory of
K-9 RUGER
1992-October 6, 2000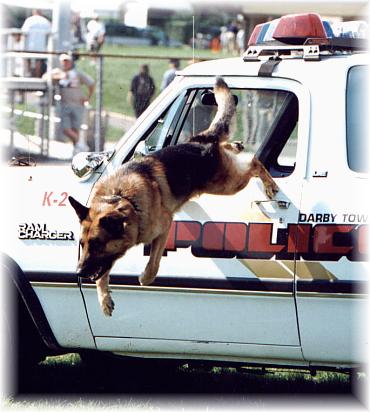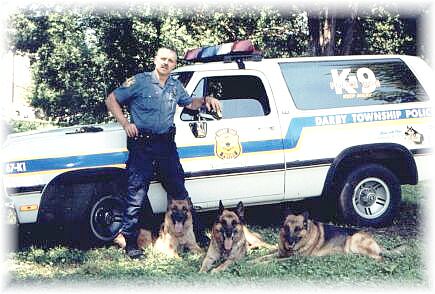 Handler: MIKE ANDREL CANINEHERO@aol.com
Darby Twp. Police Department
7236 West Chester Pike
(610)352-7050
Upper Darby, PA

Jaeger, Toby & Ruger
Ruger died of Cancer. We had no warning at all that week he was just great tracking a burgulary suspect to a house and found drugs the next night and was just unbelievable and I found him that Friday morning at the bottom of my basement steps. His buddies, Toby my oldest who is 12 and still kicking and Jaeger his son. It was like he wanted to be with them before he left. It is still a very hard thing to deal with but I know he is in a better place watching over us .... Mike


Hot Dog Tech - Can the Hotdog save man's best friend? By Becky Worley, Tech Live - Originally posted July 5, 2002
On a hot summer's day it takes only minutes for a dog to die of heat exhaustion in a closed car. A vehicle with its windows rolled up left in an unshaded area in summer can heat up to nearly double the outside temperature within minutes. Tonight's "Tech Live" takes a look at a possible solution to the deadly problem. Police officer Michael Andrel in Darby Township Pennsylvania adores his partner. Yeager is a highly trained German shepherd who rides on patrol with Andrel. But Yeager doesn't leave the squad car for every call. Sometimes he has to stay in the back of the car, even on hot muggy East Coast summer days. That can be dangerous. But Andrel has a weapon to protect his partner -- a device called the Hotdog, a temperature monitor used in canine unit police cars. The sensor's thermometer measures air temperature inside the car. When it reaches 85 degrees, the horn of the vehicle begins to beep. How the Hotdog works. It's not just a warning device. Hotdog, which is manufactured by law enforcement equipment maker Criminalistics, is hooked into the car's electrical system. When temperatures reach 88 degrees inside the cruiser, the horn blares even more frequently, then a fan is activated near Yeager's cage and the windows are automatically rolled down. On a 78-degree day, the temperature inside a shaded car is 90 degrees. A car parked in the sun can reach 160 degrees in minutes. For a dog, heatstroke death takes just 15 minutes. The Hotdog system has been used by Andrel and other canine units in Darby County during the past three years and now other police departments elsewhere are finding a need for the device. Tragic incident. Police in Pennsylvania say they think the Hotdog device could have saved Woodrow, a Philadelphia police dog with the K-9 unit who died last month when his handler accidentally left him in the car on a day when the temperature topped 85 degrees. As a result of the tragic death of Woodrow, a 5-year-old German shepherd, the Philadelphia Police Department is implementing the Hotdog system. All the units were donated by music publisher and Philadelphia philanthropist Kal Rudman. He is also donating two new dogs for the police department and another German shepherd to replace Woodrow. For every pooch. But the Hotdog is not just for police departments. It's available to purchase for $328. If you want one with a pager that alerts you to the car's temperature, the price is $598. You can buy the device at Criminalistics' website. The system is also available from the Ray Allen Manufacturing website for $309.95 ($524.95 for the pager model). To order, scroll down to the bottom of the page. If you can't afford the Hotdog, here are some analog tips for keeping your dog safe, courtesy of a Tufts School of Veterinary Medicine article distributed to canine officers: Heat stroke is a life threatening medical emergency that occurs when an overheated dog's body temperature soars four to seven degrees above the normal range of 100 to 102.5 degrees Fahrenheit.
What to look for:
Excessive panting
Brick-red oral membranes
Weakness
Loss of coordination, or collapse
What to do:
Contact your veterinarian, who may direct you to begin cooling the dog yourself or to bring it to the clinic.
If you begin cooling your dog, use cool, not ice-cold, water & a fan to bring the dog's body temperature down to 103.
How to prevent heatstroke
Never leave a dog unattended in a car during warm weather. Keep your dog inside on hot, humid days, particularly if the heat regulation mechanisms are compromised by age, heart, lung disease, or a pug nose. If you leave your dog outside, provide plenty of fresh water (with a backup supply if one bowl tips over) and access to shade at all times of day. Don't shave longhaired dogs in hot weather. Hair coats operate as air-filled buffers shielding the dog's skin from heat.



FROM A PUPPY, TO A PARTNER, TO A MEMORY
Although October 6th was one of the worst days of my life, our friends and partners do not live forever. On that day, I lost my friend, buddy, family member and police K-9 Partner Ruger. As both a K-9 Officer and trainer both for sport and police, we must all prepare for this day. I know this is something that is not talked about, but this was important to me and anyone else that can share with this loss. It all goes back to a day in April 1992. This little fur ball came in from Germany on the Lufthansa flight. His name was Ruger (vom haus Dexel). The challenge was on! He was a puppy with attitude, part John Belushi. His accomplishments were multi times Sch H 3 and he was DPO II and WPO 4 times; he was also a Drug Dog. Ruger was following in the footsteps of Toby (alex vom haus dexel), my first Schutzhund dog raised from a puppy to Sch H3 FH V-rated, and also a retired police dog, who is still kicking at 12 years old. There are not enough pages in the magazine to explain this relationship. Ruger was more than just a police dog. No, he didn't make any major bust or catch a fleeing robber that shot at him, but there were two incidents that come to mind that I will always remember. The first involved a car stolen from a neighboring town. The pursuit started, and into Philadelphia they went. After going down a dead end street, the two suspects fled; fortunately, one tripped and was taken into custody ten feet from the car. But the driver got away. So the call went out for a dog (K9) but none were working the street this night, 2:07 AM. So, the Sharon Hill Police asked to contact Darby Township's K-9, which was Officer Mike Andrel and K-9 Ruger, who at this time were home and asleep. After receiving the call, we responded to the scene and started the track from the car. After tracking down the street, into the woods, and over two hills into a small group of trees, Ruger came upon a large pile of leaves; he was coming to a stop and downing what turned out to be the subject's chest. The only words we heard were, "Please get the dog." At this time Ruger was just crawling, but after given the command to Platz, he remained still. The subject was taken into custody. While going back to the car, Ruger was jumping and barking, for he knew he had done a good job. The second incident was on a Sunday night. While on routine patrol of one of our parks, we came upon a suspicious van that stopped and started to back up the street. After turning around, the car headed to one of the main roads in our township. After turning on the main road (Hook Road), I activated my lights and hit my siren a few times, but the van continued on and then turned onto a side street. With the vehicle still not responding to my lights or siren, I called to radio that I was attempting to stop a vehicle and, providing the registration, I requested other cars. On Sundays we usually have three cars working, but this night there were only two, and our other car was on the other side of town. Answering the radio that the other car was en route, the minivan now turned down another side street toward a local bar known for drug dealings, where numerous shootings have occurred. The van stopped right behind the bar and the driver jumped out. I immediately jumped out and ordered the driver to get back in the car. He started toward the bar and had both hands in his pockets. For a police officer, this makes your hair go up on the back of your neck. He would not take his hands our of his pockets, so I immediately pulled my weapon and again ordered the driver to show me his hands. He continued to walk toward the bar. Having my patrol car door open and my cage open, without any commands Ruger jumped out of the car and went around to the other side, and started to come to the front of my patrol car. Seeing the dog, the driver stopped immediately. Again, not knowing that Ruger was out of the car, I glanced over and saw it was Ruger, my patrol dog. The driver then immediately took his hands out of this pockets, raised his hands and said, "Get that dog." Ruger started to go toward him, and given the command to Platz, he followed. In the distance I could hear sirens from incoming police vehicles. I had contacted the dispatcher that my K-9 was out of the car (which is our department's policy). Still, with my weapon on the driver, I order him to the ground and then handcuffed him. Ruger crawled up beside the driver, growling the whole time. The driver just kept saying, "Please hold the dog." The driver was searched and drugs were found. This was part of a domestic in which the wife was looking for the van. The driver was taken to headquarters and processed. Everything happened so fast; if it weren't for Ruger, things might have turned out differently. Later that night, I looked in the rearview mirror and saw Ruger's familiar head, his one ear up and the other off to the side. I thank God for having a partner like him. These are just two incidents that will always stand out in Ruger's career, and in my life. But there were all the schools we visited over his six years. It was the kids that loved Ruger or Ruper or Rugger or all the other names they had for him. To see the kids at all the demonstrations he did, and to see the parents…that is what makes a K-9 special (yes, you could pet Ruger and he was fine with groups and crowds). But the thanks go back to so many people…all the old members of the Greater Philadelphia Schutzhund Club, Jim Hill, Rich Rosen, Bill & Mary Beth Talley, Frank Fisher, Patsy, Ed, Debbie and many more. They all helped form Ruger's foundation and personality. He was not the best sport dog, but on the street Ruger was very serious and very special. More thanks go to all the members of Delaware Valley Police and Schutzhund Club, especially Brian & Michele Jones. I must thank DPO Judge Mike West for giving Ruger the opportunity to be my first DPO dog and qualifying for the World K-9 Police Dog Team. Thanks to Wendell Nope for giving Ruger the opportunity to be part of one of the most prestigious teams in the world, the United States Police K-9 team not once, but twice, Ruger receiving a qualifying score in both events, and for being a part of the 100 year anniversary of the German Shepherd in Germany; this will live on forever.



I have another partner, Jaeger. He is another GSD that I raised from a puppy. I have his father, Toby at home who is retired and twelve years. I have a bomb dog GSD, 9 years, Mao, another GSD Patrol and Drugs 4years. And Jaeger was bred and there are 3 puppies on the ground in Washington that hopefully will be the 3rd generation police dog, we will see. Mike
---
In Loving Memory of
K-9 RUDO
October 6, 2000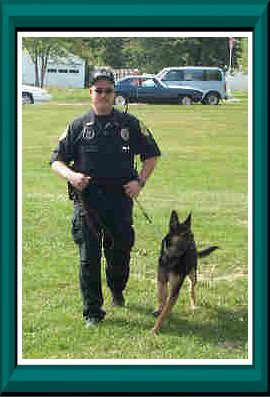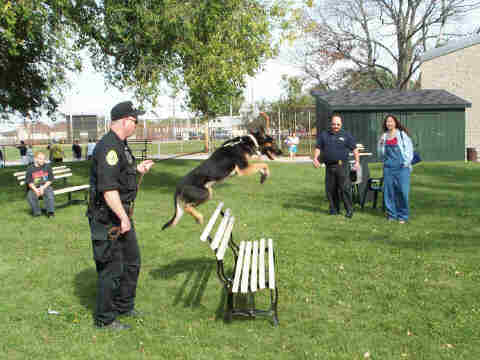 Handler: Officer Jay Turner
Muncie Police Department
300 N. High St.,
Muncie, IN 47305 | (765) 747-4838 |

Police dog dies of undetected illness By ANDREA PEDTKE
MUNCIE - On a cold, windy evening, Jay Turner and the Muncie Police Department lost a hard worker, a partner and a friend. Rudo, a 1 1/2-year-old German shepherd who was Turner's K-9 dog for the past 6 weeks, died during a K-9 unit demonstration at Heekin Park about 8 p.m. Friday night. Captain Tony Mench said an autopsy revealed the dog died from a tumor on the aorta, something that is very difficult to detect. The tumor continued growing until it burst Friday night, causing Rudo to bleed to death. "We didn't know what happened until after the autopsy," Mench said. "We have never had this happen before, so we're at a loss." A memorial service was held Sunday afternoon at the Fraternal Order of Police Lodge on Butterfield Road. Mench said K-9 officers from the Muncie, Delaware County, Anderson and Randolph County police departments attended. "The bond that is formed between a K-9 officer and his dog is unique," Mench said. "They spend every day together and get emotionally attached. To an officer, their dog is not just a partner, but a best friend." A prominent community benefactor who recently died donated money to buy Rudo, according to Mench. The benefactor wished for his donation to be anonymous. "Maybe Rudo will be a pet for him in heaven," Mench said. The captain said he was going to throw Turner "right back into the saddle" by getting him a new dog and having him finish the K-9 training classes. But for now, Mench hopes a much loved member of the department's K-9 unit will not soon be forgotten. "We are hoping to receive donations for a headstone or memorial marker for Rudo," Mench said. Jay Turner was away at training and could not be reached for comment on Monday.
Good luck in training new GSD, "Rover." to help keep our streets safe.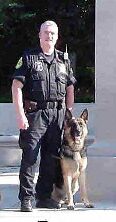 ---
In Loving Memory of
K-9 RALPH
July 28, 1995 - November 27, 2000
(please email with Ralph's handler's name and what state Ralph was from)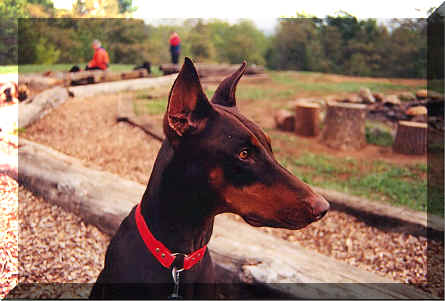 International Certified Human Remains Detection K-9

This is dedicated to Ralph, my loyal Partner and Friend. He was more then a K-9 partner, he was my companion, my friend,
He was my life. Ralph was a Internationally certified human remains detection K-9, one of the first K-9's to
pass this certification. Ralph was my partner for 5 years. Our partnership was cut short by malignant lymphoma on November 27, 2000. I will miss him greatly as will the friends who knew him. If you would like to learn more about what K-9's like
Ralph do to help mankind visit the Canine Solutions International link .
---
In Loving Memory of
K-9 ROWDY
October 1988-August 2000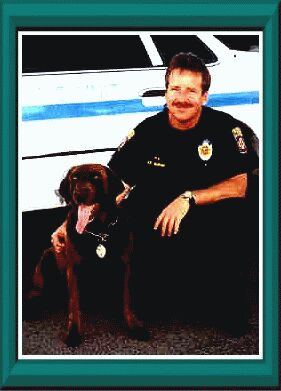 Handler: Officer Brian Marvin
Oro Valley Police Dept.
1100 N. La Canada Drive
Oro Valley AZ 85737
Ph: 520.229.4900

K-9 Rowdy was born in February of 1988 and went to work for the Oro Valley Police Department in October or 1989. He was a narcotics detection and cadaver K-9. During "Rowdy's" years of service at the Oro Valley Police Department he was handled by the following Officers:
Officer William Burney Oct. 1989-Feb 1990
Officer Jason Larter Feb. 1990-Nov. 1993
Officer Brian Marvin Nov. 1993-May 2000
Rowdy was instrumental in the seizures of over 4 Million dollars in narcotics related currency , several tons of Marijuana, several hundred pounds of cocaine, a Lear Jet, numerous vehicles and houses. He was used by several states and Mexico for his ability to locate cadavers. Many of these cadaver finds were instrumental in the prosecution of several homicide suspects. Rowdy was also used in several local high profile homicide cases. Rowdy was a great asset and family member to the Oro Valley Police Department and will be sorely missed. submitted by Jim Cortina, Dir. CPWDA
---
In Loving Memory of
K-9 ROBBIE
October 15, 1992- January 12, 2000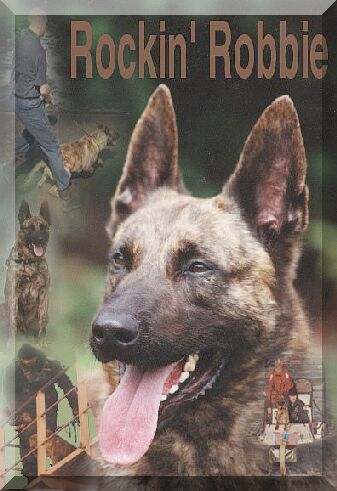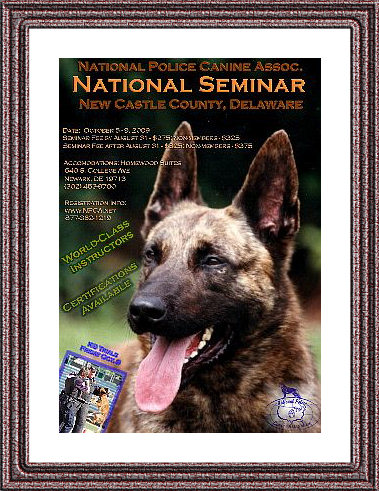 Handler: Dick van Leenen
Rotterdam Police Department - Nederland's
National Seminar 2009 - New Castle, DE ..... see you there....
Rotterdam-Rijnmond Police Department
Animal section - K9 Unit
Voorwateringweg 99 - Rotterdam - Holland.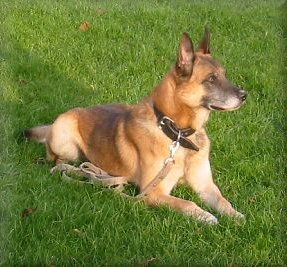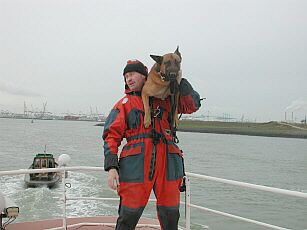 Meet Dick's K-9 Rambo Meet Rex - Rotterdam
And about my dogs:
Robbie is the Dutch Sheppard,
Rex is the little brown Belgian Malinois
Rambo is the Belgian Malinois with the grey head



Rambo is my current and fully operational patrol dog. With him I passed on December 4th the National Dutch K9-exam and with him.
I'm going on patrol now, but he is only three years old and he has very, very much to learn. So during the patrol, he and I are
busy in making him "street-wise" as I like it to call it.
Rex is also my current patrol dog, but he is not operational because he injured his right knee in training about 7 months ago.
During his long attack on the decoy (100 meters), he suddenly got crippled and the orthopedic vet found that one of his
knee bands was ruptured. Now he is still recovering from this. I hope he will be back in full service the next month. When the
specialist will say that he definitive is not good enough anymore for active duty. He will get his retirement and we will keep
him as a housedog.
Robbie was my first big love! It's a coincidence that all my dogs names begin with a "R." Because Police Department buys them
when they are about 3 years old and half way there for police exam. The first owner give them a name and that name they already
have when they arrive at K9-unit. So it is just a coincidence that all the name begin with an R. But it's very common in Holland
to give a police dog a very short name, like Nero, Robbie, Rex, Rambo, Rico, Rudy, Max, etc.
Het gebed van de hond
Ho mijn meester,
Kies mij als vriend,
en ik zal van al je vrienden de trouwste zijn.
Geef mij een thuis,
en ik zal de beste bewaker zijn.
Geef mij een naam,
en ik wil nooit nog een andere.
Geef mij een bevel,
en ik zal je gehoorzamen.
Geef mij voedsel,
en je zult nooit ontgoocheld zijn.
Geef mij een liefkozing,
en ik zal gelukkig zijn.
Geef mij uw affectie,
en ik zal je mijn leven geven
Robbie was born on October 15th 1992 and I was his only handler. Robbie was not an easy dog and was not very social. I used to say that he hated everything that walked on two legs excepts my wife and I. For us he was fabulous!! Always friendly and protective, always ready for training and hard work and the best "partner" any cop could have. He was my partner, my buddy, my guardian angel!! In the years we worked together he did more than twenty "K-9-arrests" and protected me against attacks from criminals. He also searched and found several criminals after crimes. December 1999 Robbie got heavily injured when he lost his balance on a obstacle-course on K9-unit training field. The injury was so bad that we had to euthanize Robbie on Jan. 12th 2000. That day we lost more than our dog. That day we lost family! Every day we look at Robbie. My wife bought me a beautiful oil painting of him which hangs in the living room. Every day we look at him and he looks at us. And we know he is there!



:

I'm working with my second dog, Rex. Keep on the good work!! I would be very honored if there is a place in your memorial webpage for "my Robbie"! Thank you very much. I think he deserves it! First of all I can tell you something about myself. I'm a K-9-officer with the K9-unit from the otter dam-Rijnmond PD in The Netherlands. So that answers your question about my nationality. I'm Dutch. Although me and my wife are Dutch we speak a lot English because of our great friendship with K-9-officer Greg Thomas and his wife. Greg is on the K-9-unit of Gilbert, AZ. We met each other on the internet and became friends forever. Our love for the dogs and the police work with dogs brought us together and now we visit each other regularly. Last August they were with us in Holland and last April we were in AZ. In 2003, Greg will visit us again with some other K-9-officers from Maricopa County and our K-9-unit. This will make a great exchange-program for them. After that, in November 2003, we will visit AZ again for lots of K-9-training. So you see, Dutch and U.S. K-9-officers are great friends!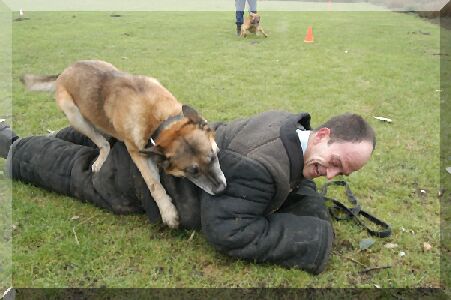 Rambo at work and having fun.


How Dick met me
Dear Lulu,
I received the memorial card of "Cosmo," the former partner of my good friend, officer Greg Thomas of the Gilbert Police Department. I want you to know that I think you do a great job by honoring all the police dogs! We in Holland know very well how important those "partners" are in fighting crimes. My first K-9, Robbie, died on Jan. 12th 2000. During his life he had many good arrests for the Rotterdam Police Department.
In Loving Memory of
K-9 REX
January 28, 2000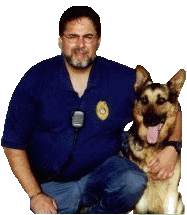 Handler: Cpl. Bob Negri
MIDWEST CITY POLICE DEPARTMENT
[OKLAHOMA County] 405-739-1300
100 N MIDWEST BLVD
OKLAHOMA CITY, OK 73110-4319

I've traveled the pathways beside you,
I've made you the lord of my day,
But now that I've gone on before you,
It's only to show you the way."



Rex, the second drug dog trained for the Midwest City Police Department, died at the age of 7, during surgery for cancer. Cpl. Negri knew, if Rex had to retire due for medical reasons, and would not be able to work, he would be very unhappy. He lived to work. Rex did not suffer. His training started in 1992. Career began in the streets in 1993. They conducted 1,588 searches, made 901 arrests, resulted in 1,848 criminal charges filed. They seized $257,688 in street valued narcotics and $1,061,331 in cash property and vehicles. Losing Rex was like a family member died. He was wonderful with his family, especially the children. He was not just a pet, but a partner that spent ten hours a day working together. He is sadly missed.



I now have a new dog, a German Sheppard, "Billy" 2 1/2 years old. My son helped me pick him out, its almost like Rex has been reincarnated into Billy, same attitude and good nose.
In Loving Memory of
K-9 RINGO
April 17, 2000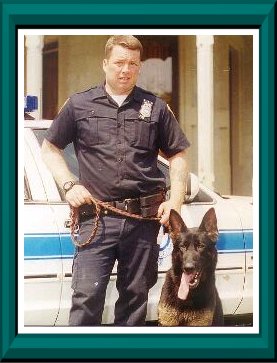 Handler: Officer William Lowe
Norwalk Department of Police Service
297 West Avenue - Norwalk, Connecticut 06850
203-854-3000 - info@norwalkpd.com

Norwalk police dog`s death coincides with cost concern 4/23/00 By ANGELA ASCOPELLA
At a time when the Police Department is evaluating the future of its K-9 unit, it is mourning the loss of one of its few "officers." Ringo, a 7 year old German shepherd, had to be put down Monday because he had an inoperable tumor in his chest, according to Sgt. Andre Velez. Ringo was partnered with Officer William Lowe. Flags flew at half staff at the West Avenue station this week in tribute to Ringo. We feel we've lost a valiant servant to the city," Chief Harry Rilling said Friday. "I feel bad for Officer Lowe," said Deputy Chief Mark Palmer. "I know he developed a close bond and relationship with Ringo. I know it's very hard for him and his family." Lowe could not be reached for comment Friday. Ringo's death leaves the department with two K-9s, Nik, a malinois, & Max, a German shepherd. Both have patrol and narcotics training. Officer Ashley Gonzalez, who handles Max, also handles K-9 Zasko, who is set for retirement and only works when Max does not, Palmer said. Rilling had Palmer evaluate the K-9 unit last month after Finance Director Jack Miller reported that it cost the city $22,000 annually for each dog. Rilling says it cost much less than that, but could not give a specific figure. Palmer said the department has no immediate plans to replace Ringo and will make do with the two K-9s. "I think at this point with two active police dogs, we don't see a deficiency in the services we can provide," Palmer said. Rilling said he is still awaiting a final report of the evaluation before he makes a decision on whether to expand, reduce or leave the K-9 unit as is. Many K-9s are used in dangerous situations where officers cannot be used, including building searches in hostage situations or finding suspects hiding in crawl spaces or basements, Palmer said. And the dogs can sniff out drugs in a car or house, he said. Ringo, who came from Belgium, joined the department in 1995 after K-9 Aron retired in 1996, Velez said in a press release. Ringo participated in more than 300 searches, including sniffing out a pound of hidden cocaine last June. He was the first K-9 in the city to be nationally certified for narcotics detection and minimum force apprehension, Velez said.

No further news on this sad memorial.
In Loving Memory of
K-9 RICO
January 13, 2000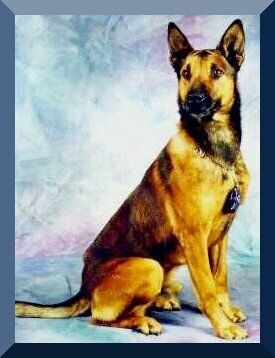 Handler: Deputy Ray Starks
Wood County Sheriff Department
400 Market St.
Wisconsin Rapids, WI 54494
715.421.8700

The Wood County Sheriff Department now has in place a new K-9. The Dog has been named Friday. Friday is on patrol with Deputy Ray Starks working the 3 p.m-11 p.m. shift. More will be posted, please check back. On January 13, 2000, Rico passed away from complications of cancer. Rico had continued working up till his last days of life. During a MRI, the cancer was discovered and found to be inoperable. Rico will be missed by his handler, the Wood County Sheriff Department, and the community of Wood County.

In Loving Memory of
K-9 ROCKY
January 18, 2000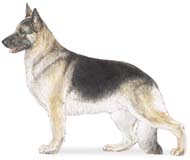 Handler: Officer Steven Schaumleffel
Quitman Police Department, AR

Found shot and left at the side of the road.
$1000
Reward
offered to apprehend killer. Anyone with information call:
501.589.3512 or 24 hour Heber Springs dispatcher at 501.362.8291