In Loving Memory of
K-9 MAC
October 14, 1982
Ceremony 2000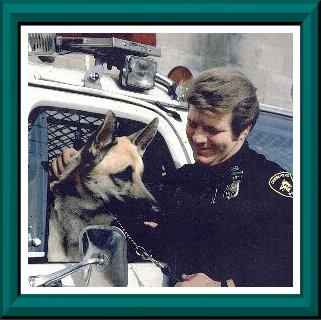 Handler: Patrolman Robert Parrish
Trenton Police Department
225 N. Clinton Ave.
Trenton, NJ 08609

The Best Partner by Ken Carolan The Trentonia, Oct. 16, 1982
He was a most unlikely recruit. Even in this day of equal opportunity and affirmative action, his appearance and questionable background would surely disqualify him. Dirty and unkempt, skinny, with no visible means of support and no known address, cowering when anyone approached him - no; he would never make it on the Trenton Police force most people believed. That's most people, not all. Patrolman Bob Parrish sensed something about him, this scrungy looking creature who showed up outside the K9 training center every day. Parrish had just transferred to the K-9 unit and was waiting for a dog to become his partner. Usually someone donates a suitable animal. This one volunteered by himself. Despite some skeptics, Bob took the dog home. First, a much needed bath, then a couple of weeks of good food, a lot of love and care from Bob and family. "Mac" was ready to report for K-9 training. some people might say Bob Parrish adopted Mac. I saw the two of them together many times. Believe me, it was the other way around. I never saw a dog so devoted to his mater, in this case, his partner. Mac Breezed through the training period, obviously loving every minute, especially when he knew he pleased his partner with his performance. Once on the street on regular patrol he was all business. But, Bob's wife, Patty, told me as soon as Mac came home after duty, he was just a friendly pup romping with the children, gentle and affectionate with everyone. In less than five months on the force, ......



There was a ceremony this year (2000)
The service helped to bring closure for Officer Parrish. On October 14, 1982, Patrolman Bob Parrish and his K-9 partner, Mac, responded to a burglary in progress at a tavern. On their arrival, the officers at the scene reported seeing the silhouette of a person on the premise. Patrolman Parrish and Mac entered the building and conducted a search as they were trained. It was in the basement that a suspect armed with a knife lunged from a utility closet. As he was trained, Mac pounced on the suspect and during the ensuing struggle, Mac was stabbed in the chest and mortally wounded. Patrolman Parrish rushed his partner to the veterinary hospital, where Mac died from his wound shortly after arriving. Mac will always be remembered by the Trenton Police Department for his service and the extreme sacrifice he made in the performance of his duties. Mac's presence on the scene likely saved an officer from serious injury from the armed suspect who was predisposed to attack with his knife. As the result of Mac's death, New Jersey passed legislation making it a crime to assault a Police Animal.
---
In Loving Memory of
K-9 MAX
January 24, 1991 - December 29, 2000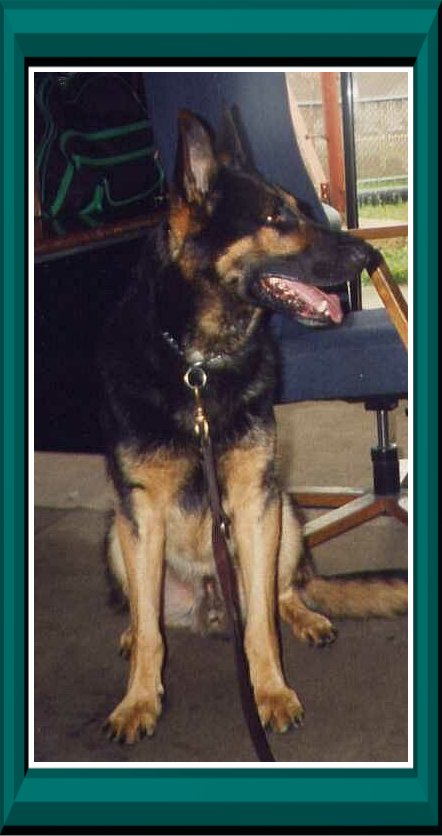 Handler: Officer Terrence O'Connor
New Castle Police Department
NEW CASTLE HEADQUARTERS BLDG.
3601 NORTH DUPONT HWY.
NEW CASTLE, DE 19720
Max was born in Kiev, Russia (60 miles from the CHERNOBYL NUCLEAR PLANT).......which is now the Ukraine. He was imported to the United States and worked as a Police Service Dog for 5 1/2 years. Max made numerous apprehensions and drug finds. Max was known for his "very independent" personality. He was nicknamed "butt head". Max retired 3 years ago due to stress related problems. He was very sociable with children and a cherished member of our family! Max was well loved by members of the Police Department and by citizens we contacted as part of our daily routine. Max was born 01-24-91, died of pneumonia related to Pancreatic Cancer
on 12-29-00. Max, my first Police Service Dog. God Bless You........Max!
Max died on December 29, 2000 of Pnumonia. Max was suffering from what appeared to be Pancreatic Cancer. I would like to thank Amy Kevis and Chip Shepherd for being with us when I had to put Max to sleep. His final moments were peaceful. Max we miss you!


MAX is missed terribly each day by Terry.
Dedicated to Max
OUTSIDE HEAVEN'S GATE
"I'll Wait -
I explained to St. Peter
I'd rather stay here,
Outside the Pearly Gate.
I won't be a nuisance
I never was, I won't even bark.
I'll be very patient and wait.
I'll be here -
Chewing my celestial bone,
no matter how long you may be.
I'd miss you too much
if I went in alone .
It wouldn't be Heaven to me.
Author Unknown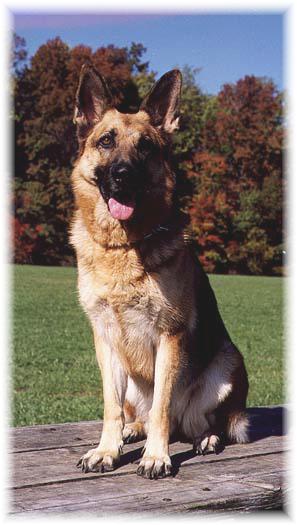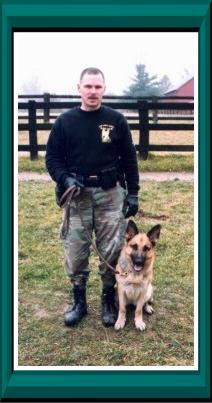 K-9 Cinta, new partner for Terry
---
In Loving Memory of
K-9 MARCO
January 18, 2000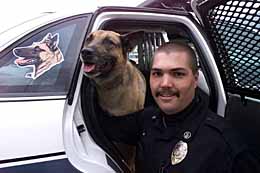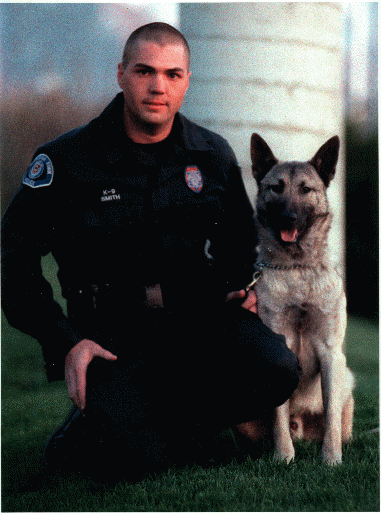 Handler: Officer Cory Smith
98 North Central St.
AMERICAN FORK, UT, USA

With community donations, many coming from children, the American Fork Police Department has received more than $10,000
in donations to purchase a new police service dog to replace Marco, a Belgium Malinois 4 years old, died Jan. 18 during a routine procedure to repair an abscessed tooth. Officer Smith lost his partner, Marco after operation on tooth, he died from complications from undigested food. Marco cannot be replaced, but working with Nik helps.



Officer Smith has a new partner, "NIK" from Holland, March 2000. Good Luck to you both!
Maverick ,German Sheppard ,Male 4 1/2-years-old Sonoma County Sheriff's Department
Canine Officer Maverick
The Sonoma County Sheriff's Department is sad to report that they have lost a Canine in the line of duty. Department Canine "Maverick" was struck by a motor vehicle and killed while pursuing two armed suspects that were in possession of a half pound of amphetamine and a loaded handgun. Maverick, a male German Shepherd, was donated to the Sheriff Department on March 26, 1997. Maverick was one and a half years olds and was assigned to Deputy T.J. VanBebber as his partner. Maverick went through an extensive training program which included Field Searching, Suspect Apprehension, Handler Protection and Obedience Training. Maverick was a fast learner and was certified to start working patrol within six weeks. Outside of his fieldwork Maverick represented the Department in several canine demonstrations. Because of his friendly demeanor he was repeatedly asked to perform in demonstrations in local schools. During his short but productive career, Maverick was responsible for apprehending several Felony suspects. Maverick was best known for apprehending three suspects following a vehicle pursuit from a shots fired call. After the vehicle stopped three suspects fled on foot. Maverick pursued after the suspects with Deputy VanBebber. Maverick tackled two of the suspects, knocking them to the ground. He then pursued the third suspect, catching him by the leg and holding him till Deputy VanBebber arrived. On Mavericks last night on patrol Deputy VanBebber and Maverick were patrolling the area of west Santa Rosa, which is classified as a high crime area. Maverick is well known in this area by the criminal types. Another deputy had made a traffic stop on a vehicle suspected of being involved in criminal activity and that deputy requested a back up. Deputy VanBebber and Maverick responded. As they arrived on scene, the two suspects who were being detained, could hear Maverick barking from the patrol vehicle, which was a trademark of his. The suspects, with the arrival of the canine, started to become uncooperative with the deputies. The suspects then fled on foot with Maverick in hot pursuit. During the foot pursuit the suspect dropped a large quantity of drugs and a loaded handgun. While crossing a busy street a vehicle swerved to miss one of the eluding suspects and struck Maverick who had almost caught up to that suspect. Maverick was immediately rushed to a nearby veterinarian clinic where he was pronounced dead a short time later. Maverick died on February 12, 2000. Although his career was cut short, he was killed in the line of duty, doing what he loved best, "Chasing Bad Guys." Maverick - Handler: T. J. VanBebber



"I lost my partner. He was one tough cop.
The kind of guy who got hit by a car.
He nearly caught a fleeing drug suspect from behind.