Memorials to Fallen K-9s


2000-K
The F.A.S.T. Co. donates sets of memorial cards to all partners
I need your help to inform me of such losses.


Dept. addresses available for those who want to

send condolences

to officers. See below
---
In Loving Memory of
K-9 KODI
March 4, 2000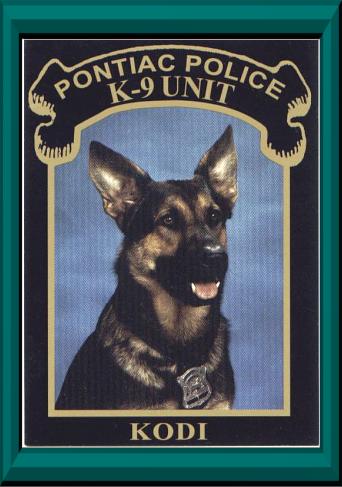 Handler: Officer Craig Pesko
Pontiac Police Department K-9 Unit
Chief of Police Larry McNeary
110 E Pike St
Pontiac, Michigan 48342
(810)857-7870.
Kodi's Statistics
Pontiac Police K-9 Unit
Registered Name:
Warrick vom Frolich Haus
Handler: Craig Pesko
Breed: German Shepherd
Weight: 90 lb..
Sex: Male
D.O.B. August 24, 1997
K-9 Certified: Sept. 6, 1998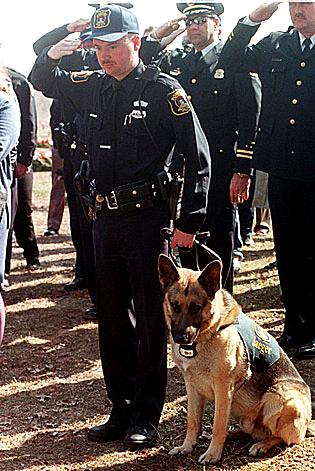 William Archie - Detroit Freepress
Ryan Terry and other officers give a final salute to Kodi at the pet cemetery in Taylor. At Terry's feet is his police dog, Jaeger.
Kodi will always be missed Kodi is a full blooded German Shepherd. His commands are given in German. Kodi is a Full Service Police Dog and was trained by his partner, Officer Pesko, with the assistance of other officers. Kodi is trained in Drug Detection and Evidence Detection. Kodi especially loves showing off his skills at K-9 demos. Kodi's success has been possible due to the outstanding teamwork shared by fellow officers.
Military service honors police dog who died in line of duty
HUGH McDIARMID JR. at 248-858-2292 FREE PRESS STAFF WRITE
I will protect you with my last breath ...
Standing before a small white casket, Steve Kulakowsky pushed the words past the knot in his throat.There is no greater love than this, that I would lay down my life for you ...His voice breaking, the Flat Rock police officer rushed to finish his eulogy for Kodi, the Pontiac police dog who died in the line of duty last week. Officers from dozens of metro Detroit police departments stood rigidly at attention at a Taylor pet cemetery Tuesday during a military funeral for Kodi. At the sides of many, canine officers whined and fidgeted against taut leashes as Kulakowsky read from "Guardians of the Night," a tribute to fallen police dogs by an unknown author.Together we will experience a bond only others like us will understand ...Kodi's owner and handler, Pontiac Police Officer Craig Pesko, wept behind dark sunglasses as taps sounded a farewell.Later, Pesko quietly declined comment. Other canine handlers said it's difficult to understand the bond between police officers and their canine partners. "Craig has no kids," Kulakowsky said. "The dog was what he had. I can't imagine what it's going to be like for him to get back in the cruiser and not hear Kodi barking. "Kodi, 2 1/2, died Friday during surgery to repair spinal damage caused by a two story fall the dog took during the search of a building in Pontiac Thursday night. He had been on the force for about 18 months and assisted in tracking, drug detection and searches. "His work was steady, always top-notch," said Pontiac Police Sgt. Michael Story. The dog had apprehended car thieves during manhunts, and uncovered drugs on several occasions. More than 130 police officers, police dogs and others attended the funeral, where Kodi joined more than 20,000 animals buried at AAA Pet Services cemetery in Taylor. The officers wore black bands around their badges, identical to the badges and bands fastened to each police dog's collar. When our time is done, you move on in the world. If we should meet again on another street, I will gladly take up your fight.



Meet Craig & new partner, "Indy" 'Indiana Jones'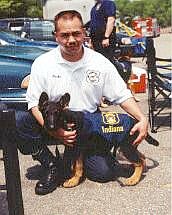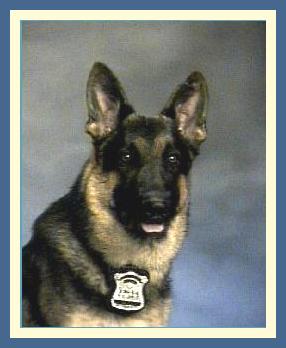 March 19, 2001, Officer Pesko met his new partner, "Indy," a GSD. "HE" is 6 weeks old, is mostly black with a little tan on his feet.
March 20th, first day in training.
************
K-9 "Indy" all grown up! Jan. 2001
Nov. 2002: I wish you could see Indy in person, he is such an amazing and handsome devil...he would make my Kodi very proud...besides he is quite the ladies man in this community. People ask how he is doing or what he is up to more
than they ask about me.
In Loving Memory of
K-9 KASTOR
November 4, 2000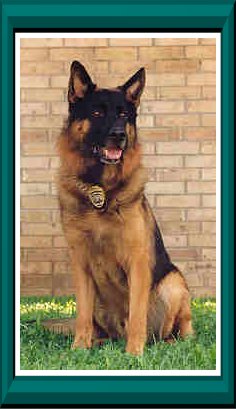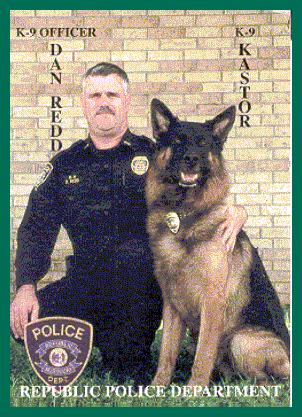 Handler: Cpl. Dan Redd
REPUBLIC POLICE DEPARTMENT
221 North Main,
Republic, MO 65738
(417) 732-2642
police@republicmo.com <police@republicmo.com>
The Republic Police K-9 Unit consists of handler Dan Redd and Kastor. Officer Redd and Kastor started working together as a team November 1996 after completing an extensive training course. The Canine Unit is trained to sniff out illegal drugs as well as locating and apprehending suspects. The Canine Program is active in assisting and working with the local schools in drug awareness. Since the beginning of the Canine Program the team has been a highly visible presence on the streets of Republic. As well as regular calls for service and duty shifts, the team is on call 24 hours a day to assist patrol officers of the Republic Police Department as well as other agencies.
It is hard for me to believe that this November 4th, Kastor will be go for a year. I remember this time last year and the hard times he was having. He was a trooper till the end. I remember him fighting so hard to keep going even though I knew in my heart he was hurting. He had cancer and the day we ( my wife and I )decided he need not suffer any more was the worst day of my life. I was at his side when he left this earth. Even know as I write this I have a hard time keeping the tears back. You think after a year one could handle the situation better. Kastor to me was more that a partner he was part of my family in fact I think I spent more time with him than my human family. .
I believe you asked in you letter a little about him, He was 90 lb. and 7 1/2 years old at the time of his passing. He is buried at a Service Dog cemetery in a place of honor for service dogs at the Rivermont Memorial Gardens, Springfield, MO. I stop by his grave as much as I can. Where he is buried is a new place just started for Service Dogs in July of 2000, Kastor was the second K-9 buried there. Rivermont provided the final resting place along with service free for Service Dogs and as far as I know this is the only such location in Southwest Missouri. Oh yea as of this point there is no plans to obtain another K-9 for the department, no funds for such. Also shortly before Kastor passed away I was promoted to Cpl. and now that Kastor is gone I have been told that since I am now a supervisor that someone else would be the handler if another dog was obtained. My answer to that was I would take a demotion if that is what it would take to again work with a police K-9. In 26 years of Law enforcement the 5 years I spent with Kastor has been the best and most rewarding part of my career. I still have children coming up to me while on duty asking about Kastor remember him at he schools. Most was not aware he was gone. If you have any further questions please feel free to write. I have several photos of Kastor and some of his funeral if you wish to see any of them I could send them via Internet or other means if you wish. Kastor's body is gone from this earth however his spirit lives on as far as I am concern. Thanks again for the cards I plan to pass this out as Nov 4th draws near. Dan Redd - Republic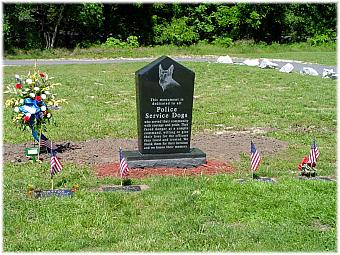 Kastor's headstone
Photo of the Service Dog cemetery were Kastor is buried. This photo was taken this past Memorial Day weekend and as of that time there was five dogs buried there. Kastor's grave is the one to the far left in the photo in the front row.. The flowers on the stand is for a Retired Springfield PD K-9 that had just passed away. Kastor is the flag in front on the left side.
---
In Loving Memory of
K-9 KILO
January 10, 2000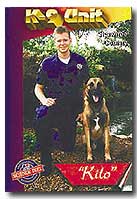 Handler: Deputy Brad Metz
Shawnee County Sheriff's Department
320 South Kansas Avenue,
Topeka, Kansas 66603-3641 • 785.368.2200

Kilo, shown with Shawnee County sheriff's Deputy Brad Metz, was euthanized Thursday morning. By TIM HRENCHIR - The Capital-Journal Canine hepatitis is similar to the disease that affects humans, but in dogs the cause isn't known. No cure exists for canine hepatitis. Kilo was placed on a daily regimen of drugs designed to slow the disease's progress. He continued in recent months to ride on routine patrol and serve as a bomb-sniffer. But Baker said the department found it necessary to retire Kilo on Jan. 10. Baker said he and Metz decided to euthanize Kilo on Thursday morning, when the dog didn't want to eat and wouldn't get out of his doghouse. Sheriff's Sgt. Scott Baker said deputies first noticed Kilo was sick in mid-October after he lost about 17 pounds in a month. Veterinarians at Kansas State University diagnosed him as suffering from canine hepatitis, an inflammation of the liver.