Memorials to Fallen K-9s


2000-G
The F.A.S.T. Co. donates sets of memorial cards to all partners
I need your help to inform me of such losses.


Dept. addresses available for those who want to

send condolences

to officers. See below
---
In Loving Memory of
K-9 GRINGO
August 1, 1988 - Oct. 24, 2000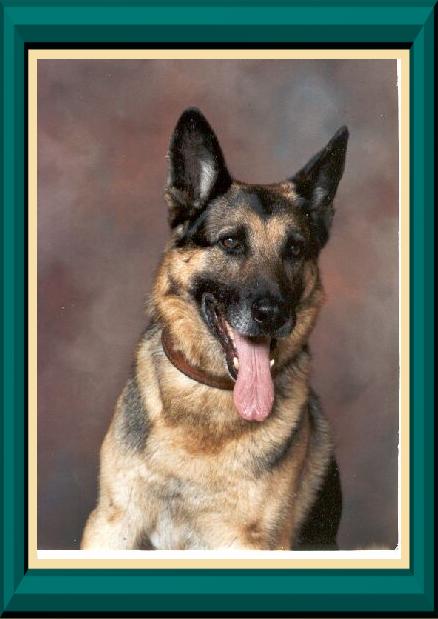 Handler: Officer Daniel Smith & Officer Kevin Retzer
RINGO VON WERNBERG KOBLITZ SCH I
Born in Germany - August 1, 1988----Arrived - Cheektowaga July 1991.
Cheektowaga Police Department
Chief of
Police
Christine M Ziemba, 3223 Union Rd,
Cheektowaga
, New York 14227 (716)686-3510
"He was the best partner that I ever had." quoted Daniel Smith, K-9 Officer, Cheektowaga Police Department,

Gringo's memorial service Jan. 26, 2001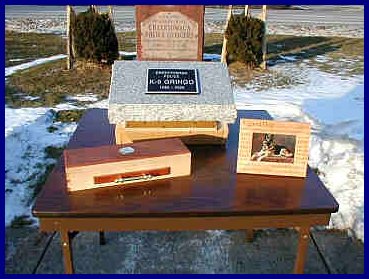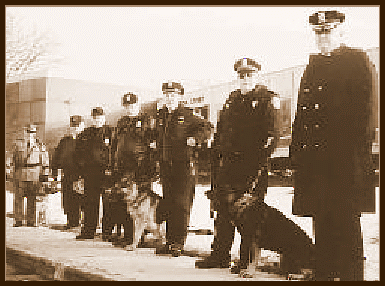 Area K-9 units were on hand for ceremony to honor fallen police dog, Gring von Wernbert-Koblitz Schulz Hund,
who served 6 years with the force.
From left: Amherst Police Officer Dave Starke & RAZOR, K-9 Training Assis. Kevin Retzer & Gringo's daughter, ROSE, Niagara Frontier Trans. Authority Officer Kevin Koscielniak & CODY, West Seneca Police Officer Bart Adams and MAX, Orchard Park Police Officer Bob Schultz, Erie County Sheriff Butch Hudson and LARS, Town Chief of Police Bruce D. Chamberlin.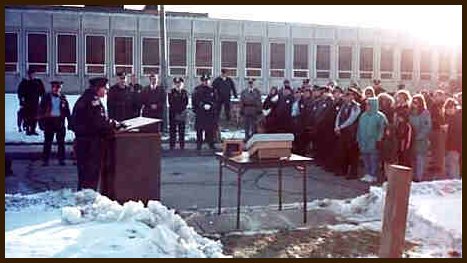 The Cheektowaga Police Department regrets to announce the passing of retired K-9 dog, Gringo on October 24th, 2000. He was 12 years old. Gringo served over 6 years with the department. He was noted for his apprehension of criminals involved in drug activity in our town as well as his assistance to other agencies in Western New York. Gringo von Wernbert-Koblitz Schutlz Hund I (Gringo for short) started his career in law enforcement in June of 1991. He was a pure German Shepherd, raised and trained in Germany before he was imported to America. He received further training in drug detection at the Amsel Kennels owned by Owen Tober. Gringo earned the distinction of an internationally certified narcotics specialist, a ranking that is recognized anywhere in the United States as well as 40 countries around the world. He was the only police dog in New York State to pass the qualification test in 1992. Officer Daniel Smith and Gringo performed numerous K-9 demonstrations for community groups showcasing Gringo's skills at drug detection. They also participated in the advanced K-9 Patrol and Narcotics Dog Handler Seminar as guest instructors for drug dogs nationwide. Throughout his career, Gringo assisted in numerous arrests and recovered over five million dollars worth of narcotics. He will be greatly missed by his handler, Officer Daniel Smith as well as the officers of the Cheektowaga Police Department. Breton, the departments current dog, is carrying on the high standards set by his predecessor, Gringo.


Gringo died of old age, October 24, 2000. It took us some time to get a stone and plaque made for him. He was cremated by our dog warden and one of our retired lieutenant, who is a wood-worker, made a casket for him. Gringo's handler was Police Officer Daniel Smith. Gringo was special because not only was he a great drug dog. He apprehended a number of fleeing felons, but he also was great with people and kids. Kids could climb all over him. Memorial service for Gringo will be held on Friday, January 26, 2001, at 9 AM, in the front of our police station. He will be buried near our police memorial in front of the station. We have a volunteer to play taps from a VFW post. The Chief and the Town Supervisor will say a few words along with myself. Neighboring K-9s and officers will be present and file by the casket. The prayer concluded the service, & poem, "The Time Has Come" The donation of cards from the F.A.S.T. Co. have Gringo's picture and Guardians Of The Night poem on the back. (Cheektowaga is a suburb of Buffalo,
between Lake Huron & Lake Erie.)



Officer Daniel Smith welcomed new partner, "Breston" since Gringo retired. Gringo was lucky to have 2 families. After retirement Gringo joined "Chew Toy", AKA; Kevin Retzer, and his family, & their two pets. He is missed by many. Take care of Breston. Officer Dan Smith & K-9 BRESTON



Gringo is also dearly missed by Kevin Retzer and his family who were there to care for him at the end of his life. Gringo is the father of K-9 Rose, who is Kevin's K-9 Partner. Kevin wrote:
"I put Gringo to sleep. Gringo died in my arms after I realized he was living for me. He had multiply health problems. One of the meds he was taking for Arthritis became toxic in his system and shut his Liver down. He was in extreme pain. I made the decision I knew he wanted me to make. It was very hard to do, but it was the right thing to do. I was blessed in that I was able to say good bye before hand. I also let a lot of other people who loved him have the opportunity to say good bye. By the way he has a resting spot in front of the station."
In Loving Memory of
K-9 GREIF
March 28, 2000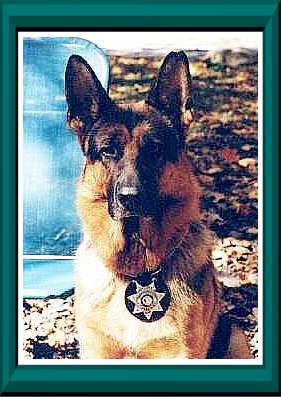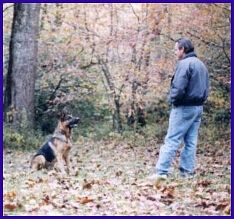 Handler: Cpl. Jerry Wright
Berkeley County Sheriff Office
Moncks Corner SC
Chief Jerry Wright
Bonneau, SC Police Department
843.825.2577

On March 28, 2000 Berkeley County Sheriffs Office in Moncks Corner, South Carolina, mourn the death of it's first and oldest K-9. K-9 Greif died of cancer. Everyone, along with Greif's handler and best friend, Cpl. Jerry Wright will miss Greif and are thankful for the years of continuous service, loyalty and love Grief gave us. Greif was a fellow officer and a member of the Thin Blue Line.
*********
Greif came from Europe. Greif was the Berkeley County Sheriff's Office first dual purpose K9. He was imported from Europe through Advanced Canine in Bowling Green Kentucky. Greif had more than 2 million dollars worth of narcotics and narcotics related seizures. He also had numerous tracks where he found wanted felons, missing children and Alzheimer patients.
Greif was as comfortable 'out' with the family as he was at work. I was fond of saying that I would have been out of a job if Greif had thumbs. He would have been able to drive himself around and wouldn't need me as his driver to get to the action. He is and will always be missed.