Memorials to Fallen K-9s


2000-F
The F.A.S.T. Co. donates sets of memorial cards to all partners
I need your help to inform me of such losses.


Dept. addresses available for those who want to

send condolences

to officers. See below
---
In Loving Memory of
K-9 FALCO
February 18, 2000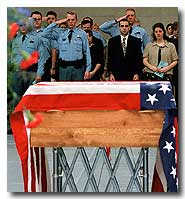 Handler: Deputy John Schoen
Hoyt Sheriff's Department
Kansas
A Belgium Malinois K-9 Shot and killed in the line of duty
Kansas News The Topeka Capital-Journal
The shooter killed his parents, shot the deputy and K-9, set his house on fire and died in the blaze.
The bark of police dogs echoed through Holton Cemetery as law enforcement officers from across the state paid their last respect to Falco, canine officer killed during a standoff last week. Canine units, law enforcement teams composed of an officer and a dog, traveled to Holton High School from as far away as Garden City and Nebraska for a service in memory of Falco. Officers dabbed their eyes as taps played during a flag folding ceremony and the official retirement of a fallen canine officer's service number. After the service, a procession of more than 30 squad cars and police vehicles with lights flashing wound through the streets on their way to bury Falco, 2 1/2 years old in Holton's pet cemetery. "It's like losing a real officer," said Rob Dunham, a deputy who works with canine officers for the Atchison Sheriff's Dept. "I've been to other funerals for officers, and this was just as big as any of those."



"That's amazing to know that this news reaches that far away. (referring to magazine from the Netherlands)
I have a new partner. His name is 'NEKO.' He is a male Belgium, 2 years old. We have just started his training. He will be a duel purpose dog, (narcotic and apprehension). J.S."



Neko will not to take the place of Falco,but fill the void in John & his family's hearts. A special thank you to Deputy John Schoen, Miranda, Alexus and Skyler for their heart filled note sent to us.
In Loving Memory of
K-9 FRED
Born: March 18, 1990 Died: May 27, 2000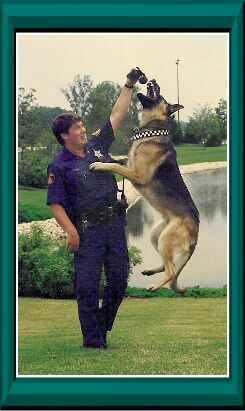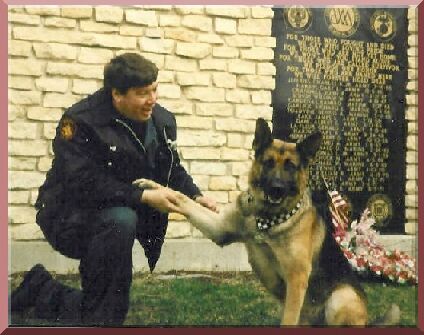 Handler: Sgt. Rusty Sullivan
Aurora Police Department
350 N. River St.
Aurora, IL 60506

AURORA FORCE MOURNS POLICE DOG, GSD FRED WAS AMONG 1ST TO JOIN DEPARTMENT By Hal Dardick Special to the ChicagoTribune
May 31, 2000 In the early 1990s, a 33-year-old burglar was facing armed police officers after breaking into an Aurora building. Apparently not intimidated, he refused to surrender. But when Sgt. Rusty Sullivan, then a patrol officer, let loose his partner, a 110 pound German shepherd named Fred, the crook immediately gave up. "He was crying like a baby, because he didn't want to mess with Fred," Sullivan said. Sullivan on Tuesday reminisced about Fred, one of the Aurora Police Department's first two police dogs. Fred was put down Saturday, days after his quality of life dramatically diminished because of an unusual skin cancer he was diagnosed with nearly five years ago.
Fred was born March 18, 1990, in Czechoslovakia. He and Ajax, a retired police dog who lives with Sgt. William Lomax, joined the Aurora force in March 1992. Both dogs and their human partners graduated from the Illinois State Police Academy canine division in June 1992. Fred was 5 years old when he retired in September 1995, at the time Sullivan was promoted. He continued to live with Sullivan, his wife, Mary, and their 10-year-old son, Matthew. Because Matthew was just 6 months older than Fred, the two "grew up together," and thus Fred displayed what Sullivan called a "Dr. Jekyll and Mr. Hyde" personality. Kind and gentle with children, he was fierce when commanded into action on the job. "When I needed him, he knew it was time to get down to business," Sullivan said. There was the time Sullivan and Fred were the first to arrive at a shooting scene and entered a basement occupied by a throng of people in a known gang house. "He and I were able to control 20-plus people until we were able to get some assistance," Sullivan recalled. "He saved my butt. There was no question about that." During his 3 years on the force, Fred made his share of successful drug searches, helped on drug raids and even participated in homicide investigations. He demonstrated his skills at local schools. And Fred achieved some measure of immortality when he was featured on a trading card. "He wasn't just a family pet, he was a partner," Sullivan said. "He put his time in, like the rest of us, and he did it well." Notified by J. Cortina, CPWDA Dir.