In Loving Memory of
K-9 ERNY
October 12, 2000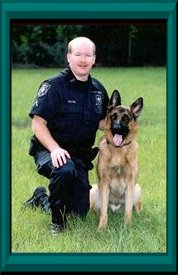 Handler: Deputy Mike Mayne
Escambia County Sheriff's Department
1700 West Leonard St.
Pensacola, FL 32501
(850) 436-9620
Suspect kills K-9, Injures Handler
On October 12, 2000 at approximately 0238 hours, deputies responded to the area of Massachusetts Avenue and Kelly Avenue in reference to an armed suspicious person call. Deputies made contact with a Yellow Cab driver who advised that he had picked up a white male subject at the Conoco station at N. "W" Street and Beverly Parkway. The male pulled a handgun on the cab driver and made statements he was on a rampage then fled North into a residential area, Court.



(ESCAMBIA COUNTY, FLl) - A sheriff's deputy was wounded and his K-9 partner of 16 months killed in an early morning shoot out with a suspect who was killed after pulling out a handgun and firing as deputies tried to arrest him, police said. The incident began at approximately 2:40 AM Thursday when deputies received a report of a suspicious, armed man in the 600 block of Palm Court. After a K-9 team was sent to the area, the suspect, Gregory Allen Kidd, 32, was cornered. As deputies attempted to place him under arrest Kidd pulled out a handgun and began firing, police said. The identity of the deputy who shot Kidd has not been released. Deputy 1st Class Mike Mayne, who did not fire his weapon, received a gunshot wound to the leg and remains in Baptist Hospital. Mayne's dog, Erny, a three-year-old German Shepherd was shot and later died in an emergency veterinary clinic. Autopsies on the suspect and the police dog are being conducted today. As is standard in shooting incidents, the Florida Department of Law Enforcement is investigating. Deputy Mike Mayne responded with his K-9 Erny. Deputy Mayne began tracking the subject, with Deputy Kevin Coxwell providing backup during the track. At 0338 hours, Deputy Mayne continued the track and located the individual lying in tall grass in a fenced lot behind 622 Palm Deputy Mayne and Coxwell ordered the subject to surrender and show his hands. When the subject failed to do so, K-9 Erny was deployed followed closely by the officers who attempted to take the subject into custody. The subject pulled a handgun and fired on the officers. One round struck Deputy Mayne in the right lower leg. A second round struck K-9 Erny killing him. Deputy Coxwell returned fire at the subject with his service Sig Sauer .40 caliber pistol. The suspect was hit and pronounced dead at the scene. A Deputy Mayne was transported by EMS to Baptist Hospital for treatment of his gunshot wound. He is in good condition. An autopsy has been conducted and the identity of the suspect has been made using fingerprints. He is identified as Gregory Allen Kidd of Pensacola. Kidd was currently wanted by the Escambia County Sheriff's Office for Robbery with a weapon and Possession of a weapon by a convicted felon. He was further suspected of having committed other area robberies in recent weeks. Kidd has an extensive history of violent crime and has been incarcerated in state prison on several occasions. Deputy Mike Mayne has been employed by the Escambia County Sheriff's Office for eleven years. He is currently assigned to the Patrol division working out of the Warrington precinct on midnight shift. K-9 Erny was 3 years old and had been partnered with Deputy Mayne since May 1999. Deputy Kevin Coxwell has been employed by the Escambia County Sheriff's Office for two years. He is currently assigned to the Patrol division working out of the Warrington precinct on midnight shift. Deputy Coxwell has been placed on paid administrative leave which is standard sheriff's office policy. The Florida Department of Law Enforcement is the lead investigative agency. The sheriff's office will be conducting a separate but parallel investigation of the shooting. K-9 Erny is the second patrol to be shot and killed in the line of duty. In March 1998 K-9 Wolf was shot and killed as he apprehended a car thief who had fled into a wooded area. The suspect in that case was arrested as he exited the wood lot when pursued by the Sheriff's Office SWAT Team.

Incident: Shooting of Deputy Sheriff
Date & Time of Occurrence:
October 12, 2000 @ 0338 hours
Address of Occurrence:
600 block of Palm Court, Pensacola
Suspect: Gregory Allen Kidd;
W/M; 32 years old 10000 Chemstrand Road, Pensacola
Victim: Deputy 1st Class Mike Mayne, K-9 Erny

Service for Erny were held Thursday, Nov. 8, 2000