Memorials to Fallen K-9s


2000-D
The F.A.S.T. Co. donates sets of memorial cards to all partners
I need your help to inform me of such losses.


Dept. addresses available for those who want to

send condolences

to officers. See below
---
In Loving Memory of
K-9 DUNNE
1994 - 2000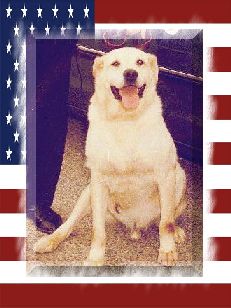 Handler: Superintendent of the Waterbury PD.
Waterbury Police Department
236 Grand St.
Waterbury, CT 06708

Yellow Lab male Narcotic Detector had a long career with many assists in drug arrest in Waterbury, CT.
K-9 Dunne also served in the New York Police Department from 1989 until 1994 when he was given to the
Waterbury Police Department. Sorely MISSED!
submitted by Jim Cortina, Dir. CPWDA
---
In Loving Memory of
K-9 DENY
March 12, 2000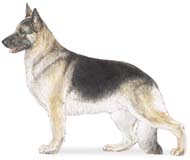 Handler: Deputy Mark Loveland
Onondaga County Sheriff's Department
407 S State St
Syracuse, New York 13202
(315)435-3044

Police dog, Deny, found dead. Deny, the bomb sniffing canine, was killed by a car on the Thruway Sunday. by Sue Weibezahl
Deny, the 4 year old bomb detection dog with the Onondaga County Sheriff's Department, was struck and killed by a car on the Thruway Sunday night, about two hours after breaking free during an exercise session. "We're all reeling from this," Sgt. Bernie Podsiedlik, administrative sergeant for the road patrol's K-9 unit, said Tuesday. "It's pretty sad." A Thruway maintenance worker who read Tuesday that the dog was missing told authorities he had removed a dead animal matching Deny's description Sunday night from the westbound lane of the Thruway, about a half mile from Exit 34A, said John D'Eredita, sheriff's department spokesman. Deputies had spent most of Monday combing the area around Hancock Field searching for the dog, whose 60 foot lead unlatched about 7 p.m. Sunday while handler Mark Loveland was letting him exercise. The department used a helicopter and infrared scopes Sunday and Monday, trying to catch a glimpse of the dog, one of eight in the unit, said Sgt. Jeff Gates, K-9 trainer and supervisor. The 85 pound dog was hit about two miles from Hancock. Although the accident report wasn't available Tuesday afternoon, Gates said the car that hit Deny had to be towed. Deny was wearing a large chain link collar but didn't have any identification linking it to the sheriff's department. "We don't keep tags on our dogs," Gates said. "If they're working, a suspect could grab it or it could get caught on a fence while the dog's jumping over and it could hang itself. We're now trying to come up with a way where we can weld something onto the collars so it doesn't dangle down." The SPCA shelter in Mattydale arranged Tuesday to inject microchips for free into the canine unit's seven remaining dogs this month so that the dogs will be quickly identified if they become lost and are turned in to the shelter, said Bob Habberfield, president of the CNY SPCA's board of directors. Although the sheriff's department notified the SPCA, dog wardens and the Air National Guard Monday, the state police on the Thruway use a different radio system, "so they just wouldn't have heard the transmission," Gates said. "Otherwise, we might have known about this sooner." Deny was one of four bomb sniffing dogs and had worked extensively in schools throughout the county, checking for bombs during a spate of threats last year, Gates said. Deny was buried Tuesday afternoon near the aviation unit on Cessna Drive, where other police dogs are buried.
In Loving Memory of
K-9 DANN
January 20, 2000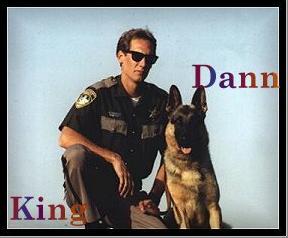 Born: February 18, 1991 - Died
Began his watch: October 1992
Retired his watch: July 20, 1998
Handler: Deputy Ron Renken
Grant County Sheriff's Department
P.O. Box 37
Ephrata WA 98823


Dann is a pure bred German Shepherd import. He was born February 18th, 1990 in Czechoslovakia. He was able to escape the country into eastern Germany to a Kennel that specializes in Schutzhund sport dogs. Schutzhund is a sport that is real big in Germany in which dogs are taught various skills such as Man Tracking, Handler Protection, Obstacle Courses and many other skills. During the Schutzhund Tournaments the dogs are graded on their ability to perform the given task. Sort of like people at a Martial Arts event. As the dog progresses through the given task, they are given a title. Dann was given the title of Schutzhund 1. I met Dann for the first time on October 22nd, 1992 when I traveled to Bakersfield CA. He had been purchased from Tony Bairos Kennels by my department. By now Dann had learned another skill. That was the ability to find Illegal Narcotics. I was receiving 2 dogs in one. The next 3 weeks was spent training. For me it seemed like Dann had a good idea of what he was to do. The training was actually for me and believe me, it wouldn't have hurt us to stay another 3 weeks. The training was vigorous with not much time in a day to cover all of the things that needed to be covered. I was totally awed by the amount of work a K-9 officer must put in to keep he and his partner in line. Tony would always tell us, "remember that these guys are dogs, their brains are this big" holding up a golf ball for comparison. I felt like my brain must not have been much bigger. When we returned home he went to work with me as a Patrol Deputy assigned to the Ephrata patrol district for the Grant County Sheriff's Department. He immediately became part of the family and moved into my home with my wife and 4 children. Never did I have too worry about him around the kids and my wife has enjoyed the fact that as we slept, Dann was guarding us.Dann has been a lot of help for me in my duties. I honestly feel that I have received the most benefit from having Dann as my partner though I know that he has also contributed to everyone in my Department and the citizens of Grant County in Washington State. If anything, his company during a long graveyard shift in the middle of January had been a treat. I always had a friend that I could count on as a listener. When the times got tough he was there. His presence defused many a bad situation and he helped me find people that had gotten away from the other deputies. Dann has never let me down. During my 14 years as a law enforcement officer I have had the opportunity to work with many shift partners. Some of them I would regard as the best in the trade, however none of them have or will ever be a partner like Dann. He was with me when I was happy and when I was sad. He has never left my side. The sadness I feel from having to retire him after 6 years of work can only be felt by another K-9 officer that has had to do the same. Any type of bond known by man can not match the special bond that develops between an officer and his K-9 partner. Even though I am more than happy with our career together, I feel that we didn't get a chance to achieve the goals we had set. But that is the life of a K-9 team and it is part of the program. Dann has taught me a lot in life and I will continue to use these lessons as I continue with my career in law enforcement in addition to walking through my steps of life. Because Dann is 8 years old and his time with me on patrol was at best maybe 4 more years, my Department has chosen to retire him do to a condition called Intervertebral Disk Disease. It is possible that a new dog will be purchased and I have put in a request to receive him. I know that a new dog will not be like Dann as dogs like him are very unique and difficult to find.


Dann died on January 20th, 2000. I have yet to be assigned a new dog to work with me however I have Dann's wife (Wasichu) and his daughter (Cinnomen) at home. Cinnomen has many of the same traits as Dann and she reminds me so much of him but she just isn't him. For the longest time I kept his ashes (I had him cremated) in my patrol car while on patrol but have since moved him into my home. So often I feel like he is still sitting in his seat behind me when I work. I can even hear his howl at times when I run with my lights and siren. I still believe that someday I will see my friend again. Life at work and home has been so much different since the day Dann moved on.
Corporal Ron M. Renken
Grant County Sheriff's Department
P.O.Box 37
Ephrata WA 98823
(509)754-2011 ext.468
In Loving Memory of
K-9 DARBY
March 21, 2000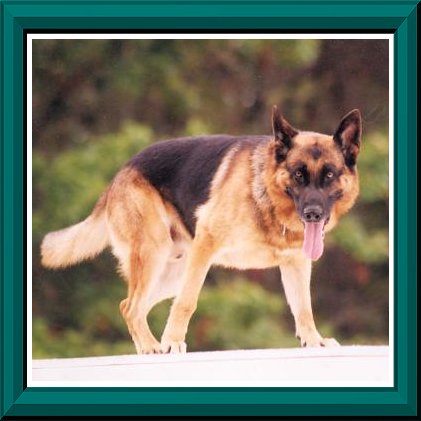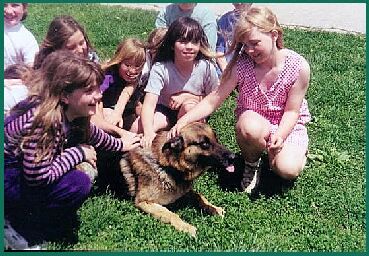 Handler: SGT Frank Moore
Caseyville Police Department
10 West Morris
Caseyville, Il 62232
618-344-2151
Darby, 6 1/2 year old K-9 officer for Caseyville, IL Police Department died 3/21/2000 of melanoma cancer. He was diagnosed with the cancer in February. Darby had 21 catches, found over 350 lbs of marjuana and an immeasurable amount of cocaine. He was loved by his partner and the entire city of Caseyville. He will be sadly missed by all.