In Loving Memory of
K9 CANTO
2000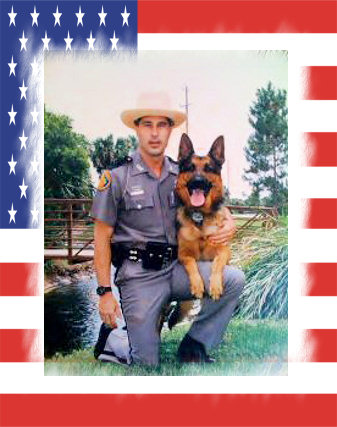 Handler: Michael R. Van Leer
Contraband Intgerdiction Program
Palm Beach County
Florida
K9 Canto served as a member of the Contraband Interdiction Program from September, 1991, through September, 1999. Trooper Michael R. Van Leer handled K9 Canto and both were assigned to the Florida Turnpike, in Palm Beach County, Florida. K9 Canto was presented awards by the United States Police K9 Association for National Drug Detector Dog of the year in 1992, 1993, 1994, 1995, 1996, 1997, and 1998 and when he retired in 1999. He was also awarded the Regional Detector Dog of the quarter by the United States Police Canine Association in 1991, 1992, 1993, 1994, 1995, 1996, 1997, 1998 and in 1999. The Drug Enforcement Administration, the Alcohol Tobacco and Firearms and the United States Customs Service also awarded commendations of Service to K9 Canto. During K9 Canto's career he was responsible for seizing a total of $1,292,168 in US Currency, and $1,419,491 in illegal drugs and property. K9 Canto passed away in 2000. submitted by Bobby Earls
---
In Loving Memory of
K-9 CHARLIE
March 14, 2000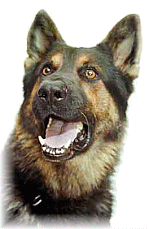 Handler: Trooper Bobby Brown
Arkansas State Police
Conway, AR
By SAMANTHA HUSEAS Log Cabin Staff Writer-4-5-2000
The Arkansas State Police held a service Friday to remember Trooper Charlie and introduce a new member of the department's K9 force. About two dozen people, including officers from various agencies, gathered at the Greenbrier Police Department for the service. Charlie's handler, Trooper Bobby Brown, stood quietly with his new dog, Sator, sitting at his feet as the service began. "I told Bobby I'd be glad to (do the service), then I had a loss of words," David Donham, another dog handler with the state police, told the group. Donham spoke of the respect all new officers must earn when they start policing a community. "That respect then turns into trust," he said. That's what happens with K9s and their handlers. "These animals, in just a few short weeks, become very tied to you," he said. "Bobby, we are with you, thinking about you." Donham had a hand in purchasing and training Charlie and called him a "fantastic dog." Next to the podium where Donham was speaking stood a table draped in an Arkansas State Police flag and covered with memorials to the fallen K9 trooper. Two candles and an ornate wooden box sat in the center. The box held Charlie's ashes. A stack of sympathy letters written by a local third grade class to Trooper Brown also sat on the table. On the opposite end of the table was a plaque containing an 8x10 photo of Charlie, his K-9 collar, a badge and a purple heart shaped pin with the silhouette of a dog. As Donham finished his address, Brown took his place behind the podium. His words were few, mainly saying that he is ready to move on. "Hopefully we'll get this new K-9 (Sator) on-line pretty soon so we can get ... more criminals off the street," he said. Next came Sgt. Jerry Robert's with the state police. He said mistakes were made by both state and Conway police which resulted in Charlie's death. The mistakes were minor but the consequences major," he said. "He (Charlie) went in with the intention that he was going to protect the officers," Robert's said, adding Charlie thought that was what he was supposed to do. Robert's said Charlie's most recent SWAT training involved him making entry with the first officers. That's what Charlie did on the day he was shot. Robert's said the state police investigation concurred with Conway Police Department's and it was not the fault of Officer Mike Gibbs, who shot Charlie. There were some Conway officers at the service but Gibbs was not one of them. Robert's said the service was held in Greenbrier not because of any ill feelings between departments, but simply because Greenbrier has a bigger meeting room with more parking available. Robert's opened the floor to anyone with questions. Greenbrier resident Kitchell Wilson had just one. "I would like to know why it took 20 (officers) to get one person," he said. It was reported that at least that many officers were on the scene of the raid that resulted in the arrest of one person. "We believe in peace in numbers," Robert's explained, adding that officers never know what they'll find when they enter a suspected drug house. After Charlie's service, the group was given a chance to meet Sator. The 2 1/2-year-old Dutch Shepherd teamed with his new handler Tuesday and will be leaving him next week to go to school. The dog was donated to the state police by Gerald Goss of LEAD K-9 Training in Lincoln (Washington County) who will be training Sator. This period is for the two to get to know each other. Brown has already seen some differences between Sator and Charlie. Sator is more dominate with his family's other dog at home, but doesn't chase the cats as much, according to Brown. Memorials in Charlie's name can be made at First Community Bank, P.O. Box 363, Greenbrier, Ark. 72058. The money will be used to help supply Sator with a bullet-proof vest and other training and safety equipment.



Donations for bullet proof vests for their K9s - ASP K-9 Fund - P.O. Box 363 - Greenbrier, AR 72058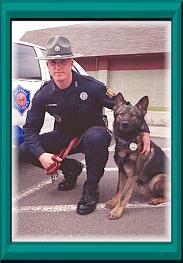 Trooper Bobby Brown & K9 SATOR
A new partner yesterday...a Dutch Shepherd, named SATOR. He should be a great dog. Good Luck, and thank you for your email.
Hope you make your goal of vests for all.
Just to update the progress of my new K-9 "Sator"...so far he is doing great...we have confiscated over 900 pounds of marijuana, 25 pounds of cocaine, 1 pound of meth and over $75,000. Sator is an awesome dog and a great partner. I could not have asked for a better replacement for Charlie. It's coming upon a year since the shooting and I still remember it vividly.
Thanks - Trp. Bobby Brown
In Loving Memory of
K-9 CERO
March 25, 2000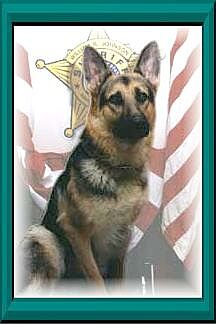 Handler: Deputy William R. Niemi
Ashtabula County Sheriff's Office
25 W. Jefferson St.
Jefferson, Ohio 44047
(216)576-0055
Sheriff William R. Johnson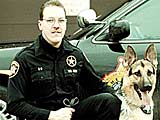 K-9's Mourners Say Final'Good Dog' Friday, March 31, 2000 Jim Watson Perry, OH USA March 25, 2000
JEFFERSON - They came from around Ohio, and from Illinois, Kentucky and West Virginia. More than 300 police officers, and 70 dogs. One by one, they walked up to a wooden urn and saluted. Many choked back tears. They came to this small town in Ashtabula County yesterday to pay final respects to "one of our own." It didn't matter that the fallen officer was a German shepherd named Cero, shot to death Saturday while subduing a man who killed Walter Olson, out for his routine dawn walk. The shooter, Levi Ridenour, was killed by Ashtabula County sheriff's deputies in an exchange of gunfire. "He was as much a police officer as any of us." Deputy Joseph Niemi, brother of Cero's owner, Deputy William Niemi. "Cero sensed the danger, and he died saving my brother's life, and, for that, I thank him. But he also saved other people's lives, because we didn't know who else might have died if not for his sacrifice." Hardened police officers tried hard not to cry during testimonials for Cero at the newly opened Durco Funeral Home in Jefferson as they saluted the urn containing his ashes. Joseph Niemi, the county's canine officer, said Cero's attack alerted officers that Ridenour has a handgun hidden under his coat. "After he was shot, Cero crawled back to my brother's side long enough for him to say one, final good dog,'" Niemi said. The moving tribute brought tears to the room crowded with mourners, many with 9 mm pistols strapped to their sides. Deputy William Niemi sat with his sobbing wife and children, accepting handshakes and salutes from police and hundreds of local residents. He spoke to the hundreds of people in the funeral home and, through loudspeakers, to more than 400 others that filled the parking lot, lawn and sidewalks. "I'm overwhelmed by the sympathy cards, flowers and letters from everyone," he said. "Cero was a member of my family, and he loved my children and wife, especially my wife. We'll all miss you. Daddy loves you, Cero." Ashtabula County Sheriff William R. Johnson said donations that poured in after news of Cero's death would buy vests for his replacement and the county's two other canine officers. After the 90-minute service at the funeral home, a second, longer service was held at the Ashtabula County Fairgrounds. The funeral procession drove past the scene of the shooting and the county courthouse, where flags flew at half-staff. At the fairgrounds, a Cleveland police bagpiper played "Amazing Grace." Two trumpeters played taps, followed by a 21 gun salute that set all 70 dogs in police cars barking. The dogs then paid their respects, walking to the urn one at a time with their owners.



BEYOND, TV program was aired 10/31/02, featuring Bill& Julie regarding Cero on WB channel.
Deputy K-9 Cero:
A Tribute
I was your shield, your partner
always a friend.
I took an oath to protect you,
right to the end.
I know you're still thinking,
I should be by your side.
In spirit I am, I'm your courage,
your bravery and that hasn't died.
Life will go on, a new partner
a new friend.
A comrade like me on which
you can depend.
But hey, got a new job
and doing just fine.
God made me an angel so
I can watch over my
friends and fellow K-9.
by: April S. Balint



Meet "Jago"
Please read a poignant notation #84 in my guest book, by the daughter of Deputy Niemi, "Heather. "My dad has got another dog since March 25, that horrible day. His name is Jago pronounced Yago) summer of 2000, another great K-9."