Memorials to Fallen K-9s


2000-B
The F.A.S.T. Co. donates sets of memorial cards to all partners
I need your help to inform me of such losses.


Dept. addresses available for those who want to

send condolences

to officers. See below
---
In Loving Memory of
K-9 BASCO
December 26, 2000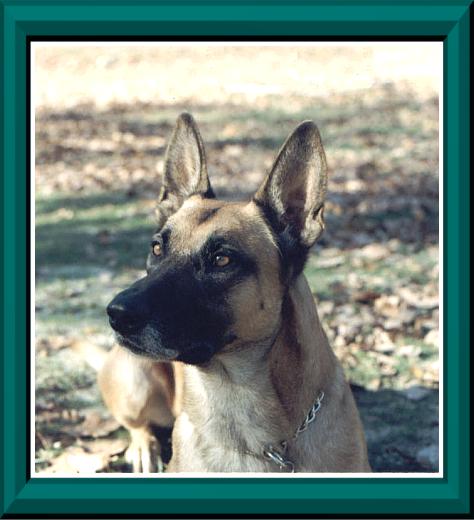 Handler: Officer Mike Meetze
SC Department of Corrections
4444 Broad River Road, P. O. Box 21787
Columbia, South Carolina 29221-1787
803.896.1680 or 803.896.2723 (K9)

"All Dogs Go To Heaven"
11 year old Malinois, the first drug detector dog for SCDC

It is with great sadness that I had to say good-bye to "BASCO", on Dec. 26, 2000. As some of you know, he was fighting a medical condition; that he, with all the prayers and medicine could not win. Some of you will remember some of his funny antics and his love for chasing anything that moved, to include a basketball during a real game at a local court. (Boy, that stopped the game!) But we all loved him and I guess God needed another good dog in heaven. So with much emotion, I bed you good-bye, buddy, until I see you again in heaven.
"In God & Dogs,we trust,"
Mike




Mike now has a GSD, K-9 Lyndi, below, who is keeping him busy. They are working well together.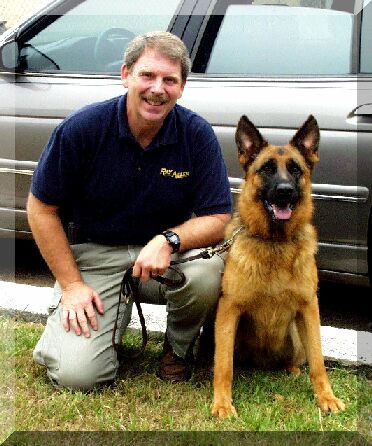 ---
In Loving Memory of
K-9 BRUTUS
October 29, 2000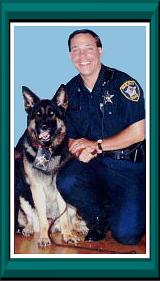 Handler: Officer Jim Boie
Palos Hills Police Department
8555 W. 103rd St.
Palos Hills, IL 60465
708.598.2992

First police dog for Palos Hills hit by car, dies.
Palos Hills police canine Officer Jim Boie can't stop agonizing over the death of his longtime friend and former partner, Brutus, the 9½-year-old German shepherd who was hit by a car while crossing West 87th Street in Hickory Hills. Brutus, who was the department's first police dog, got out of Boie's fenced in yard in the early evening of Nov. 22. He was struck by a hit-and-run driver. "It shouldn't have happened," a shaken Boie said. "I don't know why he left, and I guess I never will. And while he was one heck of a police dog, he was my constant companion for the last seven years." Brutus' career in law enforcement spanned seven years, during which he assisted such agencies as the FBI, Drug Enforcement Administration, U.S. Customs and the Metropolitan Enforcement Group. Palos Hills Police Chief Paul Madigan said Brutus and Seffe, the department's 8-year-old female German shepherd, were instrumental in bringing hundreds of thousands of dollars in drug forfeiture money to Palos Hills' coffers. "The Feds used our dogs probably more than we did," Madigan said. "Brutus was a good dog, and it's a shame what happened to him." Hampered by arthritic hips and failing eyesight, Brutus was retired in May. He had been spending his retirement with Boie and his family — the only family he ever knew. "Brutus had gotten out once before and he went over to visit a female German shepherd, but time he went in the opposite direction." He said he doesn't blame the person who hit Brutus. "It's really dark out here, and there is little lighting," Boie said. "They probably didn't see him until it was too late. There's no explanation for what happened, but there's also no excuse for (Brutus) getting out." Brutus joined the Palos Hills Police Department in 1993, shortly after being certified in patrol work, drug work and tracking by the United States Police Canine Association, Sgt. Steve Good said. Good said Brutus received two awards from the association, one for finding a crime suspect and the other for finding drugs. Brutus always ranked in the top five out of 50 police dogs in the region certified by the association, Good said. Good said Brutus' sniffing abilities helped crack a large money laundering ring that involved more than 100 people, $200 million in drug proceeds and the direct involvement of Mexican banks. Brutus also performed demonstrations at many schools, festivals, block parties and senior citizen functions. Mayor Gerald Bennett said Brutus "set the standard" for police dogs. "We were one of the first local police departments to form a canine unit," Bennett said. "And Brutus was our first dog. He was involved in a number of arrests, and helped his partner disburse large, and sometimes unruly crowds. Brutus set the standard for the rest of our dogs." The Palos Hills Police Department now has two police dogs on active duty: Seffe and Boie's new partner, Rider, a 2-year-old German shepherd who had been living with Brutus. "Rider knows Brutus is gone," Boie said. "I don't think he knows what happened, but he knows something is wrong. He won't eat in the same area Brutus used to eat. "We all miss Brutus. "First police dog for Palos Hills hit by car, dies First police dog for Palos Hills hit by car, dies Canine mourned by partner, force .

I have received many cards and phone calls in regard to Brutus. Brutus was very well known around this area, and set the standard for Police Dogs here. I would always kid with people that everyone knows Brutus, but no one knows me. This statement however is very true. Everyone loved Brutus. His death has caused many sad feeling and tears in this area. I am currently looking for a picture for you, and will send one as soon as I can. Thank you for your concern.
Officer James G Boie #112
---
In Loving Memory of
K-9 BOSS -S A R
October 21, 2000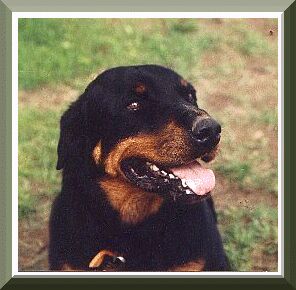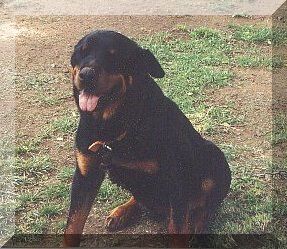 (Rottweiler, Boss- weighed 100 lb.)
Partners: Paul & Karen Hardesty
Parsons, KS

Boss was donated to us in 1992. He was originally rescued by Stan Twodeers. Stan was the original president of Rottweiler Rescue of Tulsa. Stan was killed north of Tulsa on highway 75. Boss and Bubba were in the van and watched Stan being murdered. For a long time you could not pick up a stick around Boss because Stan was beaten to death. Stan taught all his dogs in Cherokee. I did not speak Cherokee and Boss didn't speak English but I need to use a choke chain and he learned. We introduced Boss to SAR soon after we had him. He was approximately 7 years old. He was certified in 1994 through Oklahoma K9 Search and Rescue. We joined Heartland Search and Rescue in 1996. Boss was retired in 1999. He was finally recognized by the Oklahoma Veterinarian Association on January 22, 2000. Boss worked on the Ossie Decatur case in Tulsa, and numerous missing person cases in Oklahoma. Boss was put down, (euthanized) October 21, 2000. He had inoperable Cancer. He died peacefully in my arms. He hated two things; fighting and guns. He is now resting under his favorite Peach tree in our yard, watching the cows that he loved playing.
---
In Loving Memory of
K-9 BAK
February 6, 2000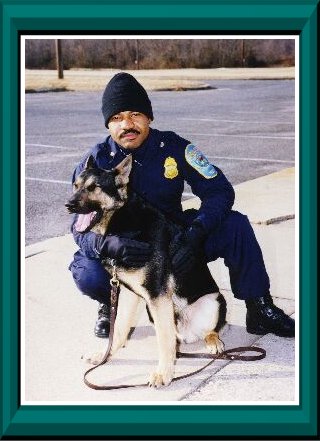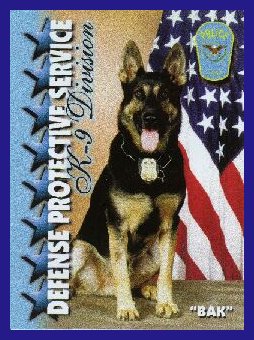 Handler Brian Mosley
Defense Protective Service
Pentagon

Defense Protective Service is sad to announce that Bak died on February 6, 2000.
His cause of death is believed to be bloat. Bak and his handler were a team from September 1998 to February 2000.
Bak was our first K-9 loss.



Years of Service: September 1998-February 2000 DPS
Defense Protective Service is sad to announce that Bak died on February 6, 2000. His cause of death is believed to be bloat. Bak and his handler were a team from September 1998 to February 2000. Bak is our first K-9 loss. The Defense Protective Service provides law enforcement and security services for the Pentagon and other Department of Defense facilities throughout the National Capital Region. DPS is a civilian police department which formed in 1987. The K9 Division formed in 1998. We currently have seven explosive detector dogs and will be adding more in the future. Our K9 teams respond to various calls for service, such as, bomb threats, vehicle searches, room and building searches, suspicious packages and K9 demonstrations.
In Loving Memory of
K-9 BRUTUS
June 16, 2000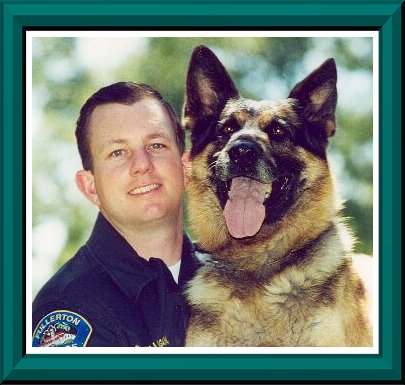 Handler: Officer Collin Milligan
Fullerton Police Department
237 W. Commonwealth,
Fullerton, CA 92832
Phone (714) 738-6800
Police Chief Pat McKinley

Police mourn patrol dog like a partner ANIMALS: Brutus was well-known all over Orange County for his K-9 unit work.
June 16, 2000 By ERIC CARPENTER The Orange County Register
FULLERTON -- Officer Collin Milligan could always count on his dog, Brutus. So could police officers across Orange County. Whether tracking down a gun-toting suspect under a porch or sniffing out 15 pounds of methamphetamine, Brutus, 7, earned a reputation as one of the premiere K-9 patrol dogs in the county. So when the German shepherd was euthanized this week - three weeks to the day before his retirement from the Fullerton force - he was mourned by more than Milligan. "I've gotten probably 30 calls in the last two days from officers in Fullerton, Orange, Anaheim ... all people that worked with Brutus," said Milligan. "It makes me feel good they care. He was the best partner you could ask for." Brutus injured his back in March, hindering his ability to run and jump. His retirement was set for July 4. Then, earlier this week, Brutus began gasping for air. He'd developed gastric dilation - a condition that twists the stomach and cuts off oxygen. Brutus was rushed into surgery. But it didn't help, and Milligan decided late Tuesday to put him to sleep. Brutus was to be honored by the Fullerton City Council next week for a lifetime of service. "If you needed a dog to track a suspect, Brutus would be the dog you'd want by your side," said Mike Scalise, a Garden Grove K-9 officer. "It's hard to describe the attachment you develop. It's truly sad to see him go. Of course, nobody is feeling the loss as much as Milligan, who counted on Brutus 24 hours a day at work and home. " Milligan, 30, will leave the K-9 unit and return to patrol next month. "I'm not sure I could work well with any other dog," he said.
In Loving Memory of
K-9 BEN
June 6, 2000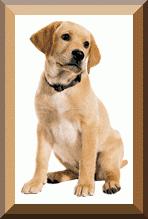 Handler: Officer Carlos Vega
L.A. Customs Service
Port of Los Angeles - Human Resources Division
425 S. Palos Verdes Street - San Pedro, CA, 90731
Tel: (310)732-3480 - Fax: (310)521-8344
Los Angeles, CA

Customs Service Mourns Loss of Dog
LOS ANGELES--The U.S. Customs Service is mourning the untimely death of one of its most distinguished officers: A yellow Labrador mix named Ben, who sniffed out more than $1 million of illicit drugs during an exemplary five-year career. Ben died in Los Angeles on June 6 of unknown causes, two days after leading officers to a 5-pound bag of cocaine in a cruise ship cabin, the Customs Service announced Tuesday.
International Airport CA - U.S. Customs
He was 7 years old. Ben began his customs career in 1995 at Los Angeles International Airport, and over his five years of service screened nearly a million international passengers arriving in Los Angeles by air and sea. He also made several appearances on television talk shows and invariably was tapped to represent customs at demonstrations and media appearances. One thing about this dog: This dog was very photogenic. He was our celebrity here," said canine enforcement officer Rick Spring. "He was just a very pretty dog--beautiful color, nice personality. And he was very good. That's what hurt most of all." He also was selected for a two-week course at customs' training academy in Front Royal, Va., where 13 of the nation's best drug dogs became the first trained to detect Ecstasy. Results of an autopsy are pending. Meanwhile, customs officers will present the dog's ashes to his handler, Officer Carlos Vega, in a private ceremony today. Vega also will receive a plaque featuring Ben's picture, with the dog's collar and department badge attached. Vega and the dog had "a super, super bond," Spring said.
******
K-9 Unit: "J'est," a 70-pound Belgian malinois, is a vital element of the Port Police's efforts. Trained to sniff and locate narcotics throughout the 2700 cargo and passenger ships that move through the Port. Certified by the California Narcotics Canine Association. New to the Port are "Bear" and "Rex". These canine officers are specially trained to pick up the scent of explosives and explosive materials.
In Loving Memory of
K-9 BARO
Born: July 6, 1992 On Duty as K-9: November 2, 1993
End of Watch: June 10, 2000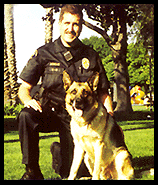 Handler: Officer Neal Mongan
Huntington Park
Police Canine Officers Association
MORE K-9 "BARO" INFORMATION
K-9 "Baro" was born in the country of Hungary on July 6, 1992. He was brought to the United States and selected for duty as a police service dog by the Huntington Park Police Department. He was the loyal partner of his handler, Senior Officer Neal Mongan and a beloved member of his family. K-9 "Baro" passed away on Saturday, June 10, 2000 at 1130 hours after having been diagnosed with terminal cancer. After long years of service, K-9 "Baro" was scheduled to retire from duty in July of 2000. Senior Officer Neal Mongan and K-9 "Baro" completed their "Police Service Dog I" training on December 31, 1993 certifying them as a Police K9 Team. They were assigned to patrol duty in Huntington Park to assist the residents and business community in the protection of their families and property. The following is a synopsis of K-9 "Baro's" accomplishments during his time as a police service dog for the Huntington Park Police Department:
Patrol Related Successes:
K-9 "Baro" was involved in the following patrol related arrests: (73) suspects arrests, including four murder suspects and two serial bank robbery suspects. K-9 "Baro" has also assisted with the recovery of handguns and other evidence which have aided in the prosecution of dangerous criminals.
K-9 "Baro" conducted perimeter checks of businesses on alarm calls, and assisted patrol officers by guarding 265 subjects during field contacts. This K9 Team conducted in excess of 333 crime prevention contacts. In his nearly 6 ½ years of service to the City of Huntington Park, K-9
"Baro" saved the police department and residents of the community approximately 107,109 "man-hours" during searches for dangerous suspects and clearing buildings. Considering salary and benefit costs of a top step
police officer this amounts to a savings of $6,024,881.20.
Police K9 Competition Successes:
K-9 "Baro" and Senior Officer Neal Mongan represented the City of Huntington Park in local and statewide competitions against police service dog teams from around the country.
K-9 "Baro" received the following awards:
* ab3rd Place - Overall in Novice Division / Redondo Beach Police K9 - Trials (1994)
* ab5th Place - Overall in Open Division / Sierra K9 Trials (1995)
* ab1st Place - Agility Competition / Redondo Beach Police K9 Trials - (1997)
* ab1st Place - Manwork Competition / Redondo Beach Police K9 Trials - (1998)
************************
"Baro" was due to retire July 4, 2000. He became ill & treated for "Immune-Mediated Hemolytic Anemia". The exact cause of this blood disorder was not determined and Baro was treated with medication. Baro recovered from the illness and returned to full duty. On June 7, 2000, I noticed Baro's abdomen was distended and he suspected "bloat". Baro was rushed to the veterinarian's office for treatment. My heart sank as Baro was diagnosed with an aggressive cancer which resulted in an abdominal bleed. His condition was terminal and never made it. On June 10, 2000, at 1130 hours, Baro was put to sleep. As I held Baro in my arms, he drifted off to sleep and was suddenly gone. I will never forget the feeling of watching my partner die in my arms. As a handler you learn there is nothing your partner wouldn't do for you. On this day, I realized there was nothing I could do for my partner. Thank you for responding to my entry on your site. I was having computer problems and did not expect my message had been sent to you. I appreciate your offer for the cards but I don't think it will be necessary. I have been working on making something up on my own with my home computer. I had intended to include Baro's picture on whatever I came up with. It was a project I wanted to take care of personally for Baro. It is also kind of therapy for me. It gave me an opportunity to pull out all the photos I could find of Baro. I didn't realize I had as many as I did. The one that I have sent with this e-mail, I clipped off our Department's website. I still have a Rottweiler at home who is lonely now and is getting lots of attention. We plan on getting another dog sometime, but we haven't decided when. There is a big difference between having a pet, and a working dog that is trained to help others. Baro was going to be retired in July.
Thanks Again, Neal and Baro Submitted by Sergeant Neal Mongan, Baro's partner.


March 2001
"I ended up getting a Belgian Malinois puppy. He is a little fireball. Since my partner, Baro, passed away I have been placed in charge of our K-9 Program. I guess its the next best thing to having a leash in your hand and a wagging tail slapping you upside the head all day. That might not sound like the best job in the world, but IT IS! "