Memorials to Fallen K-9s


1999-T
The F.A.S.T. Co. donates sets of memorial cards to all partners
I need your help to inform me of such losses.


Dept. addresses available for those who want to

send condolences

to officers. See below
In Loving Memory of
K-9 TURO
August 1999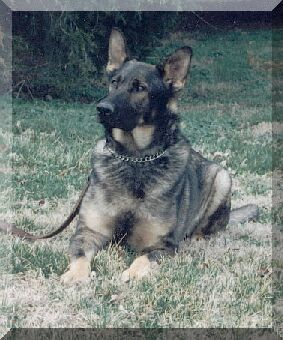 Handler: Julie D. Schmidt
Jefferson County Police
768 Barret Ave.
Louisville, KY

Tour of duty: 1994 - 1999 - Turo retired in 1999. He was a

SERIOUS

K-9!

Turo was my first a BIG Shepherd that I loved so much. I had to put him to sleep after he developed Lyme disease which triggered a muscle disease. The day I took him to the vets to put him to sleep I got up and put my uniform on and told him we were going to work. Jessy was living with us by then but he didn't care as he thought he was really going to work! As I drove down the road I said DEER DEER as he used to love to bark at the deer that I would spot light along the road on the way home from work at night. I got to the vets office and there were eight of my closest police officer friends to joined me. They petted him and let him know they were there and then we all went to the back room where I held him tightly and told him I loved him as he fell asleep. I cried my eyes out and so did some of the others (not the men of course, but they were having a hard time with it!) I had him cremated and a special urn made so he still lives with me and Jessy and Tessa. Jessy has a long story tell but in a nut shell. ...The trainer told me that I had given her a new life. She had been owned by a policeman in Indiana that had a few car wrecks with her in it. She had also been found in the back of the car. I assume this was after one of his many wrecks with a collapsed lung. She would not work for him after she recovered six months later. I went and got her. Her previous handler traded her back in just before her twelve month guarantee had ended. I had heard she was a heck of a dog before all of her wrecks. My sergeant told me that if she didn't work I HAD to take her back. She was so bonded to the kennel guy that I had to peel her away from him. He had cared for her for about four months. No one wanted her as she was a female and had been in the car wrecks. It took a day or two and we were bonded and a week later she was working again. She never did like the car. I drove like a "grandma." Guys made fun of me because on CODE 3 runs, I drove like I was going to Sunday school. To this day, she watches me as I get into uniform every night and looks so happy when I tell her she is on vacation and to get on the couch. She would then watches happily as Tessa (present K9) gets in that big gray car! Turo and Jessy brought me great joy. They made me popular with the public and the upper command plus the beat guys. To this day, children that Jessy visited in school still come up to me at outings such as the state fair and ask, "Where's Jessy?" I would tell them she is resting on the couch and happy to be there! I have had so many experiences in the eight years that I have been in K9, and will share with you all. submitted by Julie
---
In Loving Memory of
K-9 TAZZ
October 1999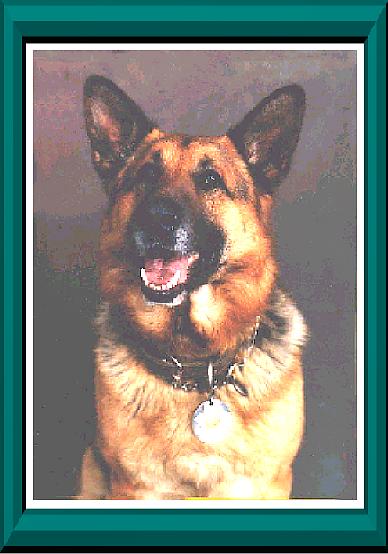 Handler: Sgt. Scott Kirkpatrick
Ocean City Police Department
Ocean City, MD
410-723-6640 Ext. 8181
OCPD remembers officer in memorial
Tazz, a 9 year old German Shepherd was "just like another officer" by Carl Whitehill - Times Press Staff November 10, 1999

He may have been named after the Tasmanian devil, but the Ocean City K-9 officer could be as sweet and gentle as a puppy. The department will bid farewell to Tazz tonight in a memorial service following the death of the K-9, a result of cancer The illness and loss of the dog has hit the police community, especially PFC. Scott Kirkpatrick, the owner and handler of Tazz. The cancer hit him so hard and so fast, he said. It was probably the toughest decision I ever had to make in my life. Kirkpatrick added of the decision to put Tazz to sleep last week. Though the dog showed no signs of pain, the disease was not curable, forcing the department to make the choice. I didn't want him to be in pain. Tazz and two other K-9 dogs were brought to Ocean City in 1993, courtesy of the Ocean Grand Ball Association. Knowing the commands only in German language, both Tazz and Kirkpatrick had their work cut out for them. Both attended a 10 week training session comprising more than 400 hours of instruction. Basically, he knew how to do everything, and I didn't. Following the training, Tazz was bilingual and Kirkpatrick had a new friend. He's been here so long, he's always with me. Last year, Kirkpatrick noted, the K9 gave his best performance, leading the department to 15 arrests, including several large drug busts. In 1998, Tazz led officers to a quarter pound and a half pound of marijuana in separate incidents. His career total exceeds 50 apprehensions. Tazz was a remarkable tracker. He was the best one in Ocean City. The German shepherd was always anxious to work, even on the day Kirkpatrick paid that visit to the veterinarian, only to learn that Tazz had contracted lung cancer. Doctors told Kirkpatrick the disease came as a result of environment exposure. While aggressive on the job, the dog could join children and the community with no worries to officers. In many cases Tazz handled , he bit only one suspect and only because the suspect refused to surrender to officers. Kirkpatrick compares the K-9's aggressive temperament to a light switch,; it could be turned on and off at his command. The death has left the department saddened over the loss. Many looked at Tazz as another officer. The dog will also be missed by community as many throughout Ocean City knew his
presence and abilities. He's just like another officer, actually Tazz is more well known through the community than I am. They just know I am the guy at the end of the leash. Tazz died at the age of 9.
The memorial service is to be held at 5 PM at St. Luke's Roman Catholic Church, 100 Coastal Hwy.


K-9 Tazz was supposed to work the night he died of cancer. Sgt. Kirkpatrick had no idea he had cancer. Tazz was not feeling well and Sgt. rushed him to the vet. Only to find out the terrible news. He was put down the next day. Tazz was 9.5 years old, one of the best k-9 the Ocean City Police Department. ever had. Sgt. Kirkpatrick is still in the K-9 unit with a new partner, K-9 Flash.
---