In Loving Memory of
K-9 CZAR
September 14, 1999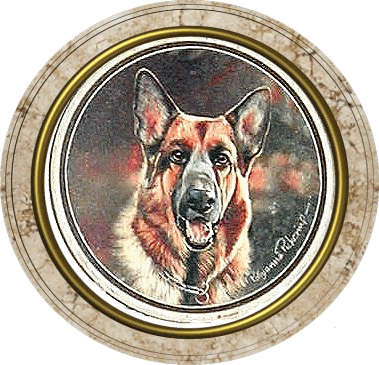 Handler: Deputy Calvin Purnell
Worcester County Sheriff Office
Maryland
Deputy Purnell received K-9 CZAR in 1998 when he worked with the Ocean City, MD Police Department.
He left the department and he was allowed to take Czar with him when he started working for the sheriff's office.
K-9 Czar died of a brain tumor when he was close to age six. Deputy Purnell remained in K9 unit
and has a new partner. notified by Jenny Smith
In Loving Memory of
K-9 COPPER
November 16, 1999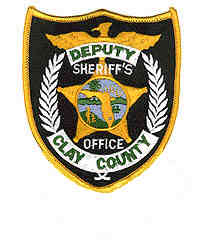 Deputy James "Monk" Kenney
Clay County Sheriff's Department
Morganville, KS

Wednesday, November 17, 1999 by Wayne Culley
MORGANVILLE, Kan. (APBnews.com) -- A sheriff's deputy and his police dog were shot dead as they tried to apprehend an escaped jail inmate, authorities said today. Clay County Deputy Jim "Monk" Kenney, 62, was killed at about 4:30 p.m. Tuesday when he and his dog, Copper, tried to execute a search warrant at the home of 22-year-old Jeffery Hebert, who had escaped from the jail in nearby Cloud County on Monday, officials said. Kenney and his dog were leading a team of officers into the suspect's home when Hebert allegedly burst out and shot the officer in the head with a shotgun. The six-year veteran, who had started the department's K-9 Unit, was pronounced dead at Clay County Medical Center. The dog was also killed instantly. Tiffany Ball, a spokeswoman for the Kansas Attorney General's Office, said authorities do not know what prompted Hebert to open fire. He had been nearing the end of a term for a violation of the probation he received for marijuana possession and DUI charges, officials said. Hebert had escaped from jail after overpowering two guards. A manhunt ensued that included as many as 40 officers who combed the county. Kenney was leading a small group of officers tasked with searching for the suspect at his Clay County home. Hebert is now being held on $750,000 bail on a charge of first-degree murder and misdemeanor killing of a police dog. He could face the death penalty, but Ball said a decision has not been made. The deputy was a retired Wichita Kansas police officer. He trained police K-9s for officers in southeast Kansas. He loved the job so much after retiring he decided to join the small Sheriffs department so he could still work dogs. MORGANVILLE -- Sheriff's Deputy James "Monk" Kenney, 62, was fatally shot as he attempted to serve a warrant for an escaped inmate inside a house Tuesday afternoon, authorities said. Kansas Bureau of Investigation spokesman Scott Teeselink said Jeffery Hebert, 22, Morganville, was taken into custody following the shooting. Law Enforcement Center records show the arrest was made around 4 p.m. Tuesday. Hebert, wearing a bullet-proof vest and restraints, made a first appearance at 2 p.m. today in Clay County District Court. In the two-count complaint filed by County Attorney Doug Martin, Hebert is charged with first degree murder and inflicting death on a police dog. Magistrate Judge Paul Wright set Hebert's preliminary hearing date tentatively for 9 a.m. Wednesday, Nov. 24. Hebert, who was represented by a public defender, was ordered held on $750,000 cash or surety bond by Wright. The KBI is heading
up the investigation of the shooting death of the veteran law enforcement officer Kenney, who started the Clay County K-9 unit. Many Clay County residents and -- certainly his fellow officers -- remained in a state of shock today over Kenney's death. KBI agent Wiley Kerr, Clay Center, directed all questions about the investigation to Teeselink. Teeselink told the Dispatch Kenney was executing a search warrant with other officers when he was shot. Teeselink said four KBI officers this morning were assigned to the investigation and up to six KBI officers could be involved in working on the case with local authorities. "There will be literally hundreds of hours of investigation to take place," Teeselink said. "There's still a lot of work yet to do." Teeselink declined to answer detailed questions about the investigation or weapons involved. "Many of those details will not be released until the trial," Teeselink said. Teeselink said the KBI will be working with County Attorney Martin and the Kansas Attorney General's office on the case. Martin said he sought the Attorney General's office assistance to serve as the lead prosecuting agency, based on mutually agreed guidelines. Hebert was one of three men who escaped Monday night from the Cloud County Jail in Concordia, Teeselink said. The other two were captured Monday night. Hebert, formerly of Clay Center, had been serving time in Cloud County for violating probation and possession of marijuana. Cloud County Sheriff's Investigator Steven Rupert said Hebert escaped about 9:30 p.m. Monday along with Thomas E. Smith Jr., of Clyde, and Russell T. Britt, of Concordia. Smith, 22, and Britt, 19, were captured Monday night. Smith was arrested at a friend's home, and Britt was arrested while trying to get to a relative's house in Clyde. Rupert said both were charged with aggravated escape from custody and aggravated assault on a corrections officer. The three inmates escaped by overpowering a corrections officer and breaking out of the jail's main window, falling 10 feet to the ground. Rupert said the three suffered minor scrapes, while the officer had minor injuries. Smith was being held on charges of aggravated criminal sodomy and aggravated indecent liberties with a child. Britt was being held for violation of probation for burglary, Rupert said.