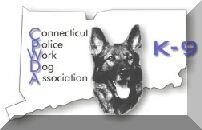 Daniel Wasson Memorial K-9 Award

On November 18th, 2001 at approximately 1500 hours Officer Henry S. Minor and his police k9 partner Veko responded to a supermarket for an armed robbery in progress. The suspect had entered the store and went to the service desk where he told the clerk that he had a gun and would shoot her if she didnít give him the money. The suspect was handed approximately $1,200.00 and fled outside to his car. Witnesses on cell phones reported the incident and stated the suspect had a gun. The vehicle left the parking lot. Two other officers were in the area and set up road blocks. The suspects vehicle came to a stop in front of their patrol cars and the suspect put his hands up as if to surrender. As the officer approached the car, ordering the suspect out, the suspect accelerated his vehicle forward, intentionally aiming it at the officer. The officer was struck by the vehicle and was thrown onto the hood of the car. The officer fired two rounds at the suspect through the front windshield. He was thrown off the car and onto the road sustaining a broken foot and other injuries. Another officer then fired one round at the suspect through the driverís side door. None of the rounds struck the suspect.

Officer Minor was responding to the incident and was about 200 feet from the scene when he saw the suspect vehicle strike the officer. Seeing the suspect vehicle was fleeing the area and accelerating towards him, Officer Minor made the decision to intentionally ram the suspect vehicle in the area of the left rear wheel, causing it to spin around and strike a utility pole. The suspects vehicle sustained heavy damage.

Officer Minor initially ran towards the suspectís vehicle in an attempt to apprehend him but had to run out of the street to avoid being struck by the utility pole that had been severed at the base and was falling towards his cruiser. The pole ended up being suspended by wires and stopped falling at a 45 degree angle over the street. During this time the suspect exited his car and began running across the street. Officer Minor ordered him to the ground at gunpoint. The suspect stopped but ignored Minorís orders to drop to the ground. The suspect then placed both hands down into his waistband and began to run between two buildings on the other side of the street.

Officer Minorís patrol car is equipped with a remote controlled K-9 bailout system that automatically opens the rear door of the cruiser. He activated the system, allowing Police Service Dog Veko out of the car. PSD Veko, being trained to go to his handler after the door opens, ran up to Officer Minor. By this time, Officer Minor was in a foot pursuit with the suspect about 30 yards from his cruiser. The suspect ran behind a business and ignored Officer Minorís K-9 deployment warnings. After ignoring all warnings to stop, Officer Minor gave PSD Veko the command to go after the suspect. PSD Veko easily caught up to the suspect and struck him in the center of his back near his shoulder blades. The suspect was knocked to the ground. The suspect then jumped to his feet. Veko bit the suspect on the upper right arm and held on. Officer Minor ran up to the suspect, ordering him to the ground. The suspect ignored the order even while being bitten by K-9 Veko. Officer Minor then grabbed the suspect and brought him to the ground. PSD Veko was given the command to release the suspect and did so, lying down next to the suspect barking at him. The suspect fought with Officer Minor, tucking his left arm under his chest and refusing to place it behind his back. After several failed attempts to secure his arm, Officer Minor gave Veko the bite command again. Veko bit the suspect on the left arm at the bicep. After this bite, the suspect put his arm behind his back and was handcuffed. Veko was given the release command. Veko immediately released the suspects arm and again downed next to him barking.

The Manchester Police Department Investigative Services Section took over the investigation of the incident. Detectives recovered the 1,200.00 stolen by the suspect under a bush three feet from where PSD Veko knocked the suspect down. It was later determined that the suspect was not armed but that he only implied he had a gun.

The suspect was charged with Criminal Attempt to Commit Murder, Robbery, Assault on a Police Officer, and other criminal charges. He was also suspected in the robbery of other stores in four other towns. Since his arrest he has been charged in two of those cases.

Officer Minorís decision to ram the suspect vehicle and subsequent actions in apprehending the suspect by deploying PSD Veko substantially reduced the risk of further hazard to the public.

Officer Minor and Veko were involved in other numerous other incidents in 2001. They conducted over 85 narcotic searches, 25 public demonstrations, and supported the Capitol Region Emergency Services Team ( Tactical Unit ) on four call outs. They further supported several search warrants and buy/bust operations by the Tri-Town NarcoticsTask Force.

Submitted By James A. Cortina, Director - Connecticut Police Work Dog Association




---
Road naming honors slain policeman
By DIRK PERREFORT
MILFORD - 06/25/03
The area's finest came out in force Monday as Daniel S. Wasson, the only Milford police officer slain in the line of duty, was remembered at a ceremony to rename the Milford Parkway Connector in his honor. Dozens of local officers as well as brethren from Trumbull, Bridgeport, Monroe, Greenwich, West Hartford and the State Police paid tribute to Wasson and his family, crowding the Boston Post Road commuter lot near the base of the connector to help christen the highway the "Daniel S. Wasson Connector." Wasson was fatally shot on April 12, 1987, by a Bridgeport man he pulled over on the Boston Post Road in Milford. His police dog, General, was with him at the time. Family and friends were joined by more than a dozen officers who brought their canine partners to the ceremony. "Everyone driving through the connector can now remember the sacrifice Danny made and the dangers that all police officers face every day," said Milford police Sgt. Melissa Dempsey, who was Wasson's fiance at the time of the slaying.
Dempsey said she met Wasson while they were attending the Police Academy together. "I know that Danny would be very honored, but he would also be a little embarrassed because he was a humble man," she said. Dempsey described Wasson as a sweet, warm and loving man who took his job seriously. After the ceremony, she hugged friends and fought back tears. Jeff Wasson said his brother always wanted to be a police officer. "He definitely had a sense of duty," said Wasson. Wasson's father, Edward, also attended the ceremony. "Being a police officer was something he really wanted," he said, adding that the loss of his son is still difficult at times. "It's something you never really get over." Police Chief Thomas Flaherty said he was pleased by the turnout of officers. "It's wonderful to see so many officers here to show their support and remember Danny," said Flaherty. "My hat goes off to Officer Tony Vitti and the Police Benevolent Association, which organized this effort." State Sen. Win Smith and state Reps. James Amann, Richard Roy and Ray Collins, who spearheaded the legislation to rename the connector in Wasson's honor, also attended the ceremony.
---
HONORING A FALLEN POLICE OFFICER
Parkway connector renamed for cop killed in line of duty
Sarah W. Walker , Register Staff 06/24/2003
State and local police canine units march along Route 1 Monday in honor of one of their own, slain Milford policeman Daniel Wasson. The Milford Connector was dedicated in his honor. Mia M. Malafronte/Register MILFORD ó The soulful sounds of bagpipes playing Amazing Grace drew tears to the eyes of many who stood in the commuter parking lot off the Milford Parkway Connector as the road was officially renamed Monday in honor of Milfordís only officer killed in the line of duty, Daniel S. Wasson. The bagpipers from the Emerald Society New Haven County Firefighters played before hundreds who turned out to honor the 25-year-old officer who was gunned down 15 years ago in a traffic stop gone bad. Trooper One, the state police helicopter, circled above the lot midway through Amazing Grace, drawing the misty eyes to the blue sky. Mayor James Richetelli Jr. said that the song moved him.
The renaming ceremony kicked off at 5 p.m. when officers from around the state marched with local dignitaries and the Wasson family from the Milford police station on Boston Post Road to the commuter lot. Canine units from around the state were also on hand to pay their respect to Wasson, who was a dog handler. Even the weather was on board for the event, as days of relentless rain gave way to blue skies, sunshine and warm temperatures Monday. Officials unveiled a green sign that bore the words, "Daniel S. Wasson Connector," officially declaring the road renamed. "We pray that we never have to do this again," Richetelli said to the crowd after thanking the lawmakers who sponsored the bill to rename the connector. The proposal to name the stretch of highway that connects the Merritt Parkway, Route 1 and Interstate 95 for Wasson was co-sponsored by state Reps. Raymond Collins, R-West Haven, and James Amann and Richard Roy, both D-Milford, and state Sen. Win Smith Jr., R-Milford. Amann, a former alderman, recalled Monday how Wasson had checked in on city officials during night meetings. "I knew Officer Wasson. He was a good man," said Amann, "We [city officials] always felt secure knowing Officer Wasson was around. He was a great officer." Smith said that in his career, "to be able to help to honor someone who has helped all of us," is a most honorable and memorable thing for him. "You never know when a problem may occur in our neighborhood, on our block," said Roy, "To them Ė the men and women (of the police force) Ė I say thank you." Ray Wasson said he was surprised by the decision to dedicate the connector to his brother. "I was kind of taken aback by it a little," Ray Wasson said, adding that after seeing the support it generated, he knew it was the right thing for his brotherís memory. Daniel Wasson was killed during a traffic stop on the Boston Post Road near the Orange line. Wasson and his police dog, General, were on patrol that morning and pulled a car over. Wasson was shot in the chest with a .44-caliber handgun. Thomas A. Hoyeson, formerly of Bridgeport, was caught in Bridgeport a short time later. He pleaded guilty to capital murder charges, avoiding a possible death penalty sentence. Hoyeson was sentenced to life in prison without the chance for parole. The General Assembly in May passed the bill that renamed the Milford Parkway Connector, also known as Route 796, as the "Daniel S. Wasson Connector."