.


WORKING DOGS
SAR (Search & Rescue) Data
* SAR Sept. 11, 2001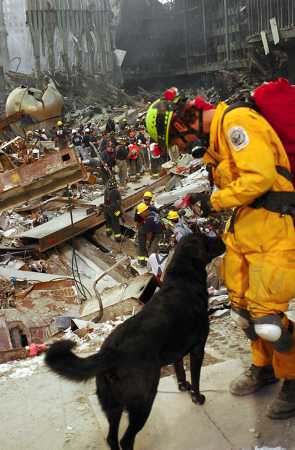 SAR teams from all over the world who worked in NYC WTC

Photo above:
An unidentified member of an Urban Search and Rescue team works with their dog Saturday, Sept. 15, 2001 in the effort to uncover victims following Tuesday's attack on the World Trade Center. (AP Photo/FEMA, Andrea Booher)

SAR -An inside look
Rainbow Bridge Poem
English, Spanish, Dutch, Italian, German, French, Finnish, Norwegian & Swedish, Portuguese, Danish,
SAR Memorials-Oct. 99-Dec. 2000
Assistance Dogs
SAR Memorials-Jan. 2001
Poems-submitted by guests
Poems, Prayers & Photos
Passion
Order Form
Feelings
SAR Close Up
AWARDS - apply
SAR -links
E-mail Lulu




September 11, 2001 & SAR
Return to Home Page of F.A.S.T. Co.